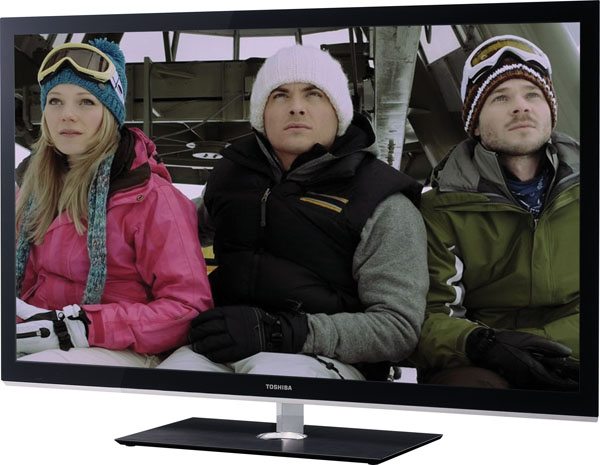 Many CANADA HiFi readers probably remember Toshiba as the rising king of CRT.  Delivering cutting edge widescreen HDTVs equipped to receive high resolution component video connections from DVD players, they were solidly built and looked fantastic after performing the necessary CRT adjustments and calibration.  But after the demise of the CRT, Toshiba worked in the shadows deciding on its newest offerings as consumers began to have an increasing number of new technologies to choose from – new technologies that needed to be proven worthy to consumers who were used to the great picture of CRT.  Even though Toshiba had a slow start, it's great to see the company back on track, with a strikingly handsome line of LCD (LED-backlit) TVs.  It ain't just good looks; these TVs also have a bit of 3D muscle under the shirt.  The TV under review here is the REGZA 46WX800U 46-inch 1080p 3D TV ($2,799), mated with Toshiba's BDX3000 Blu-ray player ($299) and FPT-AG01U 3D glasses (sold separately for $199 each).  Together these three pieces promise the latest 3D entertainment experience.
   I stared dreamily at my review sample for some time before I turned it on.  In fact, I was content not turning it on at all.  I found the design to be very attractive when considering the competition.  The screen is virtually completely flat with a black frame and covered by a thin protector.  On the outside edge runs a subtle silver pinstripe around the perimeter, adding a touch of modernism and class.  The bottom right hosts touch sensitive buttons for power, channel and volume.
   The back panel is tight like virtually all other flat panels these days.  Gone are most analogue RCA connections except for a composite input on the side and component inputs which are provided via a mini connector.  Considering the TV's depth of only 29 mm, there isn't room for such large connectors.  Among the most important connectors are four HDMI 1.4 inputs, a VGA port for a computer, two USB slots, a connection for Ethernet and a digital audio output.  There is an RF input that's a little tight for big fingers and I found it a bit of a struggle twisting on the connector from my outdoor antenna.  The built-in speakers sound worse than a tin can – if you buy a TV this slim, expect a thin sound.  It may be enough sound to fill a 10 by 12 foot room but anything larger is pushing the limits.
   Toshiba's remote control hasn't changed too much over the past 10 years.  While the aesthetics have changed slightly, the button layout is very similar.  This remote feels bulky making it hard to easily access certain buttons without having to slide my hand up and down the remote for a better reach.
   Among the most notable technological features beyond 3D capability is ClearFrame 240 which increases the 24/30/60 frames per second in our video sources to a common multiple of 240, thus eliminating most judder and blurred images with minimal added side effects.  A CrystalCoat screen protector is said to reduce room reflections but my measurements proved otherwise.  InstaPort provides fast HDMI switching, while the PixelPure 5G engine uses a 14-bit video processor to ensure that the 8-bit signals we feed to the TV are reproduced without any increased banding.  An Expert image adjustment mode allows for very precise calibration and includes both 2 and 10-point greyscale/gamma controls.  An 18-point Colour Management System (CMS) labelled Colormaster in theory should have allowed me to make colours more accurate, but it failed by creating a blocky picture with the feature turned on.  There are many other image controls that may be helpful in very specific applications but most are best left turned off if a pleasing picture is desired.
   I connected the supplied Toshiba BDX3000 3D Blu-ray player with an HDMI cable to the TV and got down to work.  "Out of the box" the 46WX800U defaults to the Autoview picture mode.  It displayed a dim, crushed image that was unimpressive, very blue and had a low gamma.  I tend to view a montage of images on the Spears and Munsil High Definition Benchmark Blu-ray before and after testing.  Before any calibration was done, the sand on the beach looked purple from too much blue and red in the greyscale.  It also made it difficult to distinguish the sky from the water because all blue tones looked the same.  With the dark parts of the picture crushed into a deep black and a rapid rise of the bright picture areas, the image looked uneven and confused.  However the image after calibration proved to be very rewarding.  For a detailed look at the calibration and technical results, please visit the LCD Forum at novo.press/forum.
   Calibrated in Movie1, the image was much brighter throughout with loads of detail visible in the darker parts of the image.  The TV was able to hold its depth of black regardless of varying light levels.  This gave the Toshiba's 2D image a 3D feel.  I watched a few movies on the 46WX800U including Anchor Bay's thriller Frozen, a film about three skiers stranded high up on a chairlift over a few days – it's one of my favourite survival movies of 2010.  Beyond an interesting storyline, this movie has some good imagery featuring real environments and very little CGI.  Now that the excessive blue was removed from the white snow, I noticed far more shades of white and gray than before.  The image of the 46WX800 was alive with so much detail, I was forgetting that I was watching a movie and felt like I was on the chairlift with the main characters.
   The daylight scenes are dominated by white ski slopes and looked fantastic, but the reality set in when viewing scenes set in the darkness.  The non-uniformity of the edge-lit LED panel became strikingly noticeable.  The bursts of white cloudiness through the black could not go unnoticed, most notably on the right hand side of this review unit.  For a movie which aims to create suspense in the darkness, I felt like this took away from the nail-biting events as they unfolded.  I couldn't help looking at the white blotches.  Affecting screen uniformity, it caused reduced light output in bright scenes as the affected area looked a bit dimmer.  A D65 bias backlight placed behind the screen to create a white glow, matching the white point of the TV would benefit this and other LCD sets greatly.  It would increase the viewer's perception of black and reduce the noticeable blotches of LCD TVs in dark room environments.
   When viewing more colourful films with the Colormaster CMS turned off, I noticed a deficiency in red and warmth during the opening scene from The Dark Knight.  Skin tones seemed to be missing some of the warmth and pink that I'm used to seeing on other reference video displays.  In HBO's fabulous The Pacific miniseries where colours are altered in post-production to create a very specific mood, most colours were satisfactory with exception of blue and the aforementioned red.  So while I was happy at the high level of detail and the greyscale capability of the TV, I felt a little was missing in colour fidelity.
   During the review, I had five 3D Blu-ray titles (distributed by Warner Bros.) which allowed me to view some 3D content.  Three were IMAX titles: Under the Sea, Deep Sea and Space Station 3D.  All were created using an IMAX 3D process with Space Station leaving the least impression on me.  The 46WX800U played back these 3D titles without a hitch; it automatically locked onto the 3D mode when it sensed the 3D signal from the player.
   I viewed the 3D imagery in the same Movie1 picture mode which I calibrated for 2D.  As you may already know, all 3D TVs, when used with 3D glasses, darken the image and alter the perception of colour.  Despite this, I found the 46WX800U mesmerizing to watch for the simple enjoyment of 3D and reserved my feelings for absolute image fidelity in 2D mode only.  The fish swam out at me in Under the Sea.  I felt as if they were touching my nose and at times I could reach out at the imagery and swim with the fish.  The perception of depth was incredible and got me pumped for more 3D titles.  To rain on my IMAX parade, the other two Warner Bros. titles, Clash of the Titans and Cats & Dogs: The Revenge of Kitty Galore are neither good films nor good 3D films.  Terrible stories aside, these films were not natively shot in 3D but were processed in 3D as an afterthought to take advantage of the theatrical 3D hype.  The unimpressive 3D image quality showed and the 46WX800U did not hide it.  The 3D effect was present sometimes but goes down in my books as mostly flat.  These movies are much better enjoyed in 2D – if you actually enjoy the storylines.
   I did experience some image crosstalk while watching through the 3D glasses.  There was some mild ghosting throughout if one is quick enough to notice it.  While it bothered me at first, I did stop thinking about it when watching the IMAX films.  As I watched the other titles, I couldn't help to see the crosstalk because I was less involved with the films and therefore spent more time analyzing the picture.  I also had a difficult time finding the FPT-AG01U glasses comfortable.  They are thick rimmed, large and heavy, and I probably would get beat up if I were a kid wearing them in school today.  Maybe putting some masking tape around the center of the glasses would have made them more comfortable for my nose rather than feeling the plastic digging in.  These are supposed to be one size fits all, but maybe they were a bit too big for me.  I found that when watching 3D programs, it was difficult for me to focus on the bottom portion of the image.  The bottom of the image appeared a bit blurred compared to the image in the centre.
   A few other quick items to note: this TV is small and to fit within the 30-36 degree viewing arc recommendations, you should be sitting between 5-7 feet away from the 46WX800U.  The further you sit from this television, the less resolution you will see and the 3D effect diminishes.  Move far enough away and the 3D glasses will eventually lose the signal.  It should be noted that 3D is not for everyone and can make some people feel a little sick.  I tend to feel nauseated after a short while of 3D viewing so I had to take plenty of breaks before I finally called it quits.
   It's great to see Toshiba coming back to the market with high performance video displays. I admit I was a little concerned for Toshiba when the CRT diminished as the dominant video display technology. While this LED edge-lit LCD TV wouldn't be my first choice for a primary video device in dark theatre room, I would not hesitate to recommend it as secondary TV where moderate light from the sun or ceiling will always be an issue. I became a bit attached to the Toshiba 46WX800U during its stay, and I can't help thinking how attractive it would look on a stand between my large front window and the fireplace.