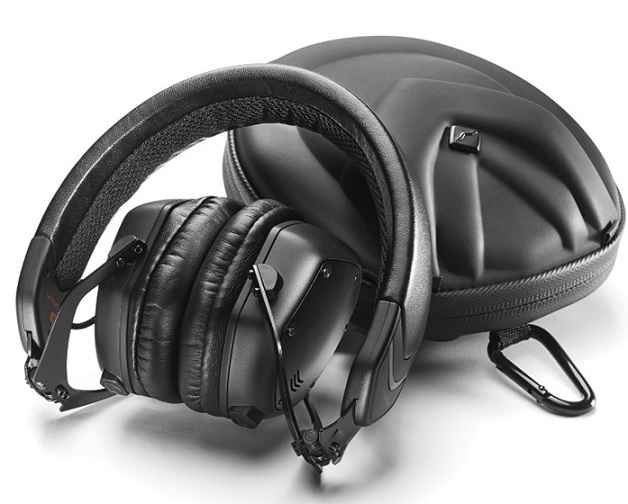 V-Moda has just announced their M-Class Series – XS on-ear headphone.  The XS has been designed to provide superb comfort and a sleek ergonomic fit, while combining professional-grade quality and a personalized style.
The angles and sleek headband design reduce the space between the headband and head, making for a superior fit, added comfort, grander sound and a compact profile.  V-Moda spent 5+ years of R&D to develop this latest design.  The ear pads are supple memory foam cushions that naturally adapt for a more sealed and comfortable experience.  The XS model features the patent-pending CliqFold Hinge that precisely folds the headphones into an impossibly small exoskeleton case.
Key XS Features:
40 mm Dual-Diaphragm Drivers (patent-pending)
No batteries or artificial sound processing
CliqFold folding hinge (patent-pending)
Dual Inputs and SharePlay with V-CORK seals (patent-pending)
Exoskeleton case
Kevlar-reinforced universal SpeakEasy microphone cable for Apple iPhone, iPad, Android and Windows devices
2-Year Premier Warranty, lifetime 50% immortal life program and V-MODA Six Star Service
In order to achieve the greatest sound for the greatest amount of people, extreme quality control standards over speaker driver variance functioned as the driving force in the release of XS.
Dual inputs allow sharing music with others, or function as a virtual on-the-go mixer. The patent-pending V-Cork seals allow the listener to balance the audio. An optional BoomPro microphone cna transform the XS instantly into a gamer headset.
As with all of V-MODA's Crossfade family, durability and exquisite material selection were paramount in the design of XS.  The masterful combination of steel and metal materials stands up to military-level standards of the MIL-STD-810G testing guidelines, incorporating the following:
Survives up to 60 drops on concrete
Virtually indestructible SteelFlex Headband
Minimal sound variance from unit to unit, checked along six parts of the sound curve versus 10-30dB+ of inferior products
Kevlar-reinforced detachable cables and 45-degree plug strain relief can each bend more than 1 million times, over 100x industry standard
MIL-STD-810G environmental tests including high and low temperatures, humidity, salt spray and UV exposure
The XS is now available for $212U.S. in Matte Black Metal and White Silver including customization or without customization for $199.99 U.S.  Look for more information at: v-moda.com.