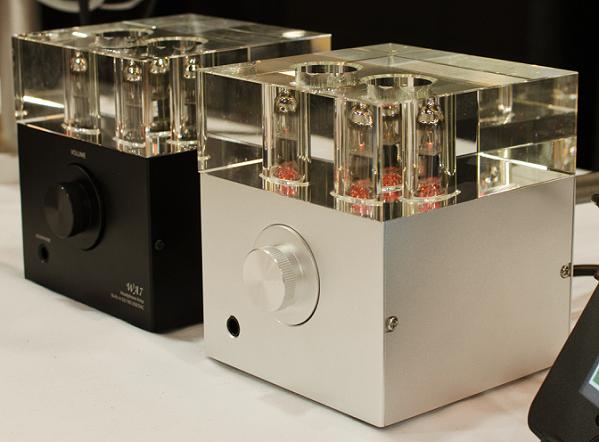 Woo Audio, a New York based audio product company specializing in headphone products, has just revealed a prototype of their latest product, at the Rocky Mountain Audio Fest 2012. This new product is named the WA7 and is both a USB DAC and tube headphone amp.
Most unique in the design of the WA7's is its solid-glass block tube shroud that encases the tubes, while venting them at the top. The appearance is much like a museum display case. Amplification is pure Class A and the DAC is a full 32-bit/192 kHz.
Details:
?Single-ended Triode pure Class-A, direct coupling
?1 super tube 6C45 per channel, no semiconductors in the signal path
?Handmade output transformer with Nickel Alloy core
?32 bit/192k Asynchronous USB DAC
?1 USB and 1 RCA switchable inputs
?High and low output impedance switch
?Approximate max 1.5 watt/ch output
?No visible screws in production unit
?Separated power supply
?Less than 5 cubic inches (amp)
?Weights 7.5 lbs. with glass shield (amp)
Unofficially, the production version of the WA7 may be offered at $777 U.S. (for a limited introductory period) with a speculated regular price of $900-$1000 U.S. No details yet on availability but look for more details at: www.wooaudio.com.