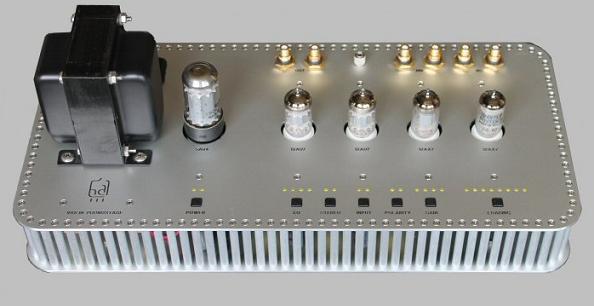 Hagerman Audio Labs, has just recently introduced their new Violin vacuum tube phonostage.  The Violin is an all-new design that borrows the best circuitry from the "Trumpet", "Cornet", and "Piccolo" preamplifiers and combines them with microprocessor controlled pushbutton switches for convenient operation. The chassis is robustly constructed and provides two separate phono inputs (MM and MC), adjustable loading, gain, polarity, and equalization. Internal components are of high quality, chosen for to maximize sonic performance.
Specifications
– Gain: 44dB (MM) / 54dB, 60dB, 63dB, 65dB (MC)
– Input Impedance: 50k (MM) / 955, 305, 170, 122, 84, 70, 59, 52 (MC)
– Output Impedance: 600 ohms
– RIAA Response: +/-0.5dB from 20Hz to 20kHz
– Bandwidth: 6Hz to 500kHz
– Distortion: <0.5% @1kHz
– Noise: 82dBA (MM) / 74dBA (MC)
– Size: 17″ x 8″ x 6.5″
– Weight: 12 lbs.
– Power: 120Vac/240Vac 35W
– Tube Compliment: 12AX7 x 2, 12AU7 x 2, 5AR4 x 1
All Hagerman Audio Labs products come with a 30-day in-home trial period, 10-year warranty (90 days on tubes) and free shipping via USPS first class. Each unit is hand built in the USA to ensure quality and reliability.
The Hagerman Violin phonostage is currently available at a MSRP of $3,800 U.S. Look for more information on this product at: www.haglabs.com.