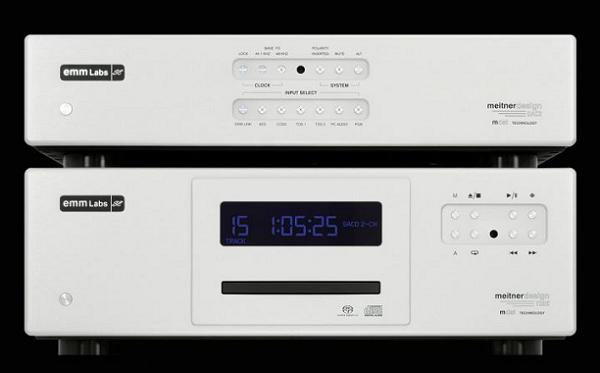 EMM Labs, is releasing their new TSDX CD/SACD transport, which leverages the well respected technologies of their existing XDS1 CD/SACD transport. Like the DAC2X, its companion converter, the TSDX transport incorporates the latest generation MDAT up-converting DSP.
The new TSDX+DAC2X combo represents EMM Labs newest flagship digital source system. Along with the silky smooth, super responsive Esoteric drive, the TSDX employs EMM Labs latest generation reference high-isolation resonant mode power supply that reduces digital noise, provides ultra-tight regulation and virtually complete isolation from power-line impurities and fluctuations.
Features include:
• Latest generation MDAT DSP: 2xDSD (5.6Mhz) up-sampling DSP which preserves phase, frequency and dynamic integrity of waveforms
• EMM Optilink digital output for galvanically isolated connection to DAC2X converter.
• Esoteric CD/SACD drive
• Latest generation reference high-isolation resonant mode power system
• AES/EBU output for PCM from CD or SACD
• Polarity inversion performed in the digital domain
• Precision-machined aluminum multifunction infrared remote control
The EMM Labs TSDX CD/SACD transport is currently shipping with a MSRP of $17,000 U.S. If purchased in combination with the DAC2X the MSRP of the TSDX+DAC2X combo is $30,000 U.S.
For more details, please see: www.emmlabs.com.