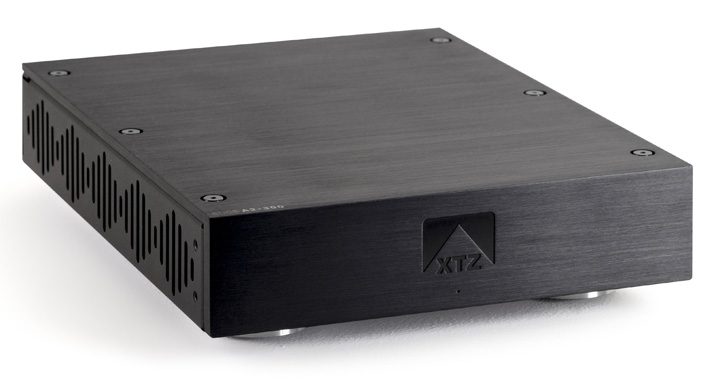 XTZ, the Swedish manufacturer of loudspeakers, headphones and electronics has just introduced the new EDGE A2-300 Stereo Power Amplifier, breaking new ground on the legacy of amplifier technology. Thanks to state-of-the-art ICEpower technology, the power amp delivers 2 x 300W to 4 ohms, making it easy to power even the most power-hungry speakers. With a dynamic range of up to 113 dB, the amplifier offers perfect signal amplification with an absolute minimum of background noise. The damping factor is greater than 1500 to guarantee maximum signal control for a more natural and balanced sound. To minimize power consumption, the EDGE A2-300 can be used in automatic mode. Another highlight is the low output impedance of the EDGE A2-300, which leads to an even more precise bass control and is therefore superior to traditional amplifiers in Class AB circuit.
This compares with a standby power consumption of just 0.27W and an idle consumption of 6.8W. The compact design as well as the massive and excellently machined aluminum housing make the amplifier an adornment in any hi-fi rack.
The input gain control on the backside of the housing can be used to adjust the gain when the power amp is connected to sources other than ordinary preamps such as cell phones, media players, and so on. If you want to use the EDGE A2-300 in bi-amping, you can switch the output stage to mono using a switch on the back.
Finally, the mounting in 19″ racks is possible, which is important in particular for home cinema enthusiasts.
The EDGE A2-300 is very affordable at just 495 € (4790 Kr). For an additional charge of 100 € (1000 Kr), an extension of the 2-year warranty to 10 years can be booked.
In addition, there is a unique pre-order promotion until 29.12.2017 in which the 10-year warranty worth 100 € can be purchased free of charge.
For more info, check out https://www.xtzsound.eu