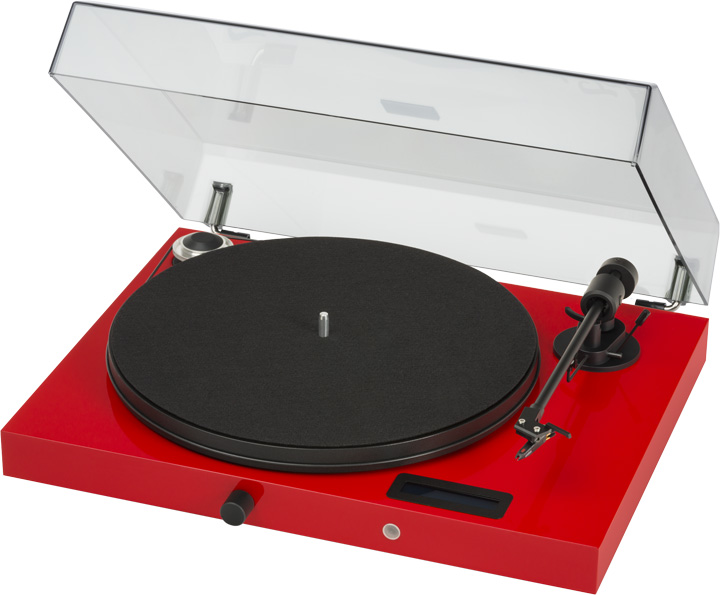 Turntables and the analogue experience have gained in popularity the last few years and many consumers are searching for a simple plug-and-play solution. Pro-Ject's solution to this problem is the new active turntable called the Juke Box E.  It offers built-in pre and power-amplifier, which allows you to place the speakers far away from each other to minimize the possibility of acoustic feedback and to create a real analogue stereo experience.
With the its full range of analogue and digital inputs, the Juke Box E is one of the most versatile offerings on the market. It's a turntable, a preamplifier, a power amplifier and a Bluetooth receiver all in a single, attractive package.
The Line output even lets you relay the signal to a further amplifier, such as the Head Box S2, to become an even more complete setup.
The built-in high contrast display always tells you what volume-setting you are listening at and what input currently is in use.  The 32-step digital potentiometer gives you perfect feedback and allows you to fine-tune to your desired volume. Pressing the volume knob switches between the available inputs.
Specially designed turntable feet ensure that the record player is completely decoupled from the surface. Making sure that no vibrations can be passed on to the tonearm or the pickup, this way an undisturbed listening experience is given.
The included remote control gives you the freedom of setting the volume to your desired setting, switch between available inputs or even to adjust bass and treble frequencies to your liking.
More info over at www.project-audio.com