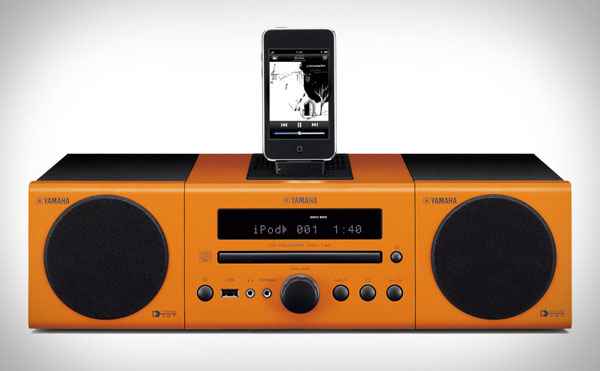 Yamaha has just announcing four new desktop and micro component audio systems, the TSX-132, TSX-B232, MCR-042 and MCR-B142, which will start shipping this month. Offering playback from many sources, including iPod, iPhone and iPad portable audio devices, USB, CD and AM/FM radio, these models promise exceptional audio quality for their compact size and offer colorful, style-savvy industrial designs.  All four models integrate Yamaha's Compressed Music Enhancer that improves the audio quality of compressed music files and IntelliAlarm, which gently wakes up users gradually with their favorite music.
The TSX-B232 and MCR-B142 models feature Bluetooth, enabling users to wirelessly stream music to these systems from smartphones and other Bluetooth-enabled devices. A free app for iPhone, iPod touch and iPad devices gives users the power to remotely operate these desktop systems and set their IntelliAlarm functions, including alarm times (which can vary for each day of the week) and volume levels.
Available in black and white finishes, the TSX models are all-in-one systems with attractive rounded chassis and flat, real wood top panels that blend seamlessly within most living environments.  The MCR models feature detachable speakers that employ large magnets for audio reproduction with rich bass tones and clear mid- and high-end ranges. The large volume speaker cabinets deliver deep, robust bass response. They are available in ten colors, including black, white, red, pink, light brown, dark gray, yellow, purple, orange and green.
All four TSX and MCR models have large clock displays for easy visibility and offer great sound from compact units with slot-in style CD players, AM/FM tuners and iPod/iPhone docks that provide direct digital connections. Additional devices can be connected via USB and an AUX-in port. Apple devices connected by dock or USB are automatically charged while the system is on. The models are offered at the following price points:
Pricing will be as follows: MCR-B142 ($449.95), MCR-042 ($399.95), TSX-B232 ($549.95), TSX-132 ($449.95).  For more info, please visit www.yamaha.com