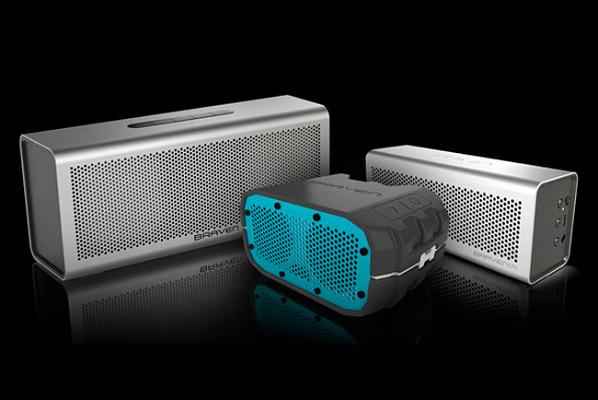 Braven just recently introduced three new Bluetooth speaker models to their stable of products: the 850, BRV-1, and 570.  The 850 is similar to Braven's Six Series but at four times larger can provide greater volume to fill larger spaces.  The new BRV-1 with its compact, waterproof, ultra-shock-resistant design and low weight of 400 grams is perfect for outdoor use.  The third new model is the Braven 570 that is stylish, impact resistant and low priced.
Braven 850: At nearly 4x the size of the flagship Six Series, Braven's 850 can deliver larger sounds.  The 850 provides emergency mobile device charging, impressive play time, integrated speakerphone, and aircraft-grade aluminum housing.  The 850 also delivers two features its competitors can't: it will charge iPads, tablets, and other 2.1A devices (as well as cell phones), and offers wireless pairing between two 850 speakers for left and right stereo.   MSRP: $299.99 U.S.
Braven BRV-1: Braven gives action sports and outdoor enthusiasts 12 hours of music they can bring into the backcountry, rock faces, skate parks, virgin powder downhills, rafting rapids, or even the beach. With its IPX5 certified water resistant, shock absorbent, ultra-lightweight and compact design, the palm-sized speaker is set to rock the outdoor electronics market. The Bravem BRV-1 will be available in February 2013 at a MSRP of $169.99 U.S.
Braven 570: Aimed at the cost-conscious music lover, the new 570 provides a similar level of performance of the Braven Six Series at a lower price point. With reduced packaging, 10 hour play time, an impact-resistant polymer case costs were reduced without compromising sound.  Braven still includes their patent pending mobile device charging ability. The Braven 570 is currently available in black and white at a MSRP of: $119.99 U.S. with more colours to be introduced in January.
To learn more about BRAVEN or find a retailer, please visit: www.braven.com.