On a sunny day in the late summer, I had the pleasure of sitting down with Peter Bartlett, the founder of UK-based Cyrus Audio, to speak about the company's history, present and future.  Last year, Cyrus Audio celebrated its 30 year anniversary of design and manufacturing in Huntingdon, England.  Today the brand offers a wealth of audio component categories including all-in-one systems, streaming music players, integrated amplifiers, power amplifiers, preamplifiers, CD players, DACs, an upgraded power supply and various accessories.  Peter Bartlett's official title is Technical Director, but he assured me that he's got his hands in many different areas of the company.  One of his favourite jobs is product development.  During this lunch hour meeting, Peter and I were also joined by Sheldon Ginn and Jeff Ginn of Kevro International, Cyrus Audio's North American distributor.
A Brief History
Peter has been with Cyrus Audio since the very early days, but how did his career in the audio business start?  As a young man, Peter began working at a local hi-fi shop which significantly elevated his interest for music and accurate audio reproduction.  A few years later he scored a job at NAD Electronics, and finally ended up joining Mission speakers in 1983.  Shortly before his arrival, Mission had created a new subdivision called Cyrus Audio – mandated to build affordable amplifiers with a great midrange for music listeners who were buying their first hi-fi systems, but desired a high-end sound.  Naturally these amplifiers were perfect mates for Mission loudspeakers.  In the 1990s, Peter separated Cyrus Audio into a standalone business division, incrementally pushing product designs into what he calls the "affordable high-end".  Finally, in 2005, Peter organised a management buyout of Cyrus Audio and until last year had the role of Managing Director.
Today, the principle design goals remain very much the same at Cyrus Audio as they did 30 years ago.  The company designs and tunes its products to offer a high-end performance, while offering a great value for customers.  Sonic characteristics that Cyrus Audio prides itself on are a rich midrange, along with a big, open soundstage.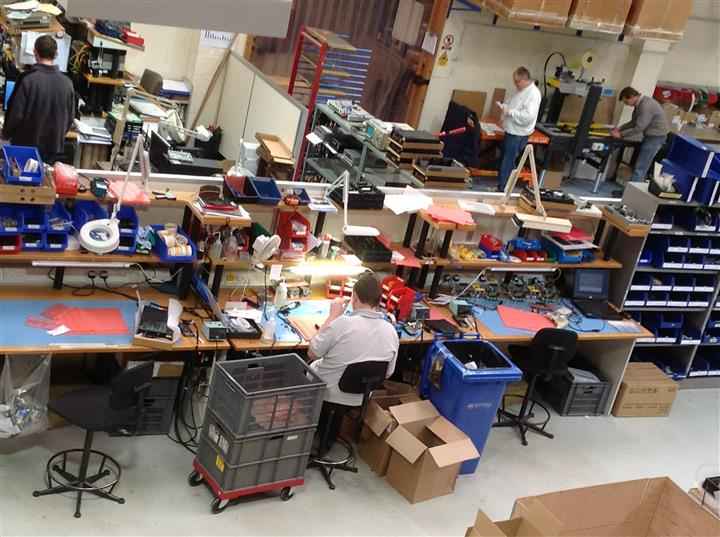 Cyrus Audio's Unique Design
If you look at the Cyrus Audio website, you'll quickly notice that nearly all of the company's audio components are half the width of traditional audio gear.  Apparently, the inspiration came from a compact two-box VCR design that the team saw at a Tokyo show back in the early 1980s.
Cyrus Audio components have a robust aluminium die cast chassis that is non-ferrous, which means that EMF fields generated by the components can travel through the chassis rather than be inducted back on to the circuit board.  Unlike audio components from other brands, the transformers are bolted into to the  die-cast chassis, thereby creating an inert enclosure, thus providing an ideal, low resonance home for the selected audio grade components to excel.  These are just a couple of examples of high-end ideas and investments made by Cyrus into its product designs.

Cyrus Audio and Network / Streaming Audio
Peter believes that Cyrus was the first hifi company in the world to become interested in streaming music from computers, becoming the first to sell network audio streaming servers and clients, as well as an iPod dock.  All of this began when Cyrus started working with a Cambridge, UK-based high tech start-up company who developed a media server (marketed in North American as a brand called Imerge).  Cyrus worked with this company 10 years ago to develop a high-end music server.  The final product was a music server called LinkServer that users were able to control with PDAs running an app (remember PDAs?), which at the time was truly cutting edge technology.  These music components were way ahead of their time, and as you might imagine, they were also very expensive.
But fast forward to today and Cyrus Audio is still hooked on music streaming, building its most advanced network audio streamers to date and offering them at prices every music lover can swallow.  The company's streaming products are designed in such a way that they are able to control the clocks, data integrity and jitter of the digital music files.  This allows them to achieve the best possible audio playback.  Cyrus also places a great deal of attention on the software design both inside the Cyrus components and the Cadence smartphone / tablet app used to control them.  In addition to offering a very stable stable experience, the graphical interface of the app allows the users to control music playback in a fun and interesting way.
Cyrus Audio's current range of streaming music components includes five models: the Stream X₂, Stream Xa, Streamline₂, Stream XP₂ Qx and Stream X Signature. All are compatible with UPnP and DNLA products and decodes the highest resolution 24-bit/192kHz files in high quality. They are  capable of playback of the latest file formats including WAV, FLAC, ALAC, AAC, MP3, WMA, and AIFF. In addition to its Ethernet port, it offers a variety of inputs – 2 x Optical, 3 x SPDIF, 1 x USB and 1 RS232 12V. The streamers  also gives you access to internet radio, and can be controlled by company's stylish n-remote, or their in-house developed app for  iOS or Android devices called Cadence. The range leading Stream X Signature offers the company's highest fidelity performance, by employing the best quality components and engineering techniques. It will allow you to get the most out of your latest high resolution music files, and upgrade the quality of your CD-quality music collection.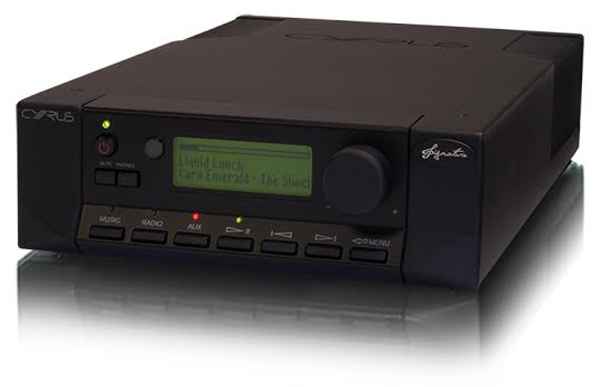 If you prefer a single-box music streaming system that's easy to use by everyone in your family, don't worry because Cyrus Audio has this covered as well.  The Cyrus Lyric all-in-one system comes in two performance levels – the more affordable Lyric 05 and the higher power and performance variant,Lyric 09 – both offer a high-end sound and ease of use that every family member will appreciate.  Both models bring the high-end engineering found in the Cyrus separates into a single-box unit.  All you need to add is your choice of speakers. The Lyric series' uniquely styled glass and aluminium chassis gives it a gorgeous lifestyle look, but don't be fooled – this series offers a class leading music performance thanks to built-in high quality amplifiers and DACs. Both the Lyric 05 and the Lyric 09 models can accommodate up to 14 music sources, and offer a rich number of features on-board including a music streamer, a sophisticated CD player, Bluetooth connectivity (APTX), FM, DAB+ and internet radio.  The streamer allows users to play music stored on your home network computers and NAS drives, while the Bluetooth option allows you to stream music to the system from any Bluetooth device such as your smart phone or tablet.  In addition to the provided remote, the Cyrus Cadence iOS / Android smart phone/tablet app lets you browse and control the music playback.  What the difference between the two Lyric music systems?  The Lyric 05 is specified at 80 watts per channel and uses a 24 bit digital to analog converter, while the Lyric 09 serves up a whopping 175 watts per channel combined with a 32 bit digital to analog converter a raft of audiophile component upgrades.
Why do digital files often sound better than a CD?
Peter explained to me that most people don't listen to a very sophisticated CD player to start with. That's because most CD engines were designed for the mass consumer market.  Most of the kits that audio component manufacturers integrate into their CD players were designed for a purpose different than a high performance home audio system – like a boom box or the automotive market, where the major design criteria was to ensure that the disc doesn't skip when you're driving over a pot hole.  Therefore music servers / streamers often sound better than a CD player.
Before getting into streaming however, Cyrus made a huge investment into the CD servo code.  A Cyrus CD player, especially their transport will greatly narrow the gap between CD playback and streaming.  The company's CD servo code is designed to extract more data right, the first time, hence using less error correction. So if you still cherish your CDs, you might want to take a look at a Cyrus CD player.
More to Cyrus Audio Than Streaming
Although most of our discussion was focused around network audio and streaming, Cyrus Audio offers a full range of audio components designed and built with equal passion.  They include integrated amplifiers, power amplifiers, preamplifiers, CD players, DACs, an upgraded power supply and various accessories.
To learn more about these other product categories, please check out our "Discover Music With Cyrus Audio" article.
Better yet, if you live in the Toronto area, I invite you to listen to Cyrus Audio components, along with other brands distributed by Kevro International, at the upcoming Toronto Audio Video Entertainment Show (TAVES), Oct. 31 – Nov. 2, 2014.  For more info, see www.taveshow.com
Suave Kajko, Publisher / Editor-in-chief, CANADA HiFi Magazine
Comments are closed.