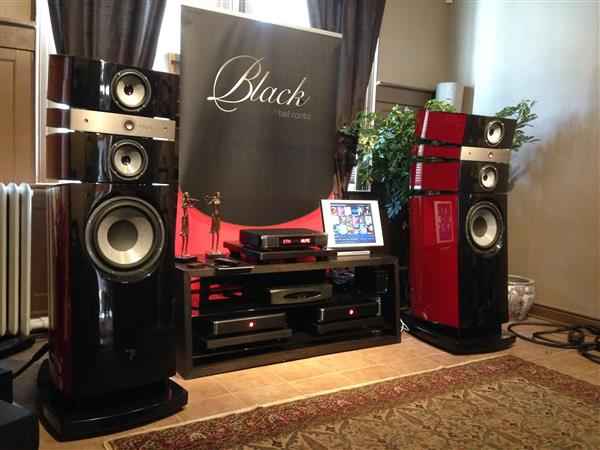 If you're a music lover that lives in the Toronto area and you haven't been to Angie's Audio Corner yet, I encourage you to jump in your car this weekend and check it out.  It is truly one of the greatest audio stores in Canada and an amazing playground for those passionate about music.  Angie's Audio Corner is a gorgeous historic house that's been converted into a high-end audio store.  Every room in the house features a dedicated audio system, some feature more than one system, consisting of different components and there are lots of rooms to explore.  The store is located at 12261 Yonge Street in Richmond Hill, ON (905-773-7810).
This week I had the opportunity to spend a little time at Angie's Audio Corner and discover what new products are on demonstration.  One of the beautiful aspects of this store is that nearly every time I visit it, there is something new to see and listen to.
This time around I had the pleasure of sitting down to listen to a 2-channel system consisting of Bel Canto Black components and Focal's magnificent Stella Utopia EM speakers ($95,000).  The Bel Canto Black is a brand new high-end audio system that strives to achieve the highest level of audio performance, while offering connection and control simplicity.  A prototype of this system was shown at TAVES 2013 and now the production version is available for demonstration at Angie's Audio Corner.  The new Black range contains only two components – the ASC1 Asynchronous Stream Controller and the MPS1 Mono Block PowerStream (amplifier).  A complete audio system, consisting of the ASC1 controller and two MPS1 amplifiers retails for $55,000.  The music source was a Sooloos music server system ($8,000 approx.), along with a Network Attached Storage (NAS) drive.  Music selection here can be performed using the Sooloos touch screen interface or a smart phone/table app.  The Bel Canto Black controller can also be controlled by your smart phone or tablet.  And there was no shortage of music for me to choose from – Angie's got every genre of music on offer – from the Dire Straits to Elvis to Tchaikovsky, and everything in-between.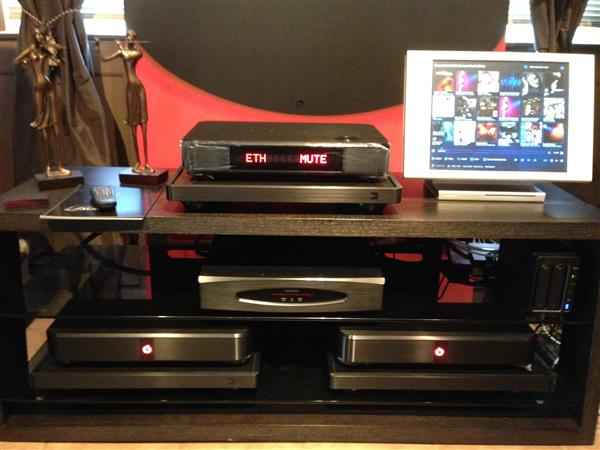 The ASC1 Asynchronous Stream Controller features a number of proprietary technologies that Bel Canto has been developing for many years.  Its rear panel offers a bank of mostly digital inputs, but it will also accept a single analog source.  The MPS1 Mono Block PowerStream (amplifier) pumps out a jaw-dropping 1200 watts and is stable down to 2 ohms.  It is not only capable of producing the cleanest possible amplification that money can buy, but it'll also power pretty well any speaker on the market.  The ASC1 and the dual MPS1's are wired together with supplied fiber optic cables.
I started my listening with one of my favourite bands Air and their "Moon Safari" album, then transitioned to the Dire Straits, Tom Petty and others.  I was immediately sucked into the music by this system's transparency and incredible clarity.  There were absolutely no hints of noise or distortion.  The background of clean recordings was completely black – perhaps this is exactly where the name Bel Canto Black comes from.  When a music system reproduces audio with such a quite background and accuracy, the end product is simply music nirvana.  The most subtle instrument and vocal details emanated from the music.  Tom Petty has never sounds better, or truer to life.  The blackness of the background also allowed for amazing separation between various parts of the soundstage, which was vast in its 3-dimensionality.  I could have sat there for many hours listening to music, with a big grin on my face.
Now, I know what you're thinking – and if you don't have quite enough 100 dollar bills in your wallet for this system, Bel Canto offers numerous, more approachable components.  Of course the Bel Canto Black is just one of the many different systems that you can listen to at this store.
So if you have time this weekend or the next, go listen to some music at Angie's Audio Corner.  Trust me, you'll have lots of fun.  – Suave Kajko –
For more info about the Bel Canto Black music system, please go to www.belcantoblack.com.
Now let me leave you with a few images I took during my visit.