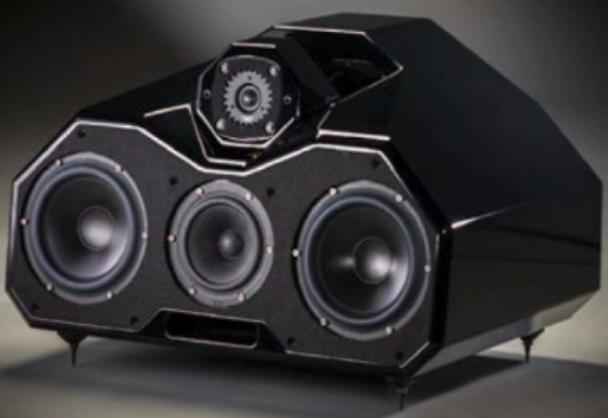 Wilson Audio created the original Mezzo loudspeaker to have a sonic signature matching their Sasha W/P; within a low-profile package for use as a centre channel.  Accomplishing this feat was helped by the use of a driver complement identical to the Sasha, with the exception of the midrange driver, which was in the case of the Mezzo, borrowed from the Alexandria XLF. Whether used as a center channel in conjunction with the Sasha, MAXX, or Alexandria, or alternativly as a main loudspeaker, the Mezzo matched the tonality, dynamic speed, resolution and sophistication of the original Sasha W/P.
Now Wilson has introduced a successor model to the original Mezzo, the Mezzo Convergent Synergy.  With the Convergent Synergy tweeter in the Alexandria XLF, the Alexia, and now the Sasha W/P Series-2, a Convergent Synergy tweeter version of the Mezzo became a necessity.  Wilson Audio's Convergent Synergy tweeter was originally developed for the Alexandria XLF and is constructed with a silk dome design to meet Wilson's musical design goals – including ultra-low distortion and very robust power handling in the lower part of its range, providing a higher resonant frequency and flatter frequency response when compared to the original inverted titanium design.
The Convergent Synergy tweeter's acoustic and mechanical demands are somewhat different from the titanium tweeter it replaces. Using the latest version of Wilson's proprietary composite, X-material, Wilson's engineers designed an all new tweeter module with inert and non-resonant qualities that increase dispersion and address diffraction—a type of time-domain distortion that results from reflections off the speaker cabinet.
In the main module, Mezzo Convergent Synergy's two woofers are mounted horizontally flanking the midrange driver.  To permit near perfect driver-alignment at the listening position the tweeter module is adjustable via a provided chart according to ear height and listening distance.  Allowing for a variety of installations.  In addition, the Mezzo Convergent Synergy crossover was revised to account for the unique needs of the Convergent Synergy tweeter.
Two stands are available: an Hourglass Stand with a solid front plinth that allows for 2? Steradian support of the midrange and woofer drivers or a second optional custom-order stand with different length pedestals to optimize for different cinema screens.
The new Mezzo Convergent Synergy loudspeaker has a MSRP of: $14,900.00 U.S. while the Hourglass Stand has a MSRP of: $2,350.00 U.S. and the Pedestal Stand, a MSRP of: $1,995.00 U.S.  The Mezzo Convergent Synergy is available for immediate order. Look for more details at: http://www.wilsonaudio.com/index.shtml.