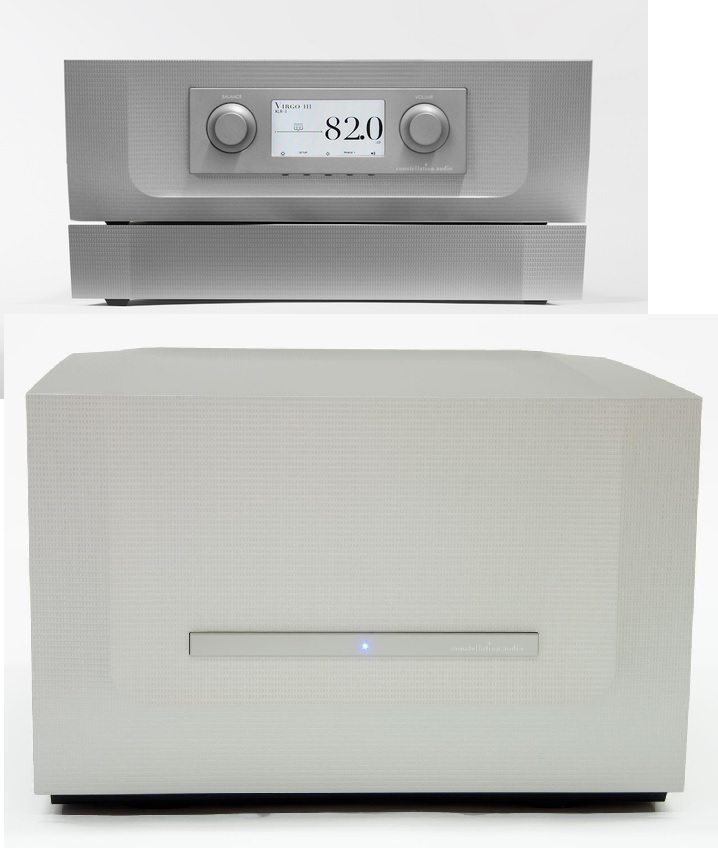 Constellation Audio has just announced the debut of their new Virgo III preamplifier and Centaur II power amplifier – to be shown in Munich at the High End Show, May 14 – 17. The new models both build on their successors of the same name and benefit from the research that was done to introduce the Constellation Reference Series Altair II preamplifier and Hercules II amplifiers.
The Virgo III is an evolutionary step from the former Virgo II and like its predecessor the new Virgo III uses a separate power supply for better isolation and lower noise. Compared to its predecessor, the Virgo III will provide improved remote control operation, smoother operation of front panel knobs, and new internal circuitry that allows a quicker warmup time for virtually instantaneous peak operation. As part of its user-friendly design, the Virgo III has a theater bypass feature which can be configured for any of its inputs, and a DB-9 port for easy integration into whole house automation systems.
The Centaur II is a completely new amplifier design that is built on a redesigned chassis. Incorporating a new capacitor board derived from the Hercules II and specifically adapted for the Centaur II, the power supply capacitance of the Centaur II is greater than the original Centaur by a whole order of magnitude. While the rated power output is the same as the original Centaur that continues to be in production, the increased capacitance is said to provide a palpably better bass at all listening levels. Dynamics, both macro and micro, are also significantly improved. The larger chassis of the Centaur II allows us to increase the internal shielding, thereby lowering the overall noise of the amplifier. A final benefit of the new chassis design with its larger heat sinks is more efficient cooling. Like all Constellation Audio amplifier designs, the Centaur II is available in both stereo and monaural configurations.
SPECIFICATIONS
•Bandwidth: 10Hz-200 KHz @ 0.5% THD+N
•Output = 17 Volts RMS
•Inputs: 4-XLR Balanced, 4-RCA Unbalanced
•Output: 2pr XLR & RCA/channel
•Remote Control: Volume, Balance, Input, Mute, Phase
•Features: External power supply, 12V trigger, USB control, DB-9
•Dimensions
•Preamp: (W x H x D): 17" x 5.5" x 15.75"; 43.2 cm x 14 cm x 40 cm; Weight: 35 lbs.; 16 kg.
•Power Supply: (W x H x D): 17" x 5" x 14.5"; 43.2 cm x 12.7 cm x 36.8 cm; Weight: 22 lbs.; 10 kg.
•Power Output: 250 W/ch. into 8 Ohms, 500 W/ch. into 4 Ohms @ < 0.05% at rated power
•Frequency Response: 10Hz – 100 KHz +1/-0.5 dB
•Inputs: Constellation Direct, XLR Balanced, RCA Unbalanced
•Output: 1pr. Binding post/Banana socket/channel
•Input Impedance: 10KΩ Unbalanced, 20KΩ Balanced
•Features: 12V trigger, USB control
•Dimensions (W x H x D): 18.75" x 11.7" x 22.3"; 47.6 cm x 29.7 cm x 56.6 cm
•Weight: 130 lbs.; 48.5 kg.
The new Virgo III will have a MSRP of: $30,000 U.S. and will begin shipping in the Summer 2015. The Centaur II will have a MSRP of: $40,000 U.S. in the Stereo models and $80,000 U.S./pair as Monos, with delivery to happen in late Summer 2015. Look for more information to be provided at: http://www.constellationaudio.com