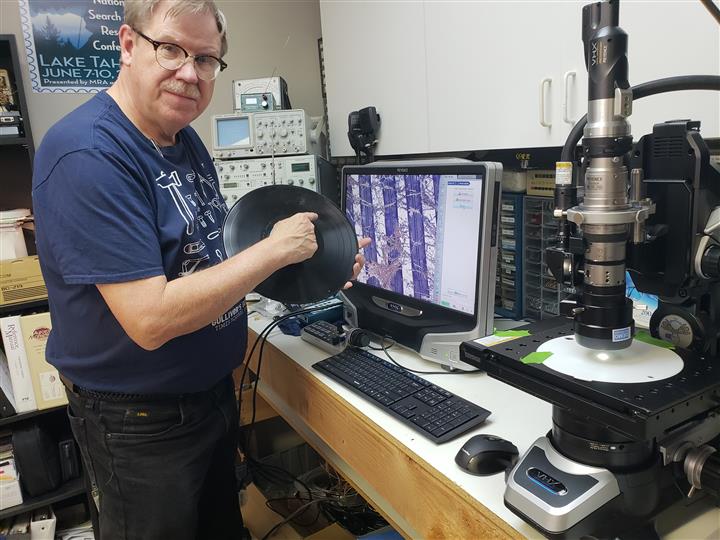 Charles Kirmuss, of Kirmuss Audio, examines the grooves of a record under a microscope to verify the effectiveness of his record cleaning system.
Step #7: Rinse the goat hair brush with distilled water and then *brush* said brush dry on the micro-fibre cloth.
Step #8: Depending on how dirty your records are, you'll need to repeat Steps #5 through #7 multiple times until the toothpaste residue stops appearing. From my tests, 3 to 4 wash cycles will thoroughly clean most vinyl and utterly filthy records may need as many as 7 or 8 cycles to attain God-like cleanliness.
Step #9: Watch the unit's temperature status bar on the LCD display. If it turns RED and flashes, the unit is overheating and needs to be cooled down. In practice, cooling takes about 20 minutes. Kirmuss recommends letting the unit cool down after 35 minutes of continuous use.
Step #10: Once a record is clean, lightly mist both sides with pure distilled water from a clean spray bottle. Then dry both sides with the optician's cloth.
Step #11: After the record is dry, wipe both sides with the parastatic felt brush.
Step #12: Using the goat hair brush, apply the anti-bacterial solution to the record's surface. And voila…! Your vinyl is now "restored" and ready to be played.
Results:
Kirmuss Audio's KARC-1 will NOT magically repair gouges, scratches, or any other such physical damage to your vinyl. Once washed, though, the vinyl does look brand new. It should be noted that the cleaning process also removes the sealants and polishes which are sometimes applied to records during the manufacturing process. This allows the stylus to make improved contact with the grooves and hence increases the amount of information read by your turntable.
After cleaning, all of my vinyl sounded clearer. Blues and jazz records had better PRaT, quieter backgrounds, and superior timbral accuracy. With symphonic and classical recordings, I noticed extra soundstage width and depth. This wasn't a forward or backward shift in instrumental positioning within the soundstage. While instruments remained where they'd always been, I noticed a deeper resolution that more fully informed me about the physical size of the concert hall, the sound of echoes, and the decay of notes.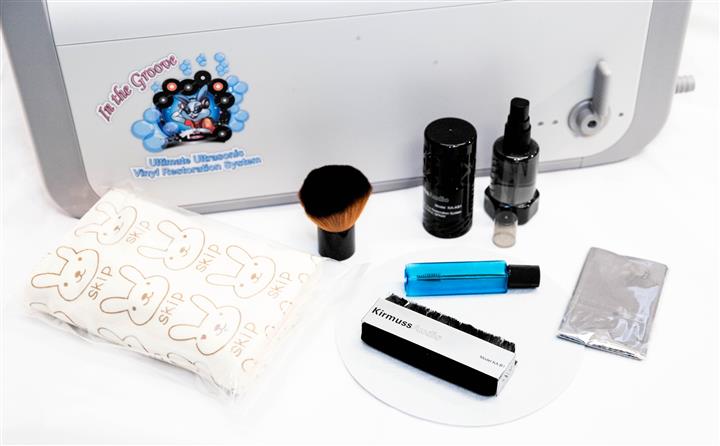 Listening Tests:
Recorded and mixed in NYC at Hendrix's Electric Ladyland Studios, Weezer's first self-titled album was officially released in early 1994. The "blue" album features such memorable tracks as "My Name is Jonas", "Buddy Holly", "Undone- the Sweater Song", and "Say it Ain't So".
Weezer's sound combines melody-based 1950's era harmonies with a heavier early-1990s distorted grunge element. After using the KARC-1, subtle instrumental cues and delicate timbral shadings which I'd never noticed before were far more apparent.
"But that's easy…" you say. "Cleaning brand new vinyl and even 25 year old records that have been kept in pristine shape isn't hard."
After both of my parents had shuffled-off to the next world, I inherited their vinyl collection of 1950s and 60s era jazz and classical records. One of my favourite albums from their estate is a double-disc RCA Victor Living Stereo copy of Belafonte at Carnegie Hall which was recorded in 1959.
Listening to Belafonte Live will bring a smile to the face of any serious music lover. My Heavens was he an entertaining singer! My parents' double record set was covered in 60 years of dust particles, cat and dog fur, and mould. Although it took eight wash cycles through Kirmuss' KARC-1, once cleansed, the sound quality of the original records was breathtaking; even sublime.
Conclusion:
Much like cleaning your teeth or your dog's feet after the beast has been out in the rain and mud, it's self-evident that, from time to time, vinyl records also need to be cleaned. Stated succinctly, clean records sound better than dirty ones.
If you own an audiophile vinyl rig, have a decent sized record collection, and/or are fond of hunting for used vintage vinyl in stores where you can practically taste the mould hanging in the air, Kirmuss Audio's $1,200 CAD ultra-sonic RCM is an extraordinarily valuable tool for restoring and preserving your records. 'Nuff said.
Kirmuss Audio
www.kirmussaudio.com
(303) 263 6353
ckirmuss@frontier.net
In Canada, please contact:
Canadian Regional Sales Representative, ​Jérôme Fragman
(416) 997-5589
(647) 729-3395
audiojerome@hotmail.com