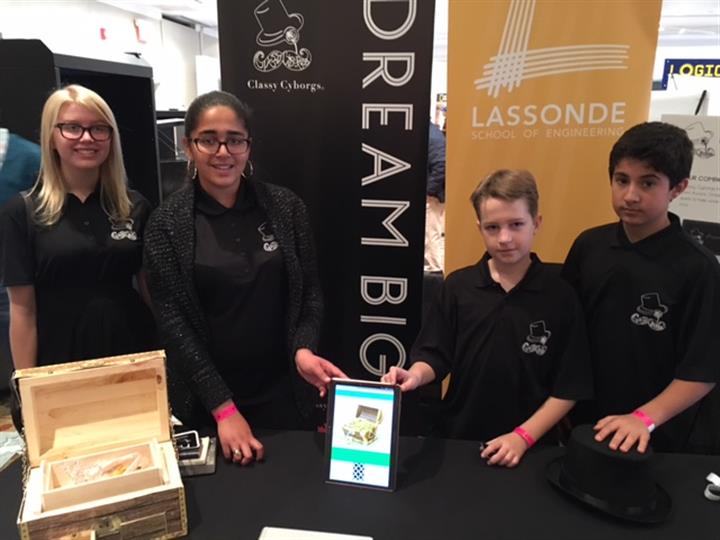 By Disha Prashar, Classy Cyborgs Team Member
We are Classy Cyborgs, a team of 10 kids, aged between 13 and 15, from Aurora, Ontario. Our journey of innovation began in September 2014 when we signed up for a challenge as a FIRST Lego League team. Our mission is to leverage technology to help visually impaired children learn Braille. We have invented a method to solve this problem with our engaging, fun and interactive innovation. Our solution, called the Treasure Box Braille Learning System, delivers affordable technology by pairing learning software with a portable Braille simulator and a toy treasure box.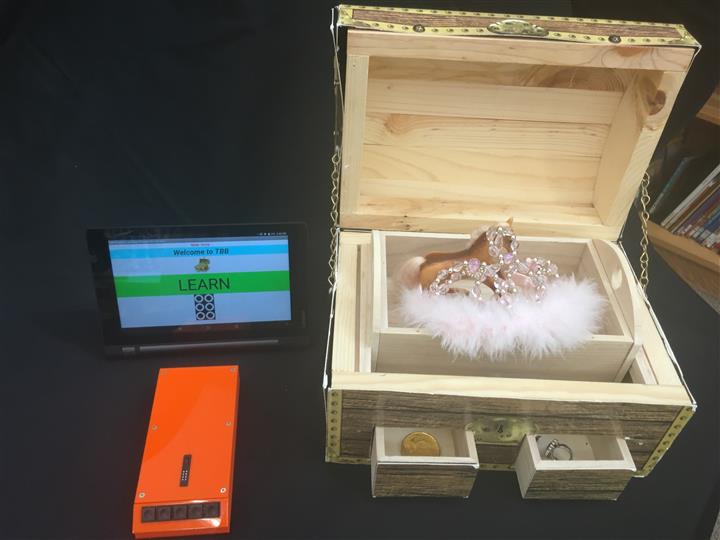 Our unique value proposition is "kids designing software for kids".
Originally, we set out to develop an affordable solution to help blind learn music, however, research brought us face to face with an alarming and compelling statistic: 35 million people worldwide are blind yet only 10% can read Braille. This is when we switched gears and decided to help bridge the glaring gap in Braille literacy.
We partnered with several industry leaders and organizations, CNIB and Perkins School for the Blind, being our key audience. We are deeply indebted to NASA scientist Ayanna Howard for her guidance and leadership. The coaching, mentoring, industry insights and direction we receive from these invaluable resources, on an ongoing basis, has been the cornerstone of our journey and accomplishment.
An important milestone along our journey was our participation in the Global Innovation Award (GIA) Competition through FIRST Lego League. Out of the 527 global entries, we qualified as one of twenty semi-finalists.
To help our evolution, we partnered with business accelerator ventureLAB, who helped us refine our presentation skills. ventureLAB is also connecting our team with industry and educational mentors. We are their youngest clients.
Leading up to the GIA competition, our Treasure Box Braille Learning System was highlighted by national coverage in an interview on CTV on April 15th, 2015. We weren't able to advance to the next round of the GIA competition, however, we had a great time in St Louis. Classy Cyborgs is a Global Innovation Ambassador for FIRST Lego League.
Winning $10,000 in the Inspired Minds Learning Project competition as the "Category Winner Globalization" was another significant achievement for us in 2015.  The support from CST Consultants enabled us to accelerate our product development, attract support from key stakeholders, file a patent and create marketing materials to raise awareness about our project.
We are proud to be this year's CST Inspired Minds Learning Project 2nd place winner!  Our team recently travelled to Canadian Scholarship Trust's head office to accept our $50,000 award that will be put toward our product development.  We are grateful to CST for believing in our team and for helping us make our ideas real.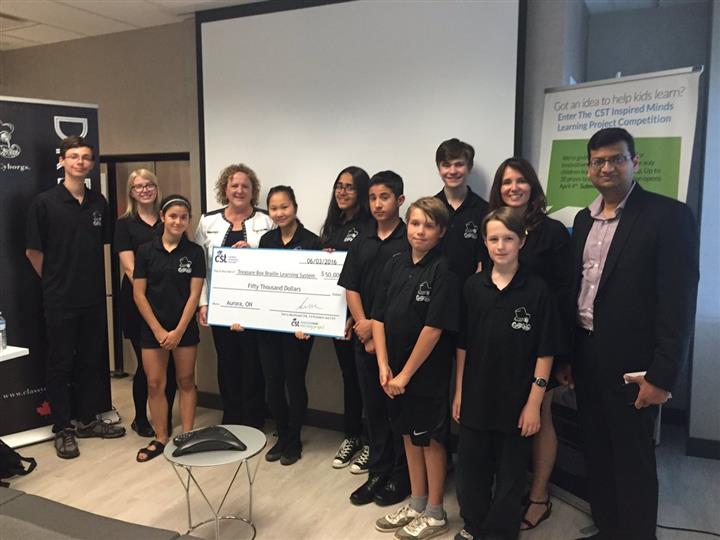 Today, Classy Cyborgs is an incorporated entity (Classy Cyborgs Inc). Our corporation has earned us credibility within the innovation sphere and has opened up several public interaction opportunities and the ability to participate in exclusive speaking events including ventureLAB AGM, MedEdge Summit, IBM Headquarters, TAVES Consumer Electronics Show, OCE Discovery & CNIB National Braille Conference.
We are actively engaged in co-developing our first working prototype of the Treasure Box Braille Learning System with the help of Lassonde School of Engineering at York University. Our projection is to have the prototype ready for testing by Fall 2016.
We've had a fantastic and fun filled experience. We are excited about the explosive potential in the future. Our commitment to help blind learn braille has only grown stronger, with time.
Between all of the speaking engagements, the conferences and exhibitions, various meetings and interactions with our partners, sponsors, mentors, parents, and most importantly, our coaches, our team is very grateful to everyone who has helped us along the way as none of this would be possible without them.
For more information about our Treasure Box Braille Learning System, please visit www.classycyborgs.org