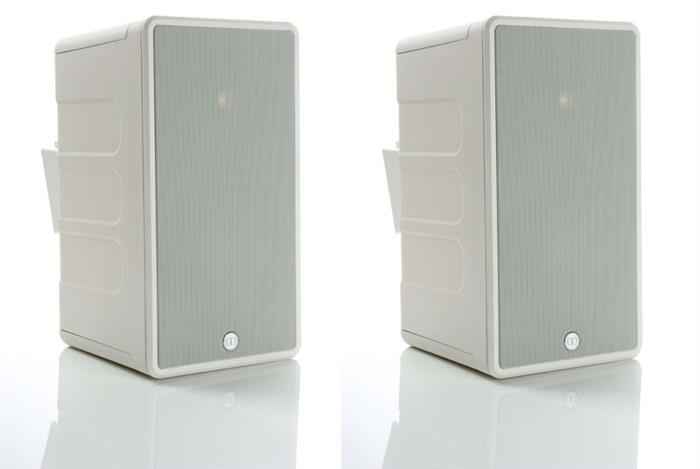 Patio season is in full swing and if you're anything like me, you might be trying to maximize your time on the patio in your backyard, at a local bar or a restaurant.  Just add some music and an ice cold Caesar cocktail and you've got a perfect recipe for summer.  I recommend dressing your Caesar with a delicious Matt & Steve's Extreme Bean, an amazing pickled spicy bean.
You may not currently own a pair of outdoor speakers but I bet you've heard quite a few outdoor speakers in the past.  It's common to find them on the patios of restaurants and bars.  You've probably also noticed that the sound of these speakers is often somewhat lifeless and there is very little bass.  That's because reproducing sound outdoors presents some unique challenges.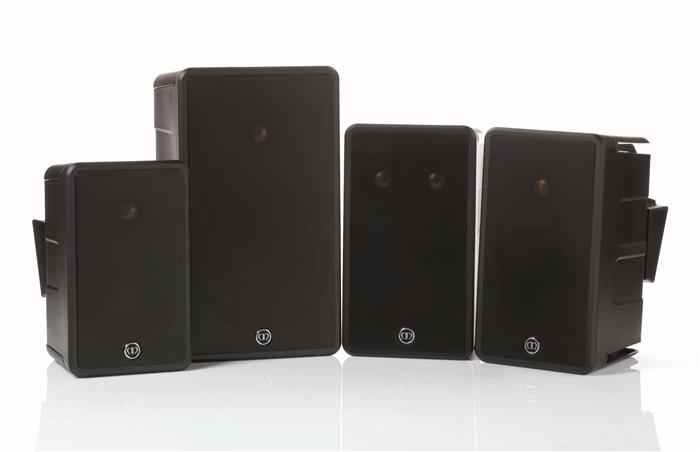 Monitor Audio's Climate series of outdoor speakers is designed to overcome the challenges of outdoors by providing durable enclosures, flexible mounting options and above all, a clear, full range sound.  There are three models to choose from: the CL50 ($429/pr), CL60 ($629/pr) and CL80 ($799/pr).  Each two-way model houses a 1″ C-CAM gold dome tweeter and a progressively larger C-CAM bass/mid-range driver (5″ in the CL50, 6″ in the CL60 and an 8″ in the CL80).  The range also contains a stereo 6″ driver model, the CL60-T2 ($349/each), which contains two tweeters.  What distinguishes Monitor Audio's Climate speakers from other outdoor speakers is the inclusion of the ABR (Auxiliary Bass Radiator) for added bass performance.  This is particularly important since bass disperses very quickly outdoors.
At the heart of each CL model is Monitor Audio's high performance C-CAM tweeter and driver technology.  C-CAM, short for Ceramic-Coated Aluminium/Magnesium, is an innovative alloy that was originally developed for the aerospace industry. Its extreme rigidity and light weight also make it the ideal material for loudspeaker cones.  C-CAM technology is found across different Monitor Audio home speaker ranges, including the excellent performing Gold GX series which I use in my basement home theatre system.
As you might expect from outdoor speakers, the CL series is designed to withstand the test of weather and time.  The solid, sealed enclosures are constructed out of high density polypropylene and are specially treated to resist moisture and long-term effects of UV exposure.  The aluminium grilles and tough brackets are designed to prevent rust.  Available in a fine textured white and black finish, the enclosures can be painted to perfectly suit your outdoor decor (special paint masks are provided).
North American distributor Kevro International outfitted me with the flagship CL80 model for this review.  While mounting them on my patio, I quickly realized just how much installation flexibility theses speakers offer.  The included bracket can be installed horizontally or vertically and offers 175 degrees of rotation in small non-slip increments.  A supplied polypropylene wedge adds 15 degrees of rotation for extra mounting versatility. This means that you'll be able to easily aim the speakers at the desired listening spot on your patio during installation.  On my patio, I couldn't have achieved this without the optional wedge, so I greatly appreciated it.  Once I had the speakers positioned to my liking, I clicked the magnetic end caps on both ends of each speaker. These ends caps serve a dual purpose: they protect the adjustable bracket terminals from the elements and offer a perfectly clean, finished look when in place.  I installed the CL80s at a height of about 7′, underneath the roof of my 14′ x 17′ patio.  The speakers were mounted on the far side of the patio, facing the house and aimed at my patio table.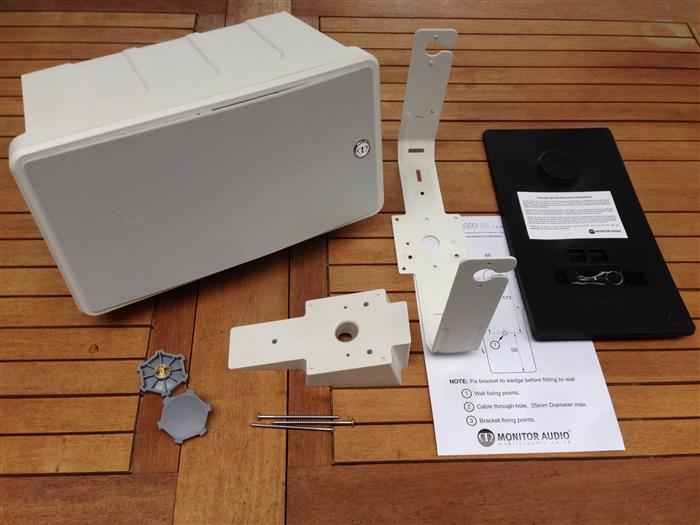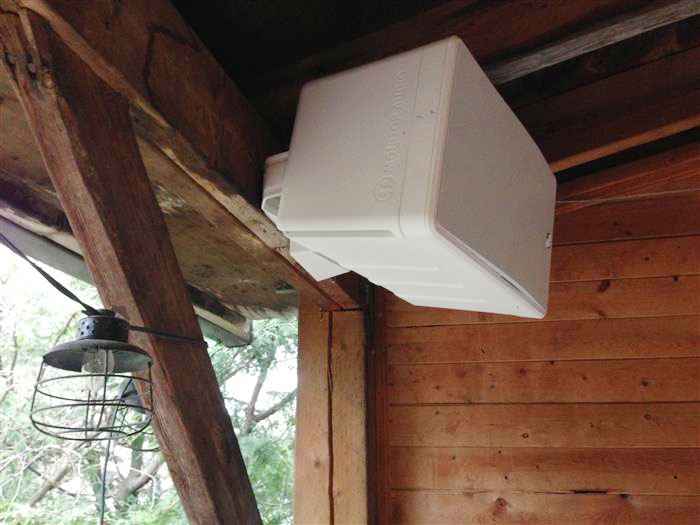 With the CL80s in place, I connected them to my Sonos CONNECT: AMP, which serves as the music source and provides the amplification.  The Sonos CONNECT: AMP sits inside my house, close to the patio doors, with a pair of speaker wires running to the outdoor speakers.
I've had a pair of JBL Northridge outdoor speakers installed on my patio for the last several years and they've provided me with good enjoyment.  But as soon as I began listening to the CL80s, I realized that these speakers were in an entirely different class.  To be fair, the Monitor Audio speakers are much larger, significantly more expensive and offer a higher level of technology all around.
The weather had just turned really nice when I started my listening sessions, so the timing couldn't be any better.  I began by spinning up a few tracks from the Dire Straits, Radiohead, and Canadian bands like City and Colour, and Hot Hot Heat.  I was immediately presented with clean, sweet sounding midrange, where most of the music and vocals take place.  Vocals were reproduced with accuracy and sang with realism.  String instruments offered great detail and texture.  All of the tracks I listened to had a rich, natural sound.  My JBL speakers in comparison sounded much flatter, more constrained and less lifelike.  Something else that I was pleasantly surprised with was the soundstaging.  It would be unfair to expect the same kind of soundstage as I'm used to hearing from my reference system, but this combination of the CL80s / Sonos CONNECT: AMP laid out a pretty respectable soundstage with good dimensionality.
Switching gears, I tried some tracks from the Best Audiophile Voices collection.  High frequency extension and definition was excellent thanks to the C-CAM gold done tweeter.  This helped a great deal when reproducing the high notes of string instruments and flutes, for example.  Bass performance was well beyond what my JBLs were ever capable of. This was of course thanks to the Auxiliary Bass Radiator and the larger driver / enclosure.  This greater bass extension injected some additional life into instruments like bass guitars and kick drums.  Electronic music, like the TRON: Legacy soundtrack benefitted greatly from the CL80's bass performance, sounding fuller and richer.  It would have been nice to hear a little more bass articulation and texture but I suspect that the outdoor environment swallowed some of this up.
Ray Montford's A Fragile Balance album brought me a lot of listening pleasure.  Guitars played with fluidity and percussion instruments had a great impact and decayed naturally.  At some points the natural outdoor sounds, like the chirping of birds or the fluttering of leaves in the wind, seemingly added to the music in a positive manner.
I listened to the CL80s for many hours on my patio and they brought pleasure to my ears every time, regardless of music selection.  They played equally well with indie rock and classical music, and everything in-between.  I also had a chance to play them for a few friends who were quick to comment about their engaging sound quality. It's unlikely that you'll be doing any critical listening to outdoor speakers but that doesn't mean that you should be listening to lousy sound.  And lousy sound is exactly what you'll get from many inexpensive outdoor speakers.  I have no qualm saying that the Monitor Audio CL80 is the best sounding outdoor speaker I've had the pleasure of listening to because that's truly the case.  This speaker enabled me to enjoy music outdoors like never before.  If you love your music and are looking to treat yourself to accurate outdoor sound this spring/summer, I would certainly take a good look at Monitor Audio's Climate series of outdoor speakers.  Aside from a fantastic sound, you'll be pleased with their versatile mounting options and rugged build quality.  With four different models, you're sure to find one that suits your patio size and budget.  Happy outdoor listening!
Quick Info
Monitor Audio
www.monitoraudio.ca
Distributed in North America by Kevro International, www.kevro.com
Monitor Audio Climate CL80 Outdoor Speakers: $799 CAD/pr.
Comments are closed.