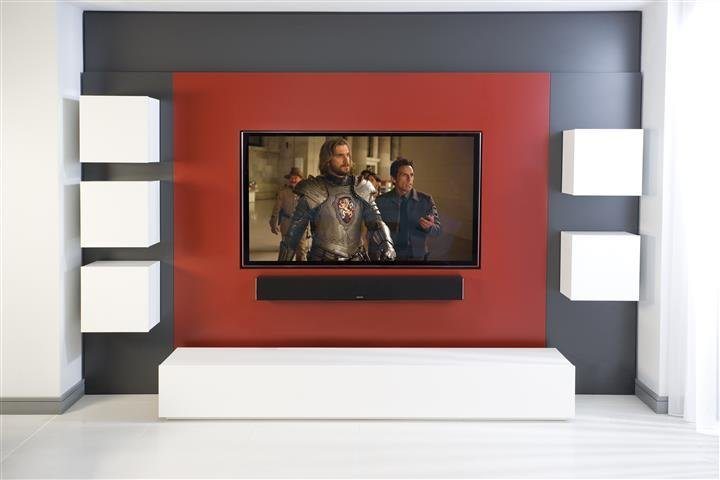 Soundbar technology and performance have come a long way in the last few years and the new Monitor Audio SB Series models promise to greatly improve the home entertainment experience.  Designed to be paired with flat panel and curved TVs 50-inches and larger, these soundbars are engineered with flagship cabinet and driver technologies to combine efficient low-profile design with extraordinary room-filling dynamics.  The new series consists of two models – the SB-2 for integration with 50-60-inch TVs and the SB-3 for screen sizes 60-inch and up.  Both models offer a wide range of mounting options for easy and discreet custom installation.  Each new model features three separate driver arrays for the left, centre, right channels in a single cabinet. The SB-2 employs individual 4″ mid-bass, 1″ tweeter and sealed ABR (Auxiliary Bass Radiator) drivers per section; the SB-3 uses twin bass drivers and ABRs in the centre section to provide higher acoustic output and power handling for critical centre channel reproduction. In order achieve astonishing music and film-sound performance relative to size, all drivers are of the latest design developed for Monitor Audio's flagship speakers and utilize our signature C-CAM material.  The SB-2 and SB-3 will be available this March.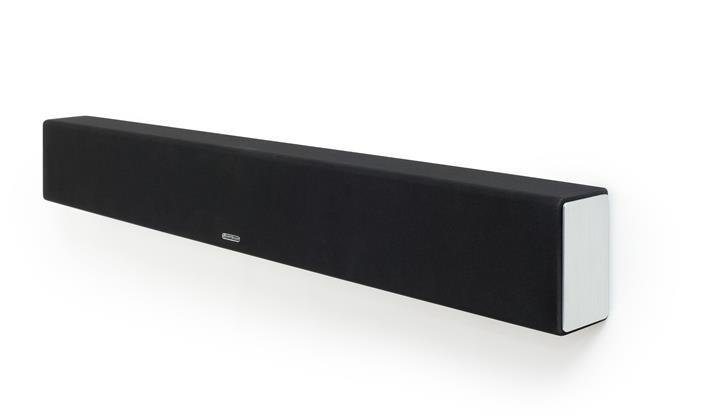 Highlights of the Monitor Audio SB Soundbars include new mid-bass drivers, new tweeters and elegant low-profile cabinets.
Unlike conventional cones, which incorporate a centre aperture for the voice-coil, the C-CAM cones deployed by the SB series take the form of a continuous uninterrupted radiating dish having inherently greater strength and area. The voice coil sits beneath and is coupled to the motor by a more efficient drive assembly, increasing excursion and power handling while reducing distortion for a more dynamic and accurate response. Flat diaphragm 'racetrack'-style ABRs augment the mid-bass drivers to provide additional bass definition and power handling. They work in a similar way to ported alignments, but remove the possibility of port noise, helping the SBs to play loud and clear.
Sitting in a newly developed horn-loaded tweeter housing for consistent off-axis performance and uniform room coverage, SB's improved C-CAM high frequency drivers vent internally around the outside of the magnet system into a rear-loading chamber, producing much lower resonance and better overall damping. The frequency response from each new tweeter is wider and more accurate at lower frequencies for better integration with its companion mid-bass driver(s).
SB's slim-line cabinets are of high-density MDF, braced internally for maximum rigidity, promoting clean, low-distortion sound. Additional bracing is supplied by Monitor Audio's innovative bolt-through driver mountings designed for our range-topping speakers, which secure the driver to the back of the cabinet and clamp the basket to the front, reducing resonance in the enclosure while eliminating front fixings. The SB cabinets are clothed by an acoustically transparent cloth finished with brushed aluminum end caps for a discreetly stylish result that will integrate beautifully with any flat display.
High quality, low profile terminals are recessed to facilitate flush-to-wall installation. The terminal panel provides standard fixing points compatible with Sanus TV mounts, which offer a wide range of installation opportunities. Wall mounting is also possible via Monitor Audio's low profile Soundbar series wall bracket (optional) for easy cable access, pre-alignment and fixing. Silicon feet provide a secure cabinet-top mounting alternative.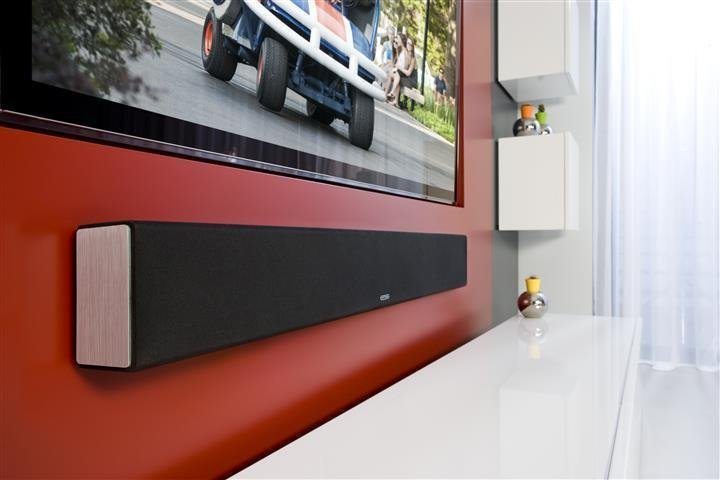 In larger rooms the SB-2 and SB-3 are designed to be used with a partnering sub-woofer to deliver the best possible audio experience. Within smaller environments and systems, the SBs can be deployed without the sub to handle full range audio with a reduced power handling.
Features and Specifications
 Range of discreet, stylish passive soundbars for displays of 50″ and above.
 Three acoustically independent channels (Left, Centre, Right) integrated within one enclosure.
All MDF construction. Internally braced for additional rigidity.
New 4″ (200mm) C-CAM bass drivers for each channel (two for the SB-3 centre) – feature concave cone profiles for stiffer cone properties resulting in lower distortion.
1″ (25mm) C-CAM gold dome tweeter for each channel, optimized to deliver the widest frequency performance within the compact SB cabinets. It benefits from a more efficient rear-venting design for longer excursion, higher output, lower distortion and better integration with the mid-bass driver.
Auxiliary Bass Radiators (ABR's) for each channel (two for the SB-3 centre), designed to extend bass response with no associated air noise.
Single through-bolt driver fixings provide mechanical de-coupling and enhanced mid-band clarity and resolution. The through-bolts also perform cross-bracing to enhance cabinet rigidity.
Acoustically transparent wrap-around black cloth finish with solid brushed aluminium end trims offers perfect style complement to TV displays.
Recessed high quality, gold pated terminals.
Designed to fit Sanus TV mounting systems.
Optional sturdy Soundbar series wall bracket with easy cable access and template installation.
Low profile silicon rubber feet integrated for secure cabinet top placement.
For more info, please visit www.monitoraudio.ca