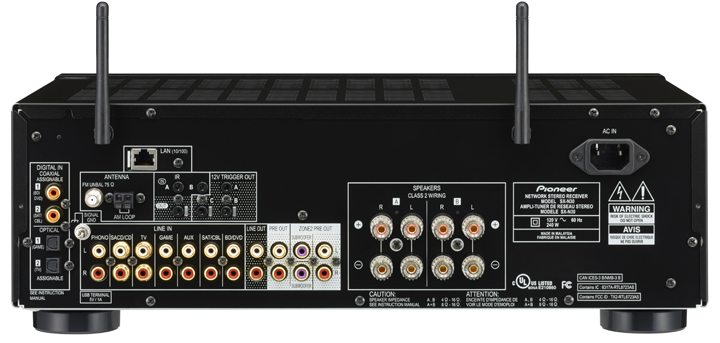 While the SX-N30 has a front panel USB port for a flash drive, I would have liked to see an additional USB audio port on the back panel for a more permanent USB hard drive. The SX-N30 can also access many of the popular streaming services available today such as Spotify, Pandora, SiriusXM and DEEZER, just to name a few.
With all the inputs that the SX-N30 has, ultimately, one has to command all of this technology goodness. The provided remote control offers a traditional design with a common button layout that will be familiar to us old timers. However fundamentally what makes or breaks a network receiver is the control app. While the SX-N30 was at my house, my son, who is an avid music listener, skipped the provided remote and installed the Pioneer app on his phone (I too, followed suit).  I've experienced numerous control apps from various manufacturers over the years and this one from Pioneer is one of the best I've seen. The app is simple to use, well thought out, and even customizable. With all the inputs and streaming services available on the SX-N30, scrolling to the desired input is a tedious process. Pioneer has solved this by allowing the user to delete unused inputs and services to give the main screen a cleaner look and allow the user to get to their selection more efficiently. Other manufacturers take note.  Furthermore, Pioneer has incorporated a network discovery feature that actually works.  When in stand-by, network discovery allows the SX-N30 to be powered on via the control app.  It's interesting to note that in the instruction manual, Pioneer has several pages detailing on how to use the remote control and scroll through the endless on-screen control menus, yet only briefly mentions the existence of the control app. All of these menu selections are displayed on the front panel screen which for me is barely visible from 8' away. The front panel itself has a multitude of redundant buttons and dials that are found on both the remote control and control app.  I suspect this is a design philosophy carry-over from a traditional AVR but I would have preferred a cleaner more modern aesthetic for the front panel.
For enjoyment of online music services Pioneer recommends a wired connection to the home network for maximum reliability. During my testing I used a hard line connection, however as the SX-N30 does have built in Wi-Fi with dual antennas, I decided to see if I could detect any differences between the wired and wireless connections. Using a strong Wi-Fi signal of -30db and streaming high-res FLACs through my network, I didn't notice any connectivity or buffering issues.
I connected a pair of Paradigm Prestige 85F floorstanding speakers to the SX-N30, and began listening to music, which included FLAC files (96kHz/24-bit) accessed from my NAS drive.  The SX-N30 has three listening modes – stereo, direct, and pure direct. I choose stereo which I found better suited to my speakers.  So how does the SX-N30 sound?  Listening to the track 'Oh' from the album Some Devil by Dave Matthews, the vocal reproduction was terrific and lively without being aggressive.  The SX-N30 painted a huge soundstage with excellent focus and throughout the song delivered a well placed stereo image.  The acoustic guitar had a natural woody sound, without sounding harsh or artificial. Deadmau5 'Arguru' from Random Album Title is not a typical 2-channel selection but I enjoy this track for its deep rhythmic bass that gives the amplifier's bottom end a good work out. Overall the SX-N30 did a good job in delivering hard hitting bass at a moderate volume level. However, if I really wanted to turn up the volume and experience deep bass, Pioneer has included an output for a subwoofer.
I also decided to try out a little Trip Hop with 'Undress Me Now' by Morcheeba from the album Parts of the Process.  Having heard this song more times than I can recall, I immediately noted that there was more energy in the upper midrange and treble, which was noticeable on Sky Edwards vocals.  Tonal characteristics of the background singers highlighted the musicality of the SX-N30.  In comparison to my reference system I found the SX-N30 to be slightly forward sounding but to be fair my reference system wouldn't be in the same price category as the Pioneer. So if I was new to the 2-channel category I would be more than happy with the overall sound quality of the SX-N30 and not at all feel that I was missing out on something.
The SX-N30 is at the forefront of recent growth in the 2-channel segment thanks to its multitude of features, easy set up, great control app, fantastic sound quality and reasonable price.  This network stereo receiver would feel right at home as an audio hub, in a space where multi-channel audio is not desired or doesn't fit.  Condo owners will love the SX-N30's small footprint and ability to achieve awesome sound without having to deal with the added complexity of setting up surround sound speakers.  Hook up the SX-N30 to a TV with set of tower or bookshelf speakers and a powered subwoofer, and enjoy great stereo sound that is far better than the TV speakers.   The SX-N30 is perfect for an all-in-one music solution that is clean, relatively compact and will remain relevant for years to come.
Pioneer Elite SX-N30 Network Stereo Receiver
Price: $799 CDN