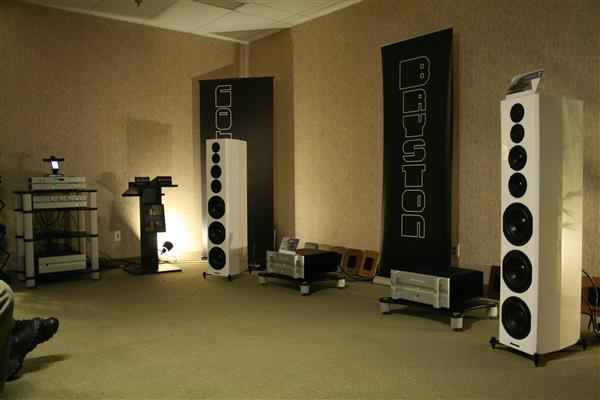 Canadian manufacturer Bryston Ltd. showed its muscle at this year's Salon Son & Image (or Montreal Audio Show) in one of the biggest rooms.  Just take a look at their amazing setup above.  George de Sa is working on a full coverage of this room but I had a chance to sit down and have a listen, and snap some pictures, as well while at the show, which I wanted to share with our readers.  The large Model T Passive looked friendly and less imposing than you might think in the glossy white finish, and were powered with a couple of 28BSST² mono block amps.  The sound here was dynamic and powerful and certainly left a great impression and a big smile on my face.  I also discovered a very cool new (to me) Nine Inch Nails track called "Copy of a" thanks to James Tanner's diversified taste in music.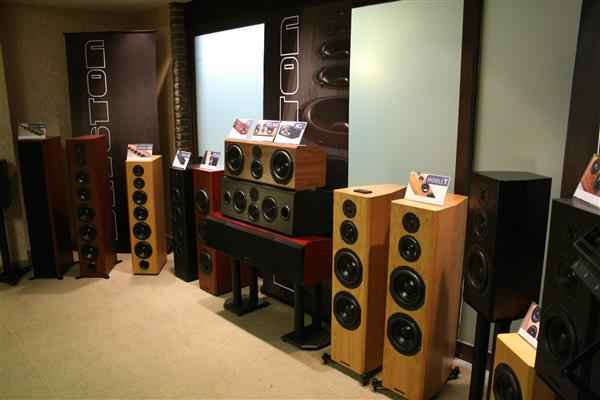 In addition to the active demonstration system inside this room, Bryston showed pretty much its entire line of electronics and speakers.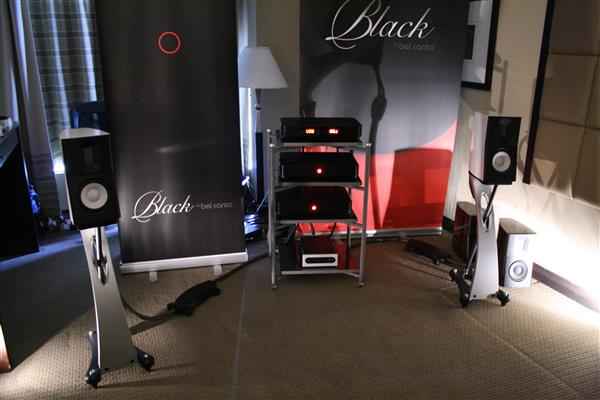 Audiopathways demonstrated this year that you don't need a big room to experience an amazingly talented and powerful music system.  The system above consisted of the magnificent Raidho Acoustics speakers driven by a Bel Canto Black preamp/amp system.  Owner Angie Lisi played two different Raidho speaker models during the show, offering visitors a chance to hear the C 1.1 ($18,000) and the D-1 ($28,000).  I am not exaggerating when I say that these perhaps the best sounding speakers I have ever heard.  The accuracy, soundstaging, musicality and details are simply first-class in both models.  And the amount of deep, clean and articulate bass is astonishing given that both models are not very big bookshelf speakers.  The Bel Canto Black system is equally as impressive in performance.  I had a chance to listen to this system a couple of weeks earlier at Angie's Audio Corner and found it to be incredibly transparent, clear and have a completely black background.  You can read more about this system here: https://novo.press/angies-audio-corner-whats-new/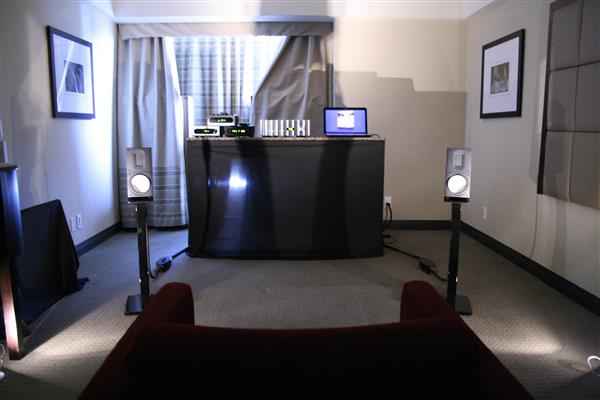 In another room, Audiopathways showed the brand new Raidho X-1 bookshelf speaker.  At $8,000 it is the smallest and most affordable Raidho model, allowing those with more reasonable budgets to get a taste of the seductive Raidho sound.  I was simply blown away (again) with this speaker's performance.  What I heard was a perfect tonal balance, vivid details, fantastic soundstaging and a phenomenal bass.  From a speaker the size of could be a computer speaker, the sound was unbelievable.  We hope that Audiopathways will demonstrate these speakers again at the Toronto Audio Video Entertainment Show (TAVES) this fall, so that music buffs from the Toronto area can give it a good listen.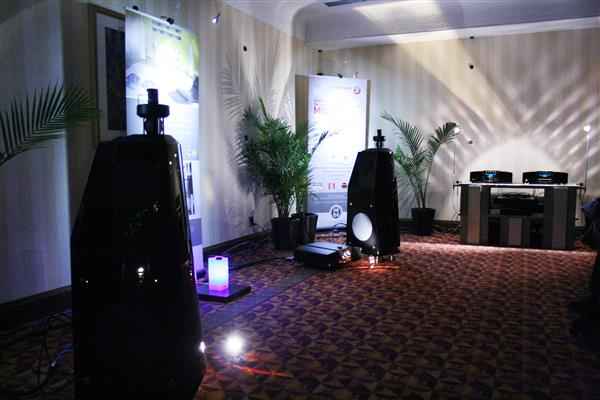 MBL's room is always a pleasure to spend some time inside, listening to music.  But you usually have to wait your turn, as there was a line-up in front of the room non-stop.  These German-made omni directional speakers radiate sound in a 360-degree pattern reproducing music in a true-to-life, three dimensional fashion that is highly engaging and emotional.  MBL electronics on the other hand produce a clean, dynamic, highly detailed and powerful sound.  The combined system resulted in one of the best sounding systems at the show, at least in my opinion.  Rumor has it that MBL, together with retailer Update TV & Stereo, will be demonstrating an out-of-this-world 7.1 channel MBL sound system in the biggest room at TAVES 2014 this fall, along with a 4K Sony projector on a gigantic screen.  Can you imagine the thrill of such a system?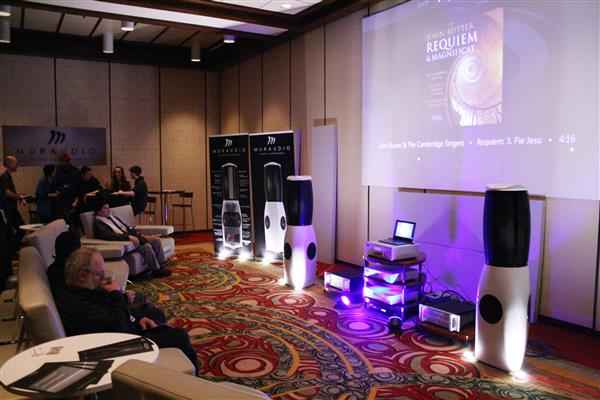 Canadian manufacturer Muraudio made its debut at the 2013 TAVES in Toronto, introducing visitors to its first speaker called the Domain Omni DA1, a powered loudspeaker that uses an Omni-directional electrostatic module combined with three precision designed low frequency woofers. At the Montreal show, the company demonstrated its new passive Domain Omni PX1 loudspeaker designed to be paired with audiophile-grade amplifiers like the Bryston mono blocks that it was powered by at the show.  The sound in this big room was powerful, dynamic and truly multi-dimensional, regardless of where in the room you stood.  We heard that Muraudio has some big plans for TAVES 2014 and we certainly can't wait to see what they have in store.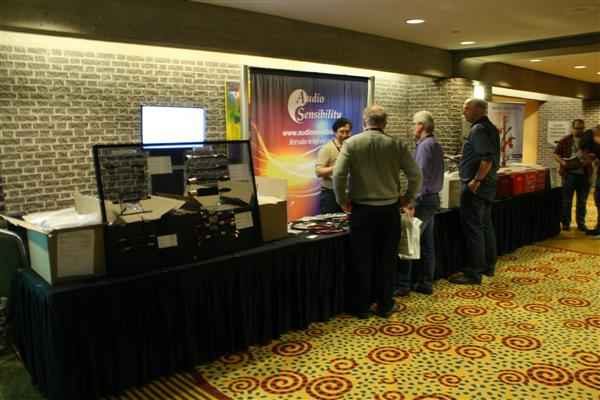 Audio Sensibility attracted a healthy crowd to its display at the show, thanks to its diverse selection of products on demonstration and available for purchase – including cables, power distribution boxes, various accessories and records.  This year, the company also demonstrated the brand new Alpha Design Labs (ADL) EH008 earphones along side the H118 headphones, fed by an iPad mini.  The ADL display (shown below) allowed visitors to make a direct comparison between the ADL headphones and the newly released earphones.  Various ADL headphone amps and DACs sat below in the display case.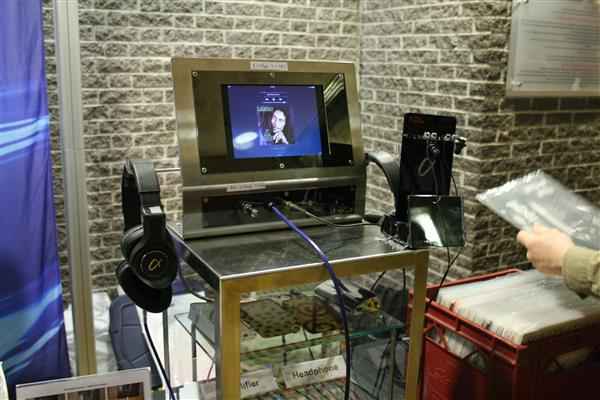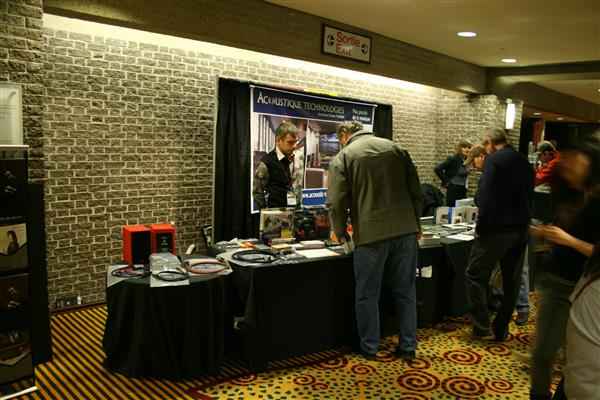 Acoustique Technologies, a Montreal-based retailer, seriously stepped up its game at the Montreal show this year.  In addition to is regular booth the company featured two other rooms at the showcasing its portfolio of products.  The Acoustique Technologies booth focused on smaller items like DACs, bookshelf speakers, cables and various audio accessories.  The upstairs room on the other hand featured full-scale audio systems.  One of the rooms paired Nola Metro Grand Reference Gold speakers with Manley tube-based electronics, and a Meitner DAC.  Notice the hole in the enclosure at the top of each speaker – this lack of enclosure behind the mid and high range drivers eliminates any colouration normally caused by the enclosure and gives the speaker somewhat of an unusual appearance (image below).  A Nola Boxer 2-way, stand mount monitor speaker was also available for demonstration inside this room.
Take a closer look at these cool, stealthy looking Manley Snapper tube amps above.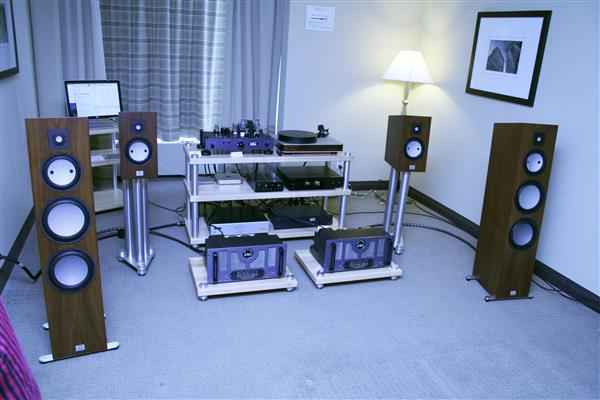 The second Acoustique Technologies room was centered around Swedish-made Marten loudspeakers (both Heritage Getz 2 floorstanders and Heritage Duke 2 bookshelves were available for audition) and higher-line Manley electronics.  If you live in the Montreal area, we invite you to check out their beautiful new store located at 1970 rue Beaubien Est, Montréal, H2G 1M1 (Tel: 514 387 4944, www.acoustic-tech.com).