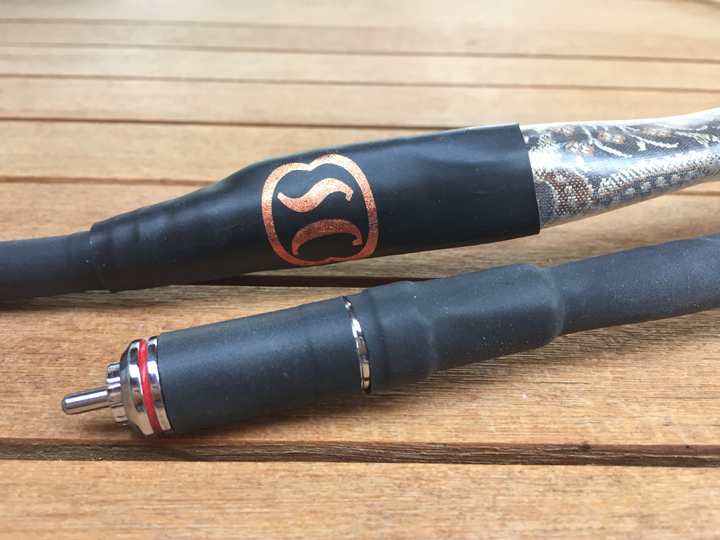 I began listening to the SCI Tchaikovsky interconnect cable in various systems, while making notes on how they compared with many other cables I own, to get a true sense of their character.  What should an audio cable sound like?  The fact is that is shouldn't sound like anything at all.  The ultimate goal of a cable is to get completely out of the way, without adding or subtracting anything to the original signal.  Theoretically 'perfect' cables should allow you to hear the full potential of all the components in your system.
During my listening session, I listened to a variety of favourite and musically challenging tracks.  I mention only a few of these albums in this review due to space limitations.  An album I've been enjoying lately is the "Songs of Anarchy: Music from Sons of Anarchy Seasons 1–4". When listening to "Fortunate Son" performed by Lyle Workman and Bob Thiele Jr., the SCI Tchaikovsky cables immediately demonstrated their transparency.  They allowed me to tune in to every ounce of the intricate finger work on the guitars, from the picked strings to bends and slides.  Every string, every chord played with a rich texture and real world decay.  I could clearly hear hands sliding up and down the guitar necks. Yes I could hear these details with other cables in my system, but with the Skogrand cables in place, additional levels of detail and realism were achieved.
From the same album, "Son of a Preacher Man" by Katey Sagal & The Forest Rangers was presented more vividly than I've ever heard it before, with the Skogrand interconnects in the system.  The soundstage became perfectly focused and gained an outstanding three dimensional definition.  Katey Sagal's voice sounded embodied and vibrant, indicating a near-perfect midrange performance.  Drums played with sparkle and pizzazz.  Virtually every characteristic of this recording improved rather dramatically when compared to any of the other interconnects I currently own.  The Skogrand interconnects served up a perfectly neutral midrange and allowed more musical details to come through at both extremes of the frequency spectrum.
Daft Punk blends electronic music with an orchestra with great success on the Tron: Legacy soundtrack, producing a brilliant soundscape.  The Skogrand cables allowed the full dynamic swings of the music to come through, while instruments played with a rich timbre and texture.  The bass on some of these tracks reached so low that it appeared to smear the articulation of the lowest notes.  This actually turned out to be an issue with the setup of my system, combined with room acoustics, and I was able to resolve it with some tweaks.  This experience also demonstrated that the Skogrand cables are unforgiving and will reveal the weak links within your system.
Given that this Skogrand cable series is named Tchaikovsky, I thought it would be well suited to listen to a few Tchaikovsky recordings.  For this, I turned to the "100 Best Karajan" collection conducted by Herbert von Karajan.  Tchaikovsky's Sleeping Beauty ballet played with a remarkable sense of timing and energy, better than I've heard from any cable in my system.  The dynamics definitely exceeded what I had previously heard from these recordings.  A greater amount of air between the various orchestra sections resulted in a better sense of space and soundstage definition.
When listening to other orchestral pieces from the "100 Best Karajan" collection, the Skogrand interconnect consistently delivered an extremely clean, quiet background.  In turn, this increased the distance between instruments and allowed me to hear the deepest level of micro dynamics from the recordings.  With this cable in my system, I felt much more drawn into the music.
Rock and alternative albums, such as those from Florence + the Machine, Dire Straits, Radiohead, Led Zeppelin, all sounded equally as impressive.  The Skogrand cables expanded and enriched the sonic landscape of each and every track that I listened to, connecting me closer with the music than ever before.  Many of the songs from Florence + the Machine's "MTV Unplugged" album made hairs on my arms stand.  The Skogrand cables recreated the original recording atmosphere of this album so superbly, I felt as if I was standing with the audience at a live event.  The Dire Straits and Led Zeppelin albums on the other hand made my feet tap and inspired me to bring out the air guitar.  On a few occasions I even danced around the room.
There are two problems however, if you want to call them that.  One is that these cables are so transparent that they will expose all the shortcomings of your system – they certainly did in my case as mentioned above.  Luckily in my system, the problem was easily fixable.  The second problem is that once you've experienced the level of performance that your system can achieve with these cables in place, you will find it very difficult, if not impossible to go back to your old cables.
Before considering these cables I urge you to outfit your system with good quality power cords.  Clean power and high performance power cords are the foundation of every good music system since they are at the very beginning of the audio / power chain.
After 13 years of being in the hifi business, it is extremely rare that I come across a product that I am so impressed with.  This is most certainly one of those rare times.  The Skogrand SCI Tchaikovsky interconnect cable is an amazing achievement and comes as close as I have witnessed to a 'perfect' interconnect.  This cable offers an astonishingly neutral and transparent signal transmission, which translates into real life richness in the music.  These are without question the very best sounding interconnect cables I've had the pleasure of trying in my reference system.  But is it a cable for every system?  If you have invested a significant amount in your audio system and desire to squeeze out every last bit of performance that your components are capable of, these are certainly cables that will enable you to do so.  At $6,950 US, the price of admission is pretty high and places it outside the reach of many audio enthusiasts.  The good news however is that you can experience the Skogrand performance in the company's much more affordably priced SCI Rachmaninov interconnect cables that retail for $2,325 US.
This review leaves me wondering just one thing – how would my system sound if it was wired with all Skogrand Tchaikovsky cables?  I guess I better start saving up.
Skogrand Cables
www.skograndcables.com
Skogrand SCI Tchaikovsky Interconnect Cable (1m pair)
Price: $6,950 US