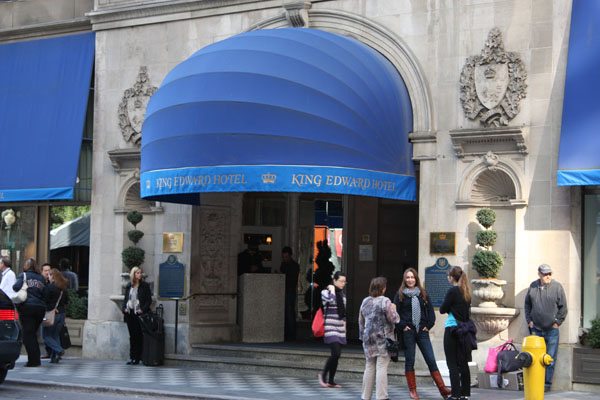 On September 28th the much anticipated Toronto Audio Video Entertainment Show (TAVES) 2012 kicked-off for a second year.  Once again, the show was held over three days (September 28 to 30) at the historic and luxurious King Edward Hotel (fondly known by locals as the King Eddy).  TAVES is the only show of its kind in the city of Toronto and one of only a couple in Canada.
The show for 2012 was considerably larger than last year, going from just two floors last year to three floors plus the grand hotel lobby and adjoining ballroom.  A much larger selection of seminars, covering a broader set of topics, was also offered.  Products and exhibitors this year included more in the way of affordable consumer lifestyle products, which likely caught the attention of a broader audience.  Speaking about the audience, it appeared that this year there was more diversity in attendees – definitely a greater mix of ages, including more twenty-somes and without a doubt – more women.  All this led to the show having a more consumer / enthusiast feel than a staunch audiophile event, though no audiophile would go without.  In terms of accommodation, I found the venue to be quite easy to navigate and within the main seminar room, a little walk up café with tables were setup, allowing attendees to grab a bite, take a rest, while taking in a seminar or two.  The 2011 TAVES was no slouch with organization but this year it was taken up another notch.   I also have to mention that staff, along with being friendly and informed, were also better dressed – I could say more on this but I'll leave it at that.
Over the three days I couldn't help but feel that people were enjoying themselves and all there was to see.  The show was well attended but never over-crowded, which gave way to comfortable exploration through the array of rooms.  Let me take you now through a few of the highlights.
Porsche Canada / Porsche Design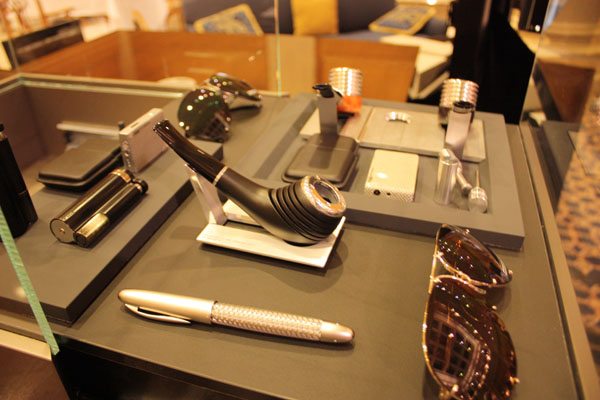 Upon entry to the hotel, I was greeted by the alluring site of a lovely metallic grey Porsche 911 Carrera S, flanked by a pair of pedestal display cases marked Porsche Design and an elegantly scripted Burmester backdrop.  An endearing Porsche representative named Katie took the time to acquaint me with the variety of Porsche Design products.  One case contained a stainless steel and leather BlackBerry P'9981 ($1,890) accompanied by a leather holster, stylish charging stand and matching in-ear hands-free headset, while the  other case hosted a number of stylish watches, priced from $3,000 to $5,000 though I was told they offer watches up to $15,000.  To the back a larger display case hosted sunglasses – the P'8478 for $600.00, as well as lighters from $280 to $590, an interesting Shake Pen P'3140 for $130 to $180, Tec Flex stainless steel weave pen for $300 and fountain pens ranging from $300 to $600.  There was even a 40th anniversary smoke pipe ($690) and to my surprise a sheik looking Sheesha, commonly known as a bong or waterpipe ($2,050).  In a lovely styled spray flask, I found their signature fragrance, called The Essence, which I quite liked.  Even the Porsche reps were elegantly dressed in Porsche Design fashions.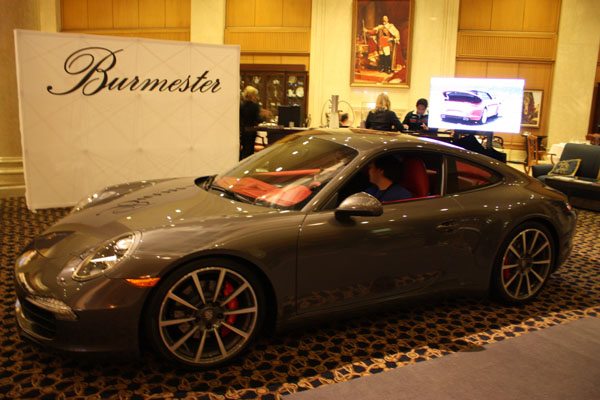 Last but not least was the Porsche 911 Carrera S ($110,000 + $31,000 options) that incorporated an 821 Watt, 12 speaker, Burmester stereo with integrated control consul ($6,500).  I was even given the opportunity to sit in the luxurious appointed interior and relish the silky smooth sound of the sound system.  I found it hard to move on but duty called.
Rutherford Audio Inc.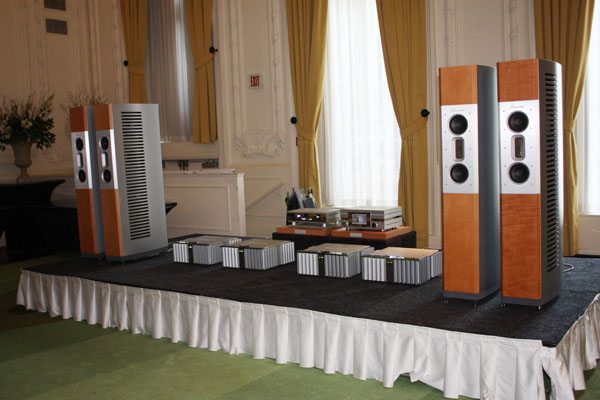 Adjoining the main lobby with the Porsche / Burmester display was the immense Sovereign Ballroom featuring a state-of-the-art sound-system supplied by Rutherford Audio Inc., the distributor for Burmester, ELAC, Vertere, EAT, Primara and Yacht Audio.  The extravagant all Burmester audio system was comprised of four B100 speakers ($90,000/pair), four 911 MK3 amps delivering 750 Watts into 4 ohms bridged ($29,995/each), a Reference Line Preamplifier 077 ($39,995) with a Reference MusicCentre 111 DAC/streamer/server with 3 terabytes of storage ($46,995).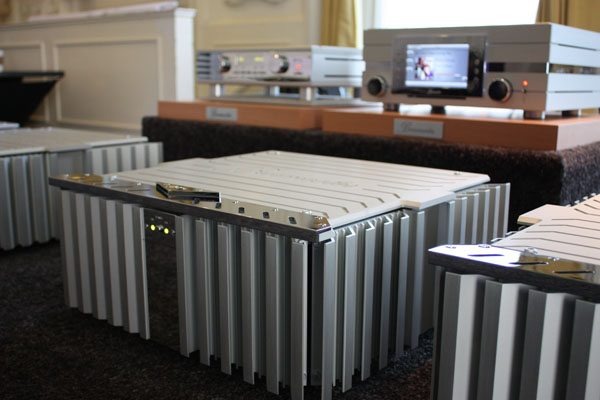 This system was all wired with Vertere Acoustics Pulse-R interconnects and Pulse-X speaker cables totaling around $25,000.  The system looked spectacular, which I'm sure all would agree.  This ballroom was accessible all day, only on Saturday and was used for the live performance as well as an industry reception featuring Cindy Gomez.  The sound was impressive, to say the least, for such a massive and untreated space.
Paradigm / Anthem Electronics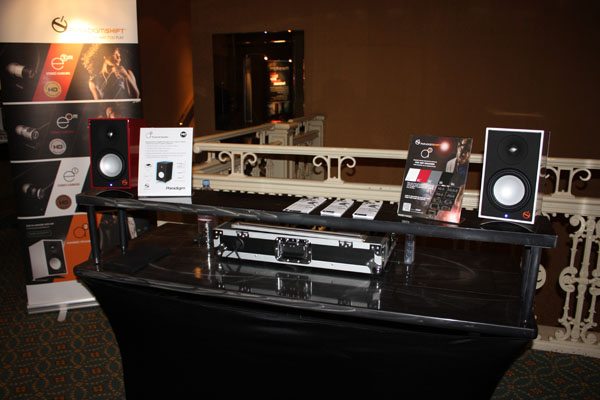 I made my way upstairs to the 2nd floor, where I was greeted by friendly staff and despite a fair line-up was inside in no time.  I heard the call of music from the Paradigm Shift display outside the Paradigm / Anthem Electronics room.  Much like last year, a DJ was spinning music through a pair of Paradigm A2 powered monitors ($279.99 – $329.99/each) on mini stands ($34.99/each), sounding much larger and clearer then they had a right to.  A new Bluetooth dongle – the BD-1 ($59.99) was on display.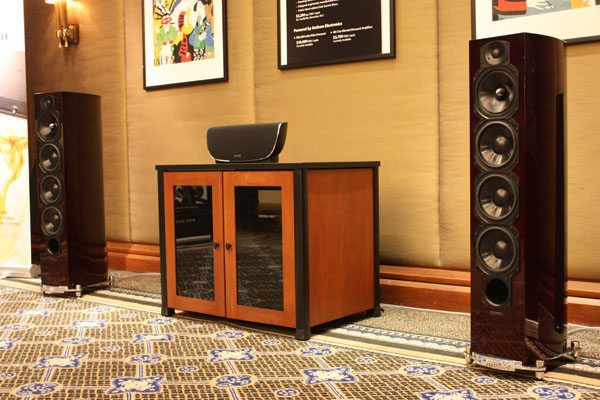 What couldn't be missed was the static display of Paradigm's 30th Anniversary Edition Inspiration stand-mount ($1,499) and Tribute floorstander loudspeakers ($3,299/each) that were finished in a captivating Dark Garnet Gloss finish.  These anniversary speakers feature the latest innovations in design and technology and may be Paradigm's best sounding and best looking speakers – ever!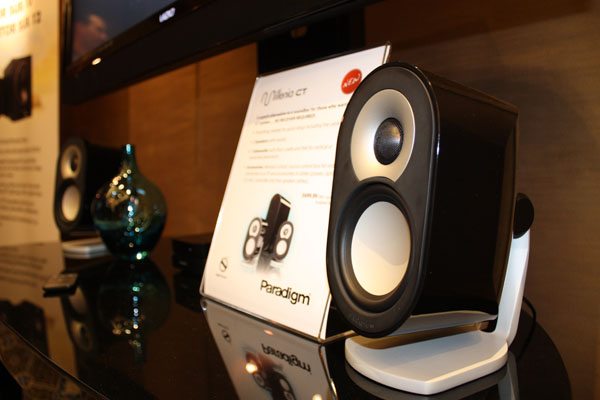 Entering the Paradigm room, a number of other new products were on display: the Paradigm Millenia CT 2.1 sub-satellite speaker system ($699.99), a lower cost version of their existing Millenia One CT 2.1 system ($1,199); an all-in-one Aera iPod/iPad docking speaker system with the all-new 1-to-1 AirPlay direct connection as well as AirPlay networking and; two new Paradigm Shift on-ear headphones – the H15 ($249.99) and H15NC noise cancelling ($349.99).  And, to my delight, another set of 30th Anniversary Tribute tower speakers ($3,299/each), powered by a pair of Anthem M1 1000-watt monoblocks ($3,799/each), Anthem D2v 3D AV processor ($10,499) with a computer source/player.  Though the room was crowded with interested people, the sound I did hear from these gems left me yearning for more.
Bryston Limited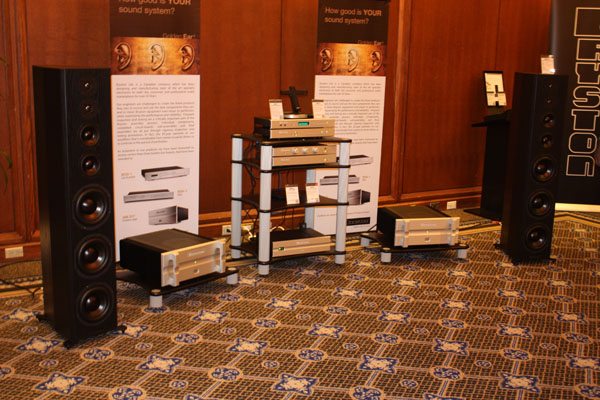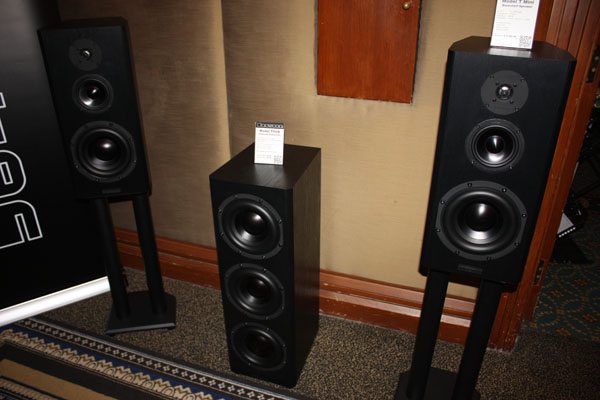 This year is Bryston's 50th anniversary, so it was nice to find a plethora of new products in this room.  The most significant was the new Model T line, Bryston's first line of loudspeakers.   The new speaker line-up includes: the Model T passive floorstander ($6,495/pair), Model T Signature passive floorstander with external crossover ($7,495), Model T Active floorstander package including AX1 DSP Crossover ($9,495), Model T Mini standmount ($2,550/pair), Model T Sub ($4,195 with 600 Watt amp / $2,195 passive), Model TOW on-wall ($499/ea), Model TIW in-wall ($499/ea) and finally, the Model TC1 centre ($2,495).  All speakers are available in black ash, Boston cherry or natural cherry satin finishes, with production underway but facing a few month backorder.  In the room was the world's first show demonstration of the Model T passive floorstander.  The speakers were driven by two Bryston 28B 1000 Watt mono-amps, hooked up to a Bryston BP-26 preamp and BDP-2 / BDA-2 combination with a solid-state hard-drive as a source, all controlled by an iPad in the hands of James Tanner himself.  What I heard was powerful, room-filling, full-yet-balanced sound, with amazing transient response, lower extension and dynamics.  At one point, while my back was turned, James played a track featuring a gun-shot that had me almost duck – realistic…oh YES!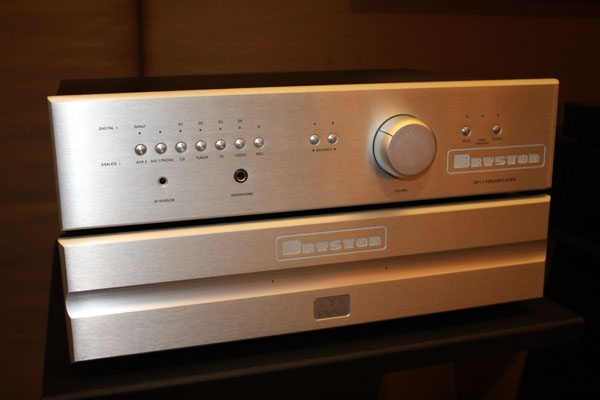 Speakers were not the only new product on display – there was also: an improved digital player, the BDP-2 ($2,995), featuring twin USB front ports, UPnP/DNLA network connectivity, eSata hard-drive internal slot and external jack, plus a 2 gigabyte memory buffer;  a soon-to-be-released optional CD ripper prototype for pairing with the BDP-2; a new BDP-2 DAC now with asynchronous USB and 32-bit/192kHz chipset ($2,395) and; the new B135 integrated, along with an all new BP17 ($3,550) preamplifier and 2.5B-SST2 stereo power amplifier ($3,295).  On the back table I had my first opportunity to try a BHA-1 headphone amplifier with a pair of Grado PS1000 cans – amazing sound, with startling clarity, control and air.  It was a hard room to leave.
Pacific Cabling Solutions (PCS)
PCS is a Canadian distributor of consumer and commercial audio/video, automation, security, connectivity and custom installation products.  The company had a large room and a booth at TAVES.  Featured inside the room was an LG and MK Sound home-theatre setup.  LG provided a CF 3D projector ($20,000 – $25,000) and MK Sound provided the speakers, which included five S-150MKII THX Ultra speakers ($1,500) paired with dual MX250 12" subwoofers ($1,950 each), though MK Sound typically matches a MX350 subwoofer ($2,600) with their THX Ultra II system. The sound was room filling, clean and powerful, as expected, given that these speakers have been used to master the soundtracks of many movies, such as: King Kong, Pirates Of The Caribbean and Iron Man, to name but a few.  Sadly the video image was not up to snuff, due to the fact that the hotel supplied the projection screen.  This just underlined the fact that even a state-of-the-art projector can't pull it off without a high-quality screen.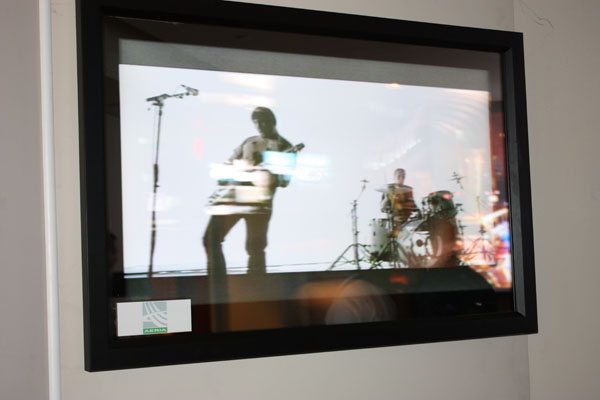 Deeper inside this room was one of the most interesting displays at TAVES.  This display showed off a series of commercial / consumer mirror TVs based on LG displays from a company called Aeria.  When turned off, these displays look like mirrors but with the simple click of the 'on' switch on the remote they turn into TVs.  Among the different models shown were a 42" picture frame TV, an above-the-vanity bathroom TV, a shower TV and even a 42" outdoor TV.  These are the kinds of displays many of us may have read about online in the past, but TAVES presented the first opportunity for visitors to see and feel.  As you might imagine, when these displays first appeared they were prohibitively expensive for most consumers but that's no longer the case.  The 42" picture frame TV goes for about $3,500 now while the waterproof 42" TV goes for $5,500.  Thank you for bringing such an innovative product category to TAVES PCS!
In another area of the show a PCS booth hosted a number of distributed services/products.  These included the services of One Firefly, LLC – parent of Firefly Design Group (design, engineering, consulting), Firefly Programming (control services setup for Crestron and Prodigy) and Firefly Creative (marketing and public relations firm), all offering a range of custom specialized services with affordable entry pricing.  Also in the PCS booth was Channel Vision, a company specializing in security and sound distribution systems and installation, including: structured wiring, RF & video Distribution, Surveillance, solutions, ARIA Audio systems, Crescendo, IR control, intercom and A-bus.
Bay Bloor Radio – Bose
I made my way over to the Bay Bloor Radio room to find an almost fully exclusive Bose system setup.  There were two home-theatre setups.  The first was the Bose VideoWave II Entertainment System comprised of a Bose LED HDTV with an integrated 16 speaker simulated surround sound system, AV consul, iPod dock and universal learning remote.  Pricing was $5,499 for the 46" and $6,499 for the 55" system.  This system uses 16 integrated speakers – 6 for bass and proprietary Bose sound processing to create quasi-surround sound experience.  I sat through the demo and though I wouldn't characterize the sound as hifi, it was surprisingly effective in casting sounds far to the right and left and providing an admirable depth of field.  Bay Bloor Radio also had a Panasonic WT50 55" LED LCD HDTV ($2,999) paired with a Bose Lifestyle 135 Soundbar System with wireless sub ($2,599), utilizing 5 integrated speakers with phase-guide virtual surround sound.  In the room was also the popular Bose WaveMusic System III ($579) that included a free set of in-ear IE2 headphones.
Finally, a couple sets of Bose QuietComfort 15 acoustics noise cancelling headphones ($349) were on display for visitors to listen to.
Atlantia
Atlantia had a room featuring a couple of its prominent brands:  SMS Audio and Audioengine.  SMS Audio, which stands for Studio Mastered Sound is a headphone manufacturer with a few wireless transmitter products.  The rap artist 50 Cent has endorsed this brand and has been involved in the development of the SMS headphone products.  The headphones on display were the Sync by 50 ($269), Synch by 50 wireless ($449), Synch by 50 on-ear ($199), Street by 50 DJ ($329) and Street by 50 in-ear ($129), all with passive noise-cancelling.  I tried the Street by 50 DJ headphones and found that they very effectively sealed-out ambient noise and provided clear sound with tight bass.  The construction seemed to be very durable and even sustained a twist test.
On the other side of this room was the Audioengine display.  Audioengine products shown were the D1 wired 24-bit DAC ($179), D2 24-bit wireless DAC with transmitter and receiver ($649), A5+ 50 Watt/ch active desktop speakers ($449/pair – standard finish / $499/pair bamboo or gloss), A2 15 Watt/ch active desktop speakers ($229) and a wireless USB dongle transmitter/receiver pair ($169) for transmitting music at 16-bit/48kHz.  Lots of cool and affordable stuff!
Ontario Vintage Radio Association (OVRA)
Within the main seminar room I came across a modest looking table with two gentlemen standing behind an antique radio and what at first glance appeared to be the horn of a gramophone.  It turned out that this was the Ontario Vintage Radio Association (OVRA) exhibit and the gentlemen before me were Ted Catton, President of OVRA and Simon Claughton, an esteemed member.  OVRA has approximately 100 members with an avid interest in preserving and sharing historical and technical information related to radio in Canada, including restoration of radio related equipment.  Meetings are held in Richmond Hill, every couple months and new members are accepted with a $20 initial contribution.  Meeting are open to guests.  It's always nice to see new ways to appreciate equipment related to music reproduction.  More information on OVRA is available at www.ovra.ca.
Audio Pathways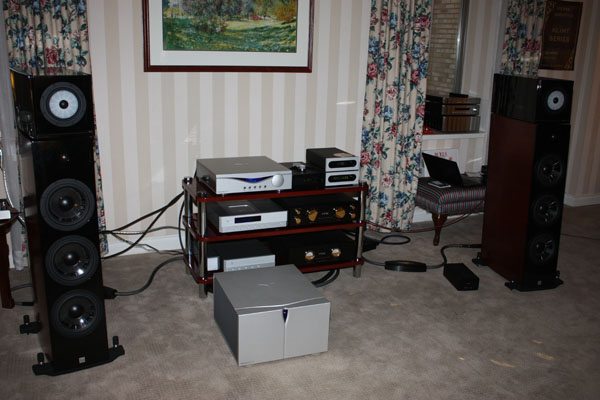 I took the elevator up to the 7th floor to find Audio Pathways, a Canadian distributor for a number of hi-end audio/video equipment brands including: Audia Flight, Basis, BelCanto, Bellari Audio, Jeff Rowland, Sutherland, VAC and many others.   In the room was the Vienna Acoustics Klimt Series – The Music loudspeakers ($26,000) with an Audia Flight preamplifer ($16,000) and a power amplifier ($16,000)  The analogue source consisted of a Basis Audio 2500 turntable with the Basis Audio Vector arm, Koetsu Cartridge and Sutherland Phono Block (approx. $22,000 combined), while the digital source was all Bel Canto, comprised of a CD2 ($3,000), DAC 3.5 VBMKII ($3,600) and REFLink USB to SPDIF converter ($1,500).  All of this gear was connected with Transparent Audio Reference Series speaker cables and interconnects, Premium Series power cables and PowerWave power conditioning (approx. $10,000 for combination).  I managed to hear the digital rig in play and was enamoured by the beautiful detailed yet smooth sound.
Angie's Audio Corner by American Sound of Canada
Next I moved to Angie's Audio Corner, a specialized retail store of American Sound of Canada.  Inside this room resided very unique Acapella Audio Violin loudspeakers ($45,000/pair) that featured an ION TWIS tweeter and horn.  An Audio Research Ref5 preamplifier ($12,995), Audio Research Reference 250 mono-amplifiers ($12,995/each) with an Esoteric K01 disc player (approx. $25,000) rounded out the system.  Everything was connected through Transparent Audio power conditioning equipment and wired with the Opus Series cables (approx.. $30,000 to $40,000). The high frequencies were stunningly smooth, clear and detailed.
Also in the room, but not running, was a Devialet D-Premier 2×240 Watt integrated amplifier ($16,000) paired with Focal Diablo standmount speakers ($15,000) and a Magnum Dynalab MD 809 internet media tuner with 24-bit/192kHz USB DAC($7,500) with Magnum Dynalab integrated 225 Watt/ch hybrid sans DAC ($7,500) or with DAC ($8,500).
American Sound of Canada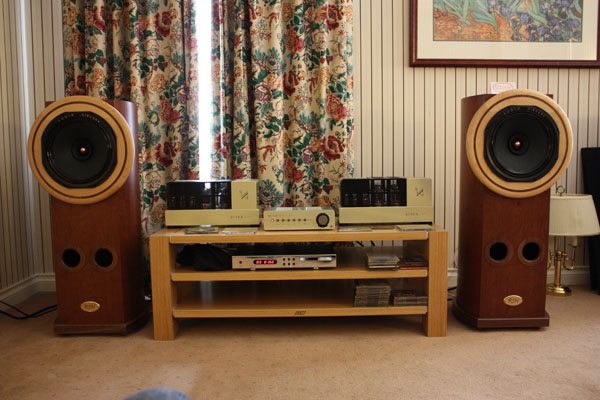 Moving to the American Sound of Canada Room, the highlight was the RJH Audio Reference One loudspeakers ($7,995) that use a 12" full-range Audio Nirvana driver in a semi-custom MDF cabinet constructed with over 180 pieces, a solid walnut base, maple raised circular baffle and 2-ply veneer.  These were paired with a Quad  QC-twentyfour preamplifer ($1,299), a pair of II-eighty monoblock tube amplfiers ($10,500/pair) and fed by a April Music Aura vivid CDP+DAC ($2,495).  On Friday, I arrived in this room and sat down to listen but was not enthralled.  Ron, the owner of RJH, told me both speakers and amplifiers were brand spanking new and needed break-in time.  He was definitely right, as I was pleasantly charmed with the natural, harmonic and delicate sound I heard when I returned on the Sunday – nice job Ron!  Also in the room was a selection of April Audio components from both their Stello and Aura lines, both of which are very attractive and affordable.  Vienna Acoustics Concert Grand Series and Schonberg Series speakers were also on display, showing off their lovely cabinets.  A smaller RJH Songbird speaker ($5,995) was in the corner lashed to NAD master series components.
Kennedy HiFi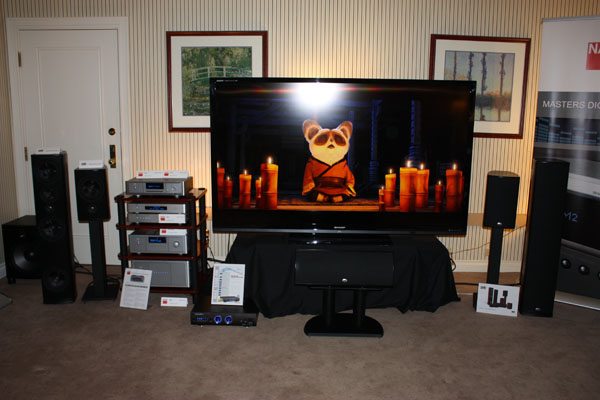 I moved next to the Kennedy HiFi room, a dealer/retailer situated just north of Toronto.  This room featured a home theatre comprised of a Sharp Aquos LED 3D 80-inch HDTV ($6,000) and electronic components from the NAD Master Series: M15 HD2 pre-amplifier processor ($5,500), M25 7-channel amplifier ($4,000), M52 digital music vault ($2,200), M51 direct digital DAC ($1,600) and the all-new M50 digital music player ($2,500).  Speakers in this room included the PSB Synchrony One ($5,000/pr), One B ($2,500/pr), S ($2,300/pr), One C and Sub 300 ($995).  I had a chance to watch a bit of Kung Foo Panda and an Eric Clapton concert performance of Layla.  The sound was relaxed, yet detailed and spacious but the image quality, though large, was not exactly standard-setting.  Also in the rooms were the hot new PSB M4U-2 headphones ($400) paired with the AudioQuest Dragonfly USB DAC headphone amplifier.  I did get a short listen but I believe there was something wrong with the connection of source laptop as I could consistently hear clipping distortion on peaks at normal listening levels.  In the room there were also another couple more affordable stereo setups with NAD and PSB lower products lines.  And, last but not least, there was a full table of AudioQuest cabling for the perusing.
Simplifi Audio
In the Simplifi Audio room, I found Tim Ryan, who was excited to demonstrate the new DSPeaker Anti-Mode 2.0 Dual Core audio processor / DAC with automatic room correction ($1,200, show special: $1,099).  The single box comes with a microphone that Tim explained only requires a single measurement-point (can do multiple) to correct for room imbalances below 500Hz.  With a laptop connected to the Anti-Mode 2.0 and then out to a pair of PSI Audio active speakers, he played music uncorrected and then corrected.  It was easy to hear a drastic improvement in bass – less boom, more articulation and more perceived depth, without any acoustic treatment employed.  Amazingly, the DAC within can also oversample to an amazingly high 6144kHz and has 0.003% THD with a 108dB dynamic range.     Also featured in the room were: DLS Flatbox On-Wall Speakers at show sale prices – prices ranging from $349/each to $899/each; Gradient's Helsinki 1.5 speakers ($5,995/pair); PSI Audio on-wall speakers and; Klangwerk Ella active speakers ($7,495/each).  The room seemed to be getting good traffic while I was inside.
Kimbercan/Primacoustic
I came across the Kimbercan/Primacoustic room, within which I found a Marantz SA-11 CD player paired with a Parasound JC2 preamp and JC1 mono-block amps with Torus power conditioning.  Speaker cables were Kimber Kable Monacle XL ($1,950/8ft pair) with Hero ICs.   Both amps sat on Primacoustic Recoil Stabilizers (prices from $89 to $269/each), and Primacoustic room treatment panels were employed.  Primacoustic offers some very reasonable priced room panel treatment kits such as their London 8 ($199), London 10 ($449), London 12 ($749) and London 16 ($1500).  All kits are offered in three colours: beige/black/grey and are printable.  Primacoustic also offers three types of ceiling tiles priced from $3/ft2 to $8/ft2.  The system in the room was playing through System Audio (SA) prototype (soon to be released) Mantra 70 tower speakers that provided a musically pleasing sound (est. $5,000).  A number of SA models were statically on display.  These are very lifestyle oriented speakers with a high wife-acceptance-factor.  The wood finishes were very high quality – I kept staring at the ebony veneer.  Prices range from $449/each for the saxo10, right up to $9999/pair for the explorer master model.  Look out for a review of one of the SA speakers in an upcoming issue of CANADA HiFi.
Oracle Audio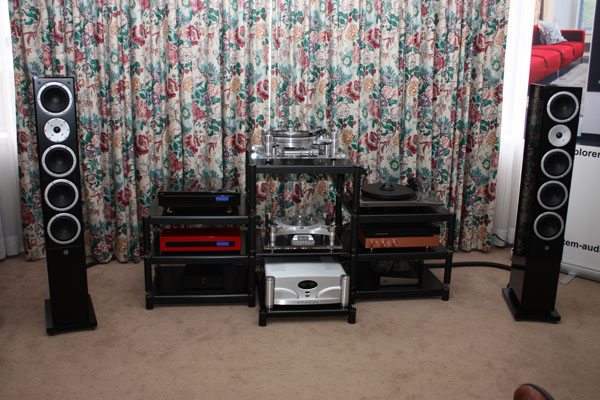 In the Oracle Audio room there was a system with two different analog front-ends and a single digital source.  The lower cost analog front-end was made up of an Oracle Paris turntable ($3,100) with Paris tonearm ($1,000) and Paris cartridge ($1,000), while the higher-end analog source was an Oracle Delphi Mk VI turntable ($9,000) with Oracle SME 345 arm ($2,950) paired with a Corinth Reference cartridge ($5,500).  On the digital side was a new Paris CD 250 player ($3,500) with a Paris USB DAC 250 ($3,500).  An Oracle SI 1000 integrated amplifier ($9,500) was powering a pair of top-of-the-line System Audio explorer master speakers, finished in gloss black.  This system looked just stunning – I could hardly stop staring at the Delphi table and the sound was stunningly sweet and liquid.  Canadian artist Anne Bisson was in this room signing her albums, which were being featured on the system.
Rutherford Audio – Burmester/Primare/Vertere
Rutherford Audio had three rooms at the show – the aforementioned room adjoining the hotel's main lobby and then two rooms on the seventh floor.  In the first of these two upper rooms I found a pair of striking Genesis 5.3 loudspeakers ($26,500/pair), along with a pair of Genesis 7.2p "petites" ($3,500/pair).  To my surprise Gary Koh, Chief Designer, President and CEO of Genesis Advanced Technologies was in this room explaining his speakers and demonstrating the system.  Feeding the Genesis speakers was a Burmester 911 amplifier ($29,995), 089 CDP/DAC ($30,000), 948 Power conditioner ($8,000), and Primare 30 USB DAC ($3,000) connected to a laptop.  All cabling was Vertere.  The Genesis 5.3 speakers sounded powerful yet controlled with a lovely airiness, while the petites were cut of the same cloth, though leaner in their presentation.
In the second room, there was a 1st showing of the Elac 507 Referenz loudspeakers ($18,000/pair) paired with Pimare electronics, including: BD32 universal steamer ($6,000), Pre 32 with integrated streamer/DAC ($2,500 to $4,000) and A34.2 monoblock amps ($2,600/each).  A Burmester 948 power conditioner and 100 phono pre-amp were also in place, along with a beautiful turntable, which I didn't catch the name of. Cabling was all Vertere.  The sound was room filling and captivating.  A number of Elac speakers were on static display including the company's top-selling FS247 ($3,500), FS247 Black Edition ($4,200), FS 244 ($2,300) and 244 Black Edition ($2,800).  There was also a very cool little new Elac 2.1 Micromagic sub+sat system for ($2,500) to the side, which I think would garner much mass appeal.
Cabasse Canada
While walking down one of the hallways, I was drawn to the sound of some beautiful music and entered the room of Cabasse Canada, a Canadian distributor for none other than Cabasse products.  The sound was very smooth, coherent, and lifelike, portraying a lovely sonic picture and the equipment was beautiful, as well.  The speakers playing were the Cabasse Pacific 3 SA ($22,000/pair), which are a semi-active speaker, having a powered woofer.  These speakers were driven by an all Esoteric system that was terribly beautiful.  The gentlemen in the room were also excited to show off a very compact and affordable 2.1 sub/sat active system called the CineOle ($1,800).  This system was made up of a powered sub and pair of ball satellites, and produced a lovely musical sound that was much larger than I expected and definitely worth an audition for those with space constraints in their room.
System Optimization and Set-up with Roy Gregory
I was fortunate to grab a ticket to the highly-in-demand System Optimization and Set-Up Seminar, presented by Roy Gregory of HiFi+ and Audio Beat magazines.  Here I sat through a demonstration, using a beautiful pair of KEF Blade loudspeakers paired with a full Simaudio Moon Series stack.  Roy effectively demonstrated, over an hour or so, how using proper setup, including speaker placement, room treatment and both vibration control and isolation can dramatically improve the coherence, clarity and definition of a system – taking the listener ever closer to the recording and making it all sound more "real".  He began with the system on a standard metal rack and then adjusted the speaker positions by just a couple inches to reveal an improvement.  Moving the system over to a wooden rack revealed even more, followed by progressive improvements as wooden blocks were placed at strategic points under the components and then Stillpoints were used to remove unwanted vibrations from the components.  Stillpoints were also placed under the speakers themselves and under the power distribution bar – each providing some degree of improvement.  One of the last tweaks was to ground the system and even the rack. This was an ear opening session, which underlined the absolute importance of room, components and speaker setup.  Roy did say that each step of this process and the components employed would be shared as a link, to be found on the TAVES website– so be sure to look for it.
Basic Turntable Setup Tips – Matt Brazeau
Given my interest in turntables and my rather inexperience with properly setting them up, I thought I would attend the Basic Turntable Setup seminar that was hosted by Matt Brazeau in one of the Tri-cell rooms.  This turned out to be a good introduction to the basic terminology and setup adjustments required to get the most out of a vinyl playback system.  Some of the terms reviewed and explained included: ventricle tracking angle (VTA), tracking weight & antiskate, azimuth setting, etc.  Matt took his time reviewing the material to ensure that even those who were totally new to turntables and vinyl would have a clear understanding of the principles.  I thought the time was well spent.  In addition, this room featured Ceol Audio with Joseph Audio Pearl 2 products, which could capture anyone's attention.
Toronto Home Of Audiophile
Toronto Home of Audiophile, a local retailer, had a setup including Gershman Acoustics Black Swan speakers ($45,000/pair) with a Pass Labs X-20 preamp ($9,500), Pass Labs 100.5 monoblocks ($18,500/pair), PS Audio PerfectWave DAC/transport ($3,999) and PS Audio PowerPlant 10 ($5,000).  The cables in this system were from Siltech and included the Royal Signature Series, Prince, Ruby Mountain II, Empress Crown, Golden Ridge II and Princess models – total ticket price for the cables was in the neighbourhood of $40,000 to $50,000.  The sound was big, bold and beautiful but would have been even better in a considerably larger room, I'm sure.   Gerhman Acoustics was also showing its new Idol loudspeakers that use a proprietary VRLT to increase bass extension and control (much like a transmission line design).  The new Idol loudspeaker is very affordable at $3,000/pair.
Cindy Gomez Performance
Now an audio show is never done without some live musical performance and at TAVES, on the Saturday, a very lovely and talented artist named Cindy Gomez performed in front of show attendees and then also at an evening industry/media cocktail.  Cindy is a very energetic performer that mixes dance and visuals into her act to very effectively enthral her audience.  I have to say that this is one stunning lady in looks, voice and moves.
Conclusion
This was only some of what I saw and heard at the show – there was much, much more but I could be writing forever.  I have to say that making my way through the rooms, there was never a dull moment.  Even after three days, I could have used more time.  Last year was a great show but this year definitely topped it, hands down.  I'm so happy that Toronto is now on the map as being a city with a world-class audio/video entertainment show.  Great job, to all involved!