And they said it couldn't be done!
   There's no market for a HiFi/electronics show in Toronto. You'll never get good sound in a hotel. Add your prediction here.
   TAVES proved us all wrong in 2011 and came roaring back again from the 28th to 30th of September at the upscale King Edward Hotel. The 2012 TAVES, presented by Porsche, featured a large display right in the lobby of the hotel proudly showcasing a 2012 Porsche Carrera S sports car equipped with the Burmester high-end sound system.  Bravo to the organizers, Suave Kajko of CANADA HiFi and Simon Au of Audiyo. Manufacturers from around the world, Canadian and North American distributors and many local audio video dealers put their products and their expertise on display, allowing the public to rub shoulders with the industry insiders in a very comfortable and informal setting. Lots of rooms presented remarkably good sound, and all types of budgets were represented. We saw room correction devices, wireless streaming, iPod cases, discs of all formats, ultra high end setups, on-wall and in-wall speakers, turntables, you name it. And not just the public showed an interest. There was press representation from local, national and international publications. The 2012 TAVES made quite a splash!
   Where else can you see a seminar series which included ten AV topics, repeated over multiple days of the show so everyone gets a chance to hear the expert presenters? I especially enjoyed Jeffrey Baccaccio's entertaining session on HDMI Connectivity, a subject I know little about – it was an eye opener. Roy Gregory's eye opening demonstration of System Optimization and Setup was a sellout at each of 11 sittings. Seminars were held in the Vanity A Ballroom and in rooms 765 and 873. Bravo.
   Here are some of the highlights of the show.
McIntosh
McIntosh Labs squeezed a lot of their componentry into a relatively small room this year, making for one impressive wall of sound equipment.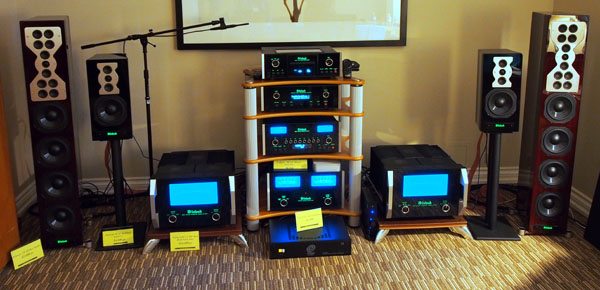 Pay particular attention to the two new pairs of speakers, the XR50 bookshelves at $4,400 and the XR100 towers at $11,000. They come in black gloss as shown and also in red walnut or pear maple. The XR50 is ported and rated at 81 dB into 8 Ohms, requiring an amp of between 75 and 300 wpc. The midrange driver features twin 2" inverted titanium domes and the tweeter uses a ¾" titanium dome while the woofer is a 6" Poly Cone. The grill is a magnetically attached black cloth. The XR100 is 6 dB more efficient and can match an amp of 75 to 700 wpc. Four 6" Poly Cone woofers sit beneath a complex midrange array comprising eight 2" inverted titanium dome midrange drivers and two 2" inverted titanium dome tweeters, with a ¾" titanium dome covering the highest frequencies. Driving these speakers is the well known MDC100 DAC/Transport quad balanced SACD/CD player/digital preamp , the MEN220 Room Correction/Crossover and one of two newly introduced preamps, the C50 ($7,500), which features five digital inputs.  Also on display were the MC302 Power Amp ($6,050), two MC1.2KW Mono Blocks ($24,000) and an IS15 Line Conditioner ($1,599). The giant meters, imposing controls, and illuminated speaker badges make a grand impression, but this gear needs a much bigger space to really strut its stuff.
Liberty Trading
Liberty Trading had two large rooms again this year, with one mostly devoted to records, CDs and compact audio components, the other a home for Quad, with Gutwire Cable lying between them.
   Gutwire's Herbert Wong was on hand to show me his new iPhone 4 titanium case, the Divoti, with germanium dots giving out negative ions, said to improve the sound of the iPhone.  He assured me an iPhone 5 case is in the works.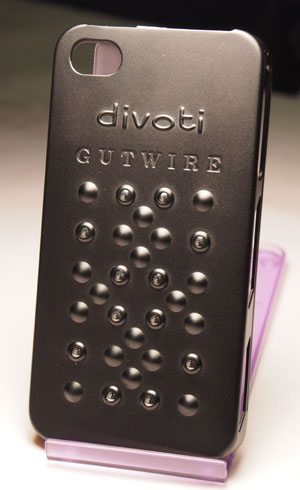 Herbert also showed two impressive looking new cables, the ViSiON Speaker cable at $8,999 for an 8' pair and the Power 3 at $1,799 for a 6' length.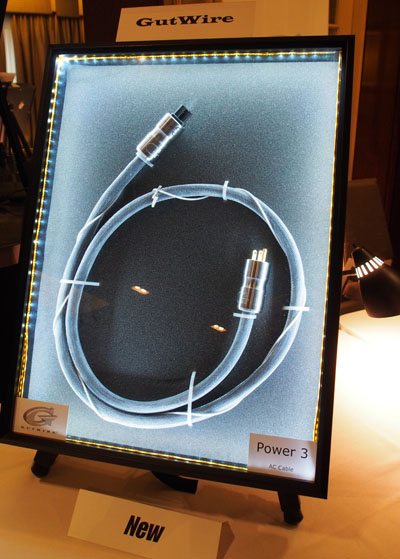 Nabil Akhrass showed me a few highlights from Liberty's wide range. First up was the impressively packaged April Music Eximus DP1 ($3,295). It's a preamp / DAC / headphone amp made from a block of cast aluminum with petal shapes carved into the top surface. The cabinet is made in California then shipped to Korea for the electronics to be installed in it.
   Then there was the line of cute little boxes from BRIK in their MiniHiFi range designed and made in Taiwan. There's a Media Center, an Integrated Amp, a DAC, a Bluetooth Stage, an Internet Radio, a Phono Stage, an Input Selector ($220), a Subwoofer Stage ($259) and a Power Master. Prices are quite modest, starting around $200 and reliability is said to be superb.
   But pride of place went to the new Quad ESL 2812 ($11,000), the latest iteration of the classic electrostatic speaker whose roots go back to the ESL-57 from 1957 and ESL-63 from 1981. Also shown was the larger ESL2912 ($14,000) speaker. Refinements over the previous 2805 and 2905 include improved panels, cosmetics and finish. Select the new Quad Elite QMP 260w monoblocs at $5000 a pair or the new Elite QSP Stereo Power Amp ($2000) to drive them.

Worldwide Wholesales
Worldwide Wholesales is a distributor I have not come across before but some of the best sounds of the show were coming from its large room. The centre of attention was the handmade Casta horn loaded speaker from Italy. Robert Neill is standing by the Casta Model A ($28,000) to give you a sense of scale. This unit sports a 17" horn, a 15" driver with cellulose fibre diaphragm and gorgeous red walnut cabinetry. The designer is a musician and recording engineer who became frustrated by the inability of available speakers to capture the sounds he could hear in the studio. There's a Model B with an 8" driver at $14,000 and a Model A monitor at $7,000. I couldn't detect any of the distortion common in less well executed horn-loaded speakers, but all the immediacy and efficiency you would expect were there in spades.
   You can't get good sounds from an inferior front end, but high efficiency speakers let you choose a modest front end in terms of power output. Robert paired the Castas with a JE Audio VL19 linestage ($3,500) and JE Audio Model VS70.1 35 wpc power amp ($3,800).  Tunes were fed by a music server running with a Zodiac Gold DAC with Volticus Power Supply ($4,400) and an AURALiC ARK-MX+ ($2,000) performing DAC duties.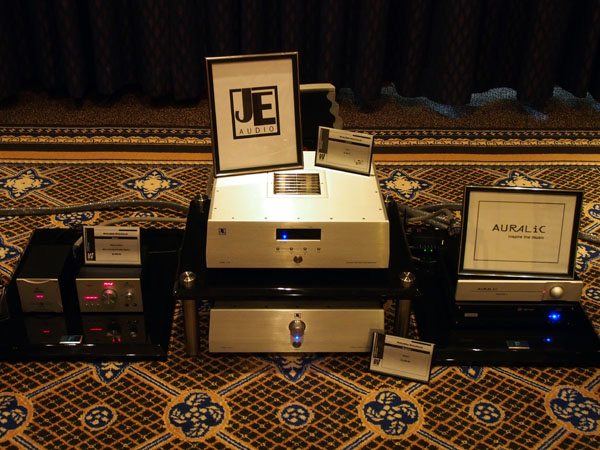 All components were wired up with High Diamond cables from Italy. This company rolls its own wires and unlike most cable companies has its own extruding machines. Prices are $2,700 for a 3 m pair of D8 speaker cables, $750 for a P3 power cable, $1,000 for the digital reference, $2,300 for D9 unbalanced interconnects and $3,200 for the balanced version.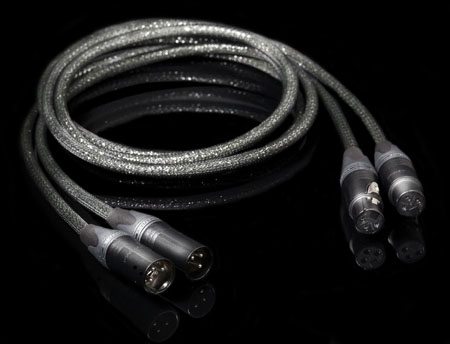 Also of interest in this room was the AURALiC Taurus Balanced Headphone Amp ($1,800) driving Sennheiser HD800 phones, which matches the cool styling of the ARK-MX+.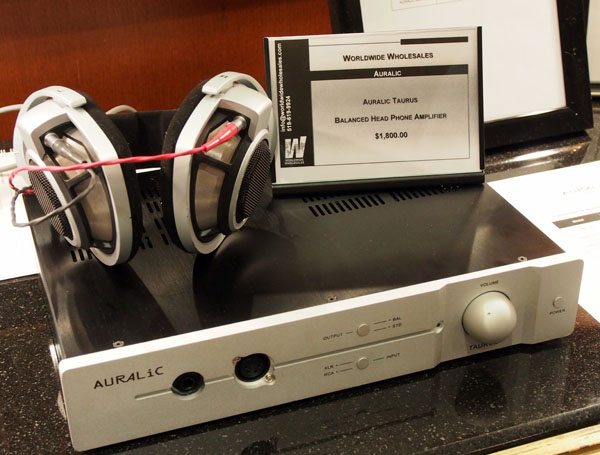 Plurison
Numerous new Cambridge Audio products were shown at the 2012 TAVES, although most were not hooked up for demonstration.  Cambridge Audio has upgraded its Minx Min10 and Min20 satellite speakers to Min11 and Min21 status by reworking the 2.5" Balanced Mode Radiator drivers.
   The Azur 851C CD Player ($1,850) and Azur 851A Integrated Amp ($2,000) replace the 840C and 840A respectively and offer tremendous flexibility and value. Cambridge Audio caught some flack from the sonically excellent volume control which clicked as you rotated it on the 840A so they reengineered it to operate silently. Ten inputs are provided, including 2 balanced inputs, and output is 120 wpc using Class XD topology. The CD player can operate as a standalone DAC (including USB and AES/EBU inputs in addition to TOSLink) using a revised version of Anagram's upsampling/filtering technology and Analog Devices DAC chips operating in dual differential mode.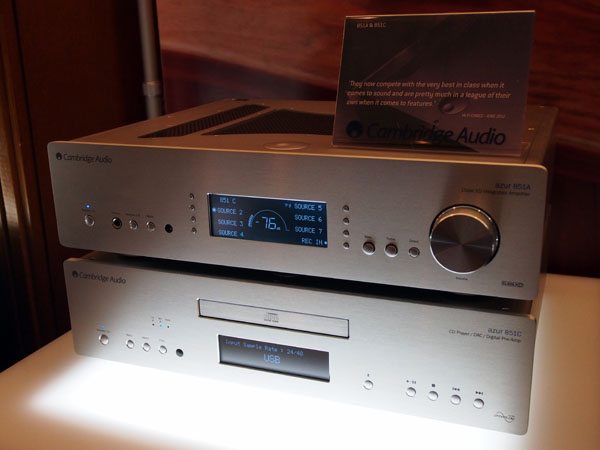 Cambridge Audio also previewed its new top of the line AV receiver, the Azur 751R HT, which should be showing up in November.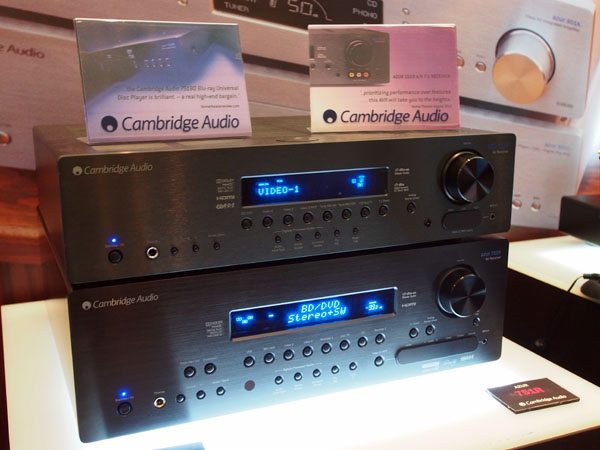 While there was a lot of well designed equipment gracing the show, there were few things you could call beautiful. Martin Logan managed to pull off a stunning new Motion Vision Soundbar which unfortunately was only on static display. It comes with a bracket and wireless transmitter for a subwoofer and will sell for $1,649. It features ML's electromotion tweeter and has a built in equalizer for placement against the wall. It offers 5 channel surround sound and DSP processing.
   On display from France's Focal were three different Bird 2.1 speaker systems – the Little Bird ($1,000), the Bird ($1,199) or the SuperBird ($1,499).  Each system uses differently sized oval satellite speakers based around the same PowerBird amp.  The PowerBird has a subwoofer built into its base and can be wall mounted. It has a digital amp and streamer. Very cute.
   Naim Audio presented its new UnitiLite ($3,200) all-in-one box which combines Internet Radio, WiFi Streaming, CD Player, FM Radio and Amp and can also play back MP3 players, iPhones and iPods. You can see me here checking out the headphone output on my Ultimate Ears UE10Pros. This one looks like a winner.
Monitor Audio
Monitor Audio had a new 5.1 subwoofer/satellite system called the MASS ($1,299) on demonstration in its room. The speakers feature C-CAM ceramic coated aluminum/magnesium technology. The mid/bass driver is a 4" unit, the tweeter is 1" and the subwoofer has a 10" bass driver and a 10" passive radiator. A black finish is offered and stands are extra.
   Monitor Audio also showed this year that all of the 100, 200 and 300 series in-wall speakers are going trimless. This year's models have no outer flange, which makes for a cleaner wall integration.  The design of the speakers are otherwise unchanged.  Prices for the in-wall speakers run from $175 to $850 each depending on the model.
   Also new were the Monitor Audio Airstream WS100 Multimedia Speakers ($500) which stream music using a small wireless USB dongle connected to your desktop or laptop computer. They look very sturdily constructed and well finished.
Totem
As we've come to expect, Totem offered one of the most visually attractive rooms at this year's TAVES – literally constructing its own room within the large hotel room.  The company presented a 7.2-channel, multi-room room installation of its Tribe on-wall speakers.  On demonstration were six Tribe 3 speakers, a Tribe 5 centre channel and two Tribe in-room subs. Such a system runs for about $15,000.
Feeding the Tribes was a Cary stack (somewhere between $13,500 and $14,000) comprising of a Cary 7250 amp, a Cary processor and a MacBook Pro. The sound in this room was remarkably good, and the best I have ever heard from an on-wall system.
TriCell
Inside one of Tri-cell's numerous rooms, Louis de Jardin demonstrated his new Kronos Audio turntable ($28,000). It is the first suspended turntable with counter rotating platters to eliminate torquing. The parts are manufactured in Montreal and assembled and tested by Louis. The bearings are inverted and use a ceramic ball and double hydraulic insulation. An oil pump keeps the PVD-coated steel shaft constantly lubricated. The suspension is stable yet free floating. It incorporates O-rings made from a blend of silicon and viton. A pair of Swiss-made DC motors drive the platters through belts. The off-board power supply is full class A (not pulse modulated) and features servo regulation. Any arm from 9" to 12" can be accommodated and I'm told the SME V12 works great. For the show a TriPlanar arm was fitted. The belts are made in one piece from a silicon/viton combination. They will not crack or oxidize so they should be good for the life of product. The unit on display was number 13 in a limited edition of 250.
   The phono signal was fed into a Zesto Andros phono stage ($4,100) then a Zesto Leto line stage ($7,200). Speakers were the big ASW Magadis ($28,000).
   Unison introduced its Simply Italy tube integrated amp at a modest $2,400. It is a single ended 12 wpc integrated tube amp which can also serve as a headphone amp if you prefer. Opera introduced its new leather bound speaker range – Linea Classica (from $1,200 for the Mezza to $5,500 for the Quinta). Opera's Bartholemew Nasta tells me the leather is not just a cosmetic gimmick. It also reduces diffraction effects and serves to damp cabinet vibrations. The two largest models are closed boxes and the rest are ported designs. Drivers are from SEAS and ScanSpeak, but all modified to Unison's specifications. The speakers are made in Italy, which is not always the case for Italian branded speakers. Opera makes a special matching stand for the Mezza which bolts to the speakers.
   The sound was always excellent and musical in all of the Tri-cell rooms.  Especially noteworthy was the sound from the Aesthetix Romulus CD Player ($7,500), ModWright KWI-200 ($5,000) and Joseph Audio Pulsar speakers ($7,200). This system ran rings around many more expensive setups.
Audio Note UK
New from Audio Note UK for the 2012 TAVES were the 8 watt Empress monoblocs ($10,000) which are ideally matched to the company's own range of efficient corner-filling speakers. The Empress is single ended and uses parallel 2A3 tubes. Empress is a copper wired version of the more expensive Neiro which uses a mixture of copper and silver wires in the transformers. Rage Against The Machine rattled the walls. 8 watts eh?
   To the right you can see the latest derivative of the famous 6-figure Ongaku integrated amp. This time it's a balanced power amp version using half silver, half copper windings. Audio Note UK designed all the input transformers, interstage transformers and output transformers. The 6P6 tube is used as a driver tube rather than 9 pin mini triodes in the integrated amps for a tighter, gutsier sound. This version runs $58,000 and puts out 22 watts. You can also have all silver or all copper versions for more or less money.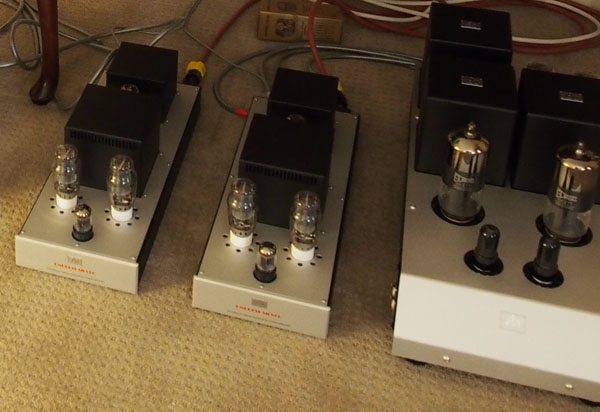 Gershman Acoustics
A new speaker from Gershman Acoustics doesn't come along every day so there was a great deal of interest in the Idol compact floorstander ($3,000) at the 2012 TAVES. It is based around a top-mounted 6" woofer of the company's own design, firing below through a variable regulation line. It's not sensitive to positioning near a rear wall as it is bottom ported. A special slotted grill is claimed to perform better than cloth although no grill at all is preferred. Just look out for the silk soft dome 1" tweeter. Ofra Gershman in the picture is proud of her new baby.
Atohm
Inside this room, an Orenda Music Server running into a Norma Electronics solid state amplifier fed the new Atohm GT3 speakers ($10,900) from France. The GT3 is a 3.5-way design with a remarkable 92 dB efficiency rating. The range starts at $3,600 for a bookshelf. The Norma integrated puts out 140 wpc and sells for $6,000, while the Orenda Music Server is a high end device selling for $7,000.  Atohm makes its own drivers and does all engineering in-house in France. I thought that this was one of the best rooms at the show for sound.
Divergent Technology
What's with the white object at the centre of the drive units in the Reference 3A speakers pictured here? It's a Surreal Acoustic Lens which prevents formation of a vortex generated by condensed air particles and turbulence in the deep centre of loudspeaker driver cones. You'll find one installed in all cone drivers designed and produced by Reference 3A from now on. But they won't be white!
   Another running change is the introduction of a Beryllium dome tweeter in the Reference 3A Veena-B and Episode-B speakers, replacing both the tweeter and exciter that used to cover the high frequencies.  Beryllium domed tweeters are light and rigid, extending high frequency response well over 40 kHz.
   The big new tube amp inside this room was the Copland CTA 506. Stacked in front of it I found a pile of reprinted reviews from a certain Phil Gold published in the US Web magazine Enjoy The Music.com. I gather he liked it.
   That's it for this year – I hope you enjoyed reading about the 2012 TAVES as much as I enjoyed exploring the show floor.  And now I leave you with a few 'passing shots'.
Passing Shots
Here's a picture of Ernie Fisher of The Inner Ear with Nordost's Joe Reynolds.
Nordost cables were seen in many rooms throughout the show and Nordost had both a listening room and a booth on the main show floor. Nordost is particularly proud of its new high performance made in the USA HDMI cable, making big waves among AV enthusiasts.
Burmester Audio had by far the largest and most expensive rig at the show – somewhere around half a million bucks I'm told. It provided the music in the ballroom.
Dynaudio wireless speakers (Xeo3 and Xeo 5 shown here) will be the subject of an upcoming review here at Canada HiFi. We'd have done the review by now but the distributor can't keep them in stock they are so popular.
Here's Reinhard Goerner with his Audio Physics speaker. He looks happy, as he should be with the lovely sounds it was making.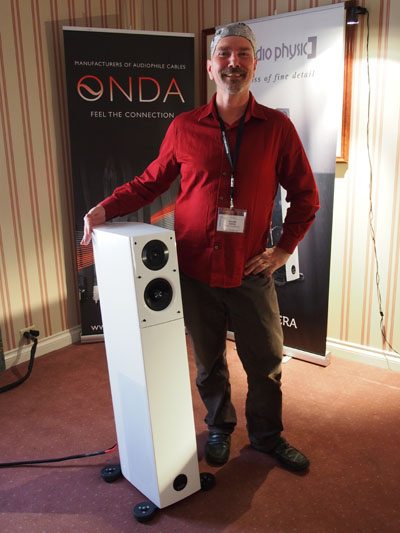 Germany's Acapella make the coolest looking speakers don't they? Here is American Sound's Angie Lisi with a Violin speaker.
The French have some high design smarts too don't they? How about this small system – Devialet amp and Focal speakers.
Larry Zurowski shows a number of his Magnum Dynalab products. Tasty!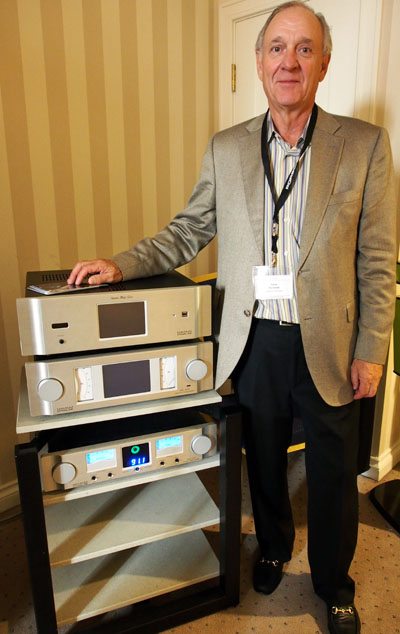 Here's a splendid variety of acoustic tiles from Vicoustic.
Charisma Audio had a very nice sounding electrostatic setup featuring a venerable Revox reel to reel tape recorder.