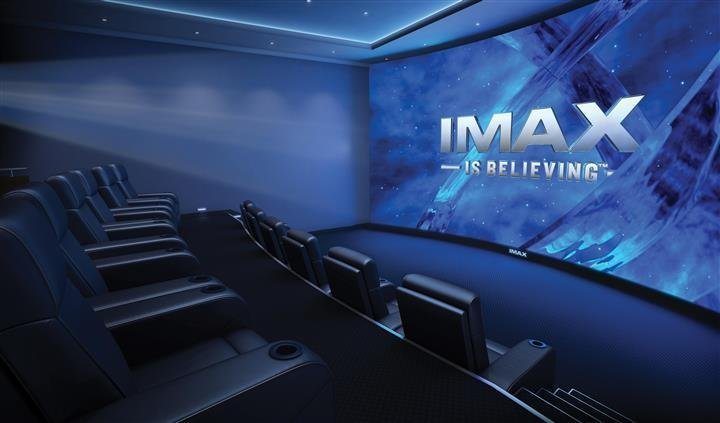 Let's assume that you have been a good little boy or girl over most of your history. And we are not talking just good, we're talking serious good! We're talking major philanthropy. We're talking helping elderly people across the street. We're talking no swearing, ever. We're talking about selfless heroism. And you'd better be able to prove it. I mean provide some serious evidence, like an affidavit, a note from your parents or gold stars (yeah that's right, stars is plural) from your elementary school teachers.
So when Santa asks, "What do you want for Christmas?" your response should be: "An IMAX Private Theatre!"
Why an IMAX Private Theatre (IPT)? Well aside from the obvious enjoyment it would provide, it is one of the rarest things in the world. Rarer than a LottoMax $50M winner, rarer than owning a McLaren P1 GTR sports car and even rarer than sipping a 1907 Heidsieck champagne (Google it, it's an interesting story).
As of today, there is only one IPT and it's located in the home of a well known Hollywood actor / producer. Has he been a good boy? We'll I am not sure we will ever know, but he has one other asset that is key in acquiring an IPT … at least $2.25 Million in cash.
It also helps if you know Larry O'Reilly (President, IMAX Worldwide Sales) and Sarah Hasnoo (Sales Manager, IMAX Theatre Development) whom I would like to thank for spending some time with me and providing me with the inside scoop on IMAX and the IPT.
CANADA HiFi published my first article on IMAX and the IMAX Private Theatre back in the June / July 2014 issue. That article focused on the company's history and evolution and finished with an introduction of the IMAX Private Theatre (IPT). At that time the IPT was just a design waiting to happen.
The IMAX Private Theatre is now a reality with the first installation completed in Beverly Hills in December 2013. After seeing his new theatre for the first time, the celebrity owner was wide eyed and simply wowed! I don't know for sure whether Hollywood stars are often at a loss for words, but it is clear that the IMAX Private Theatre must be impressive to elicit such a simple, yet telling response.
Before we delve into the IPT's first installation and where the IPT product is going, let's do a quick recap on IMAX.
Quick Recap of IMAX
The IMAX Corporation (founded in Canada) has two primary lines of business – IMAX commercial theatre systems and digitally re-mastering films that play in its commercial theatres (IMAX DMR). The first CANADA HiFi article on IMAX entitled: "Lights, Camera, Action … IMAX" (June / July 2014) went into some detail on these businesses, so I would recommend it as a good refresher read.
Both of these businesses are important to the IMAX Private Theatre because the commercial theatre design and technology was the genesis of the IPT and the IMAX DMR films represent the high end content that really makes the IPT sing.
The IMAX DMR films are shot with IMAX cameras taking advantage of the unique dimensions of the larger IMAX aspect ratio for improved clarity and fidelity. They also utilize the IMAX dual digital 4K projector system and the IMAX surround sound processing / custom 7.2 IMAX speaker system to create an amazing immersive experience.
IMAX market research has shown that hundreds of millions of people around the world have heard the brand name IMAX. This research further shows that consumers generally perceive the IMAX brand promises a cinematic experience like no other, and conjures up powerful associations of high quality, entertaining and enriching first-person experiences for the whole family.
A key conclusion from my earlier article is that home theatre enthusiasts should keep an eye on IMAX, not only for its growing contribution to high quality films, but perhaps, more importantly, to see how the trickle down from the commercial market into the high-end consumer home market will impact the technologies of our own home theatre systems over time.
IMAX Private Theatre: The Target Market
It's no secret that the IMAX Private Theatre is targeted at the uber wealthy. After all, the price tag is $2.25 Million for the IMAX design, equipment and installation support. One also has to build the theatre shell and furnish it, including the seats, lighting, floor and wall coverings and so on. The price can increase up to $3.0 Million. Like the first IMAX IPT ad said; "Everyone has experienced it, but few will own it".
As mentioned above, the core IMAX businesses are deploying IMAX theatres around the globe and licensing IMAX technology to film makers for the creation and remastering of blockbuster and documentary films.
With the recent release of Teenage Mutant Ninja Turtles, and with The Equalizer and Dracula Untold coming out soon, IMAX has had a hand in more than 225 blockbuster movies and more than 300 exceptional documentaries. 2013 also marked a year during which IMAX digitally re-mastered films in local languages around the world, with nine new films; five in China and one each in Japan, Russia, France and India. And so far in 2014, four new Chinese language IMAX films have been released.
On the commercial theatre side, as of June 30, 2014, IMAX had installed 868 theatres around the globe and had a backlog of new or refurbishment theatre orders in excess of 400, an almost 50% higher backlog than last year. IMAX currently has the ability to install approximately 120 new theatres per year, so the current backlog represents over three years of business activity. IMAX currently estimates that there is room for at least another 1,000 commercial theatres around the world.
Although the bulk of IMAX theatres are in the US, there are installations in 59 countries, with China being the major focus of growth over the last few years reaching 160 theatres installed this year.
The IMAX Private Theatre focus for 2013, 2014 and the early portion of 2015 has been and will continue in the traditional home market of North America, to firm up the design and work out any of the product bugs.
IMAX intends to install an estimated 10 new IPTs per year for the foreseeable future. And the focus of the IPT marketing effort will expand to include the international markets, particularly those of Russia, Europe and the Middle East.
Let's shift to the actual IPT and the first installation and then follow up with what's new for the IPT and IMAX in general.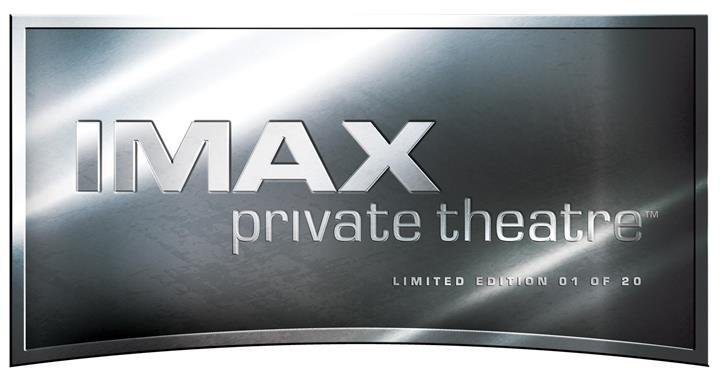 This is the actual plaque that was installed on the outside of the first IMAX Private Theatre (IPT) in Beverly Hills (December 2013).
The First IMAX Private Theatre Installation
The IMAX Private Theatre System includes:
IMAX DMR (Digital Re-Mastering) movie conversion technology, which results in higher image and sound fidelity than conventional cinema experiences;
advanced, high-resolution dual 4K projectors with specialized equipment and automated theatre control systems, which generate significantly more contrast and brightness than conventional theatre systems;
large screens with a complex compound curvature and proprietary theatre geometry, which result in a substantially larger field of view so that the screen extends to the edge of a viewer's peripheral vision and creates more realistic images;
sound system components, which deliver more expansive sound imagery and pinpointed origination of sound to any specific spot in an IMAX theatre;
specialized theatre acoustics, which result in a four-fold reduction in background noise, and
remote real-time monitoring for maintaining peak performance.