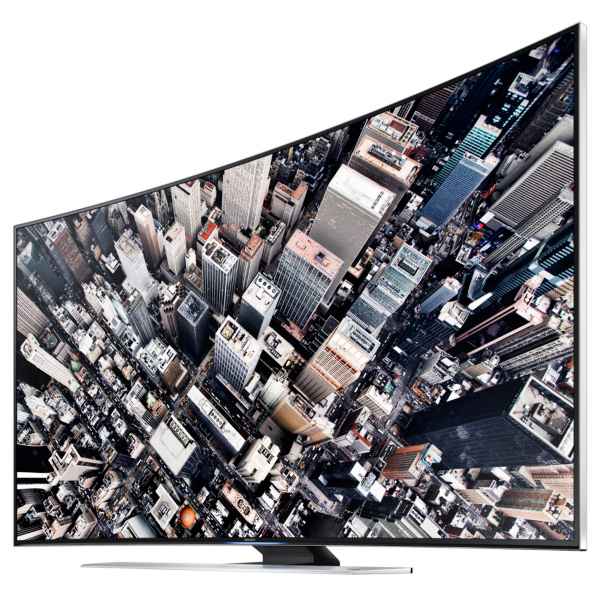 Curved Screens
Curved screens are a new change to TVs and attempt to mimic the viewing experience in a movie theatre by adding in a slight curve to the TV. The curve tries to minimize the slight difference in viewing distance of viewers in the "sweet spot" from the centre of the TV to the edges, resulting in a more uniform and immersive picture. The consequence of this is that viewers sitting off-centre experience more distortion and reduced picture quality. While video panning across the screen is indeed more subjectively uniform with a curved TV, the decrease in viewing area due to the reduction in optimal seating position can be a trade-off that many viewers are not willing to make – especially if their TV is often host to large groups. The decrease in horizontal width, compared to a flat TV of the same diagonal size, also decreases the appeal. Like 3D (which didn't catch on and is only subjectively appealing for specific types of content), I suspect that curved TVs will not become mainstream and are not worth the premium.
Wand Remotes, Smart TVs, NFC, and Front-Facing Speakers
As picture quality increases and subsequently becomes more difficult to improve, relatively, other features are increasingly being added to ensure annual product cycles include "new" features. Among these are remotes that no longer rely on line-of-sight infrared and instead use RF such as Bluetooth. Smart TV features also allow users to utilize web browsers, stream video from services such as Netflix and YouTube, and video chat via Skype. To facilitate this Internet-based content, many remotes now include full QWERTY keyboards on their backside instead of having to rely on multi-tapping the number keys to spell things out. LG's Magic Motion remote is equipped with a gyroscope, allowing the remote to control a (mouse) cursor by waving the remote in midair. Users can even ditch the remote altogether and instead use their smartphone or tablet's touchscreens to control their smart TVs via free apps for Android and iOS.
To further showcase their connectivity capabilities, new smart TVs support WiFi and DLNA streaming, allowing compatible devices such as computers, tablets, and smartphones to connect with them and share their content on the big screen. NFC-equipped remotes (similar to tap-to-pay credit cards) allow smartphones and tablets to simply touch to establish the connection and begin mirroring.
Lastly, manufacturers are beginning to make audio a priority, finally placing front-facing speakers on their televisions. While many readers will opt for a dedicated home theatre setup, for those purchasing secondary televisions for locations where a home theatre is not feasible such as kitchens, recreation rooms, or bedrooms, the move to front-facing speakers means that audio quality will finally match picture quality.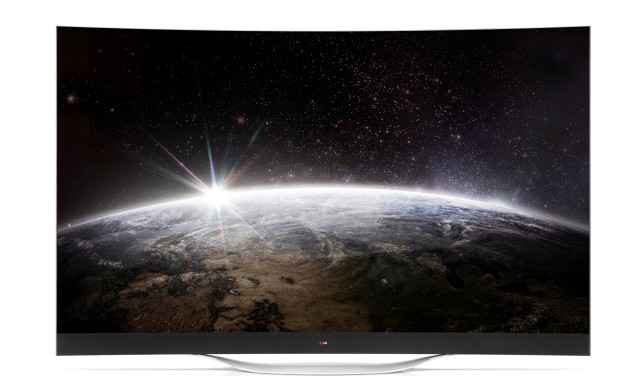 Organic LED
Arguably the ultimate in display technology (until we're all watching content through Oculus VR goggles or with holograms), OLED technology is slowly arriving on store shelves instead of just teasing consumers with prototypes at trade shows. LG has recently released a 55" curved 1080p OLED television for $3,500 USD and while even more expensive than its 4K siblings, offers unmatched picture quality. The $3,500 price tag may seem steep but this is already LG's 3rd generation OLED set and it was only a year ago that the first generation debuted for a whopping $15,000 USD.
OLED achieves its stunning picture quality by not requiring a backlight at all, instead producing light itself directly. Self-illumination means that each individual OLED pixel can be completely shut off, delivering absolute black, which is how OLED achieves its incredible picture quality. OLEDs also have a wider colour gamut than LCDs, very wide uniform viewing angles, and incredibly fast response times (eliminating ghosting, motion blurring). The one specification in which they still lag behind LCDs is brightness (measured in nits) but like LCDs with their improving black levels, OLEDs too continue to improve their maximum brightness.
Up until very recently, OLED TVs maxed out with the 1080p resolution.  If you've been holding out for a 4K OLED TV – you're not alone.  It's been a long time coming but LG has finally introduced the LG EC9800/EG9700 Series which offer the full glory of OLED technology along with the 4K resolution.
In Conclusion
The latest high-quality LCD TVs offer an incredible picture quality and we expect them to improve even further with each new generation.  There is no question that LCD technology will remain as the dominant television technology for the next few years.  At this point in time, the picture quality advantage of OLED TVs comes at too high of a cost premium for most consumers.  Manufacturers such as Samsung have indicated that with the difficulty in manufacturing OLED panels, OLED TVs are still about three to five years away from becoming mainstream.
Hope this serves as a good guide in helping you select your new TV set.