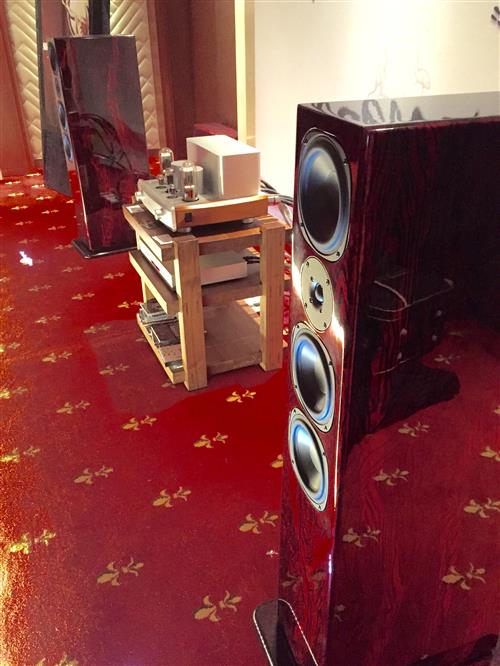 The ACA Seraphim Skogrand Edition is the very first reference speaker that's truly worthy of receiving a full Skogrand treatment.  This 3-way passive-design loudspeaker is outfitted with Skogrand Cables SC Beethoven internal wiring as well as a custom ACA Seraphim Skogrand Edition crossover that is wired point-to-point also with Skogrand cables.  This speaker is offered exclusively with a 14-layer painted Piano Rosewood finish in the same tradition as Skogrand handmade audio components which offer superior performance and exquisite craftsmanship.  The speakers are designed and manufactured in the USA and Norway.
The technical highlights of the ACA Seraphim Skogrand Edition include:
Tweeter: soft dome SEAS Excel E0040-06 T29CF002 Crescendo 1.14″ (29mm)
Midrange: Custom ACA 7"
Woofers: 2 x Custom ACA 7"
Transmission line design for the woofers
Frequency Response: 28Hz – 25kHz
Impedance: 4 Ohms nominal
Sensitivity: 92.5 dB, 2.83Vrms, 1 meter
Well braced and damped 800 kg/m³ Medium-Density Fibreboard
Dimensions: 14"W x 47.5"H x 21.5"D
Weight: 260 lbs. /pairThe ACA Seraphim Skogrand Edition are available globally and retail for $55,425.00 CAD ($45,000.00 USD).
For more information, please check out:
http://www.skograndcables.com/index.php/about/aca-seraphim-skogrand-edition-speakers/