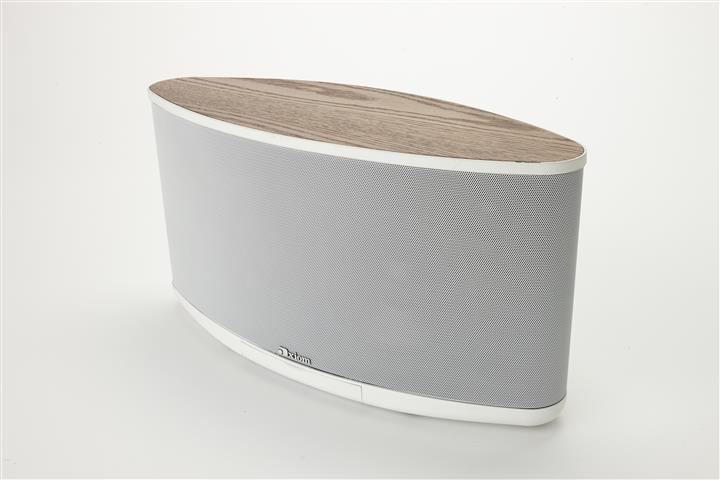 Today people want to play their music anywhere at any time.  And they would love it to sound amazing.  Axiom Audio aims to help listeners break free of their single user, low powered, and low fidelity portable speakers with the introduction of AxiomAir.  A groundbreaking portable sound system that delivers unprecedented sound quality across multiple platforms.  Earlier this month, the company launched a Kickstarter campaign which has already almost doubled its funding goal thanks to so many supporters.
Millions of music lovers use Bluetooth to stream audio to speakers, but it's not an ideal choice since it compresses the sound quality, has limited range, does not allow more than one user at a time, and will not allow you to control multiple speakers in multiple rooms from one interface.
AxiomAir is Wi-Fi based and has a state-of-the-art DAC (Digital to Analog Converter) built in which allows playback of files up to the highest 24/192 resolution.  It has three times the range of Bluetooth, allows multiple users to be connected at the same time, and allows multiple speakers all over your home to be controlled from any smartphone, tablet, or computer in your home.  AxiomAir was designed to join local Wi-Fi networks or function as its own Wi-Fi hotspot when out of range of the network.  Multiple users can join the hotspot at the same time and the optional batteries last up to 18 hours.
With its massive output of 150 watts RMS it, delivers 20 times the power of most portable speakers currently being offered; the first truly high-output, high-fidelity portable sound system.
AxiomAir is perfect for a party.  Friends and family can play music stored on their smartphones directly on AxiomAir without having to load songs into your library, keeping the party going.
AxiomAir sound systems can be deployed in multiple rooms throughout your home and controlled individually or as groups from any phone, tablet, or computer in your home. Best of all you do not need to move your songs to a dedicated library for this to work.
The Karaoke version is ideal for a Karaoke Party or as a portable meeting room sound system, delivering crystal clear sound with no feedback or distortion.
AxiomAir is future-proof by design.  While most portable speaker systems consist of a microprocessor running a dedicated program, AxiomAir has a fully functional Raspberry Pi computer built in.  The operating system can be updated with future features from a button on the interface.
AxiomAir also maximizes user design options: there are over 100 finishes available, or customers can specify paint colors or even pictures on the top – all without adding significantly to delivery time because AxiomAir is manufactured in Canada.
To pre-order your AxiomAir sound system, please visit the Kickstarter page.