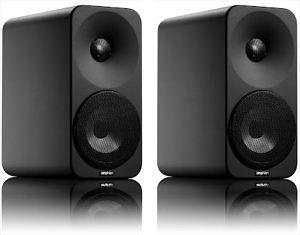 Amphion Loudspeakers is a Finland based audio product company. Their loudspeaker designs take a 3-in-1 approach, including what they claim to be: perfect nearfield performance; wide and even listening area and; multiroom-filing live-like sound.
Amphion has reportedly developed a new Ion speaker product, the Ion+ speaker. The Ion+ is a 2-way bookshelf monitor that has a rated frequency response of 52 – 25.000 Hz, a 1,600 Hz crossover point and a 86dB/1w/1m sensitivity. The driver complement is comprised of a 1" titanium dome tweeter matched to a 4.5" aluminum cone mid-low frequency driver. This new Ion+ is said to combine the sonic attributes of both neutrality and musicality.
The Ion+ is quite compact with dimensions of 268 x 134 x 220mm and a respectable weight of 6kg. The new Ion+ will be available in black or white finish. At present, only the European pricing is currently available, which is €999 / pair.
Look for more details to be provided at: www.amphion.fi.