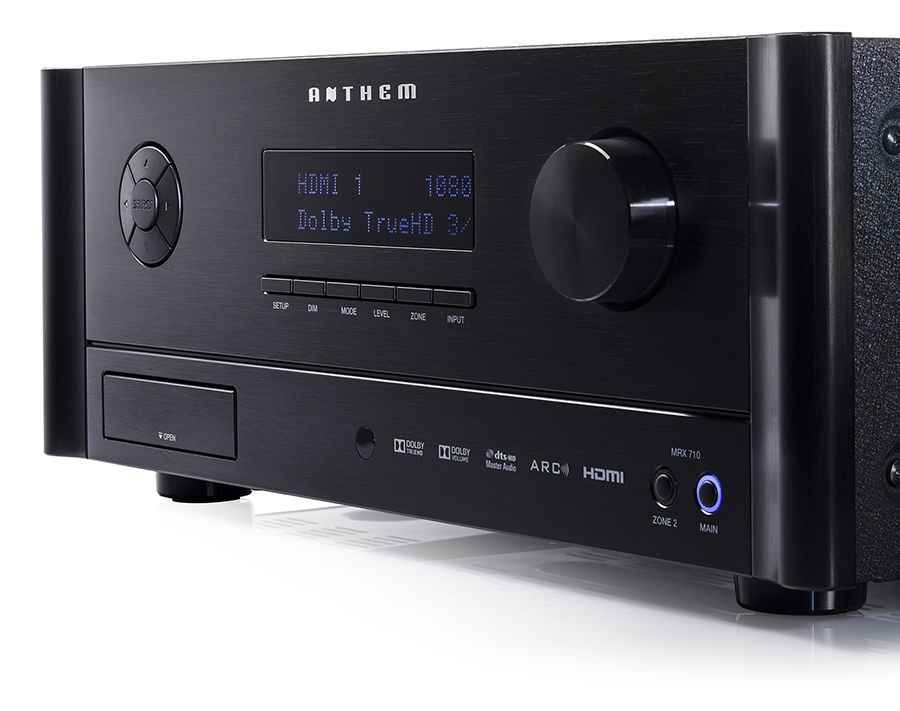 Anthem Electronics has just announced that their next generation MRX Series A/V receivers; the MRX 710 and MRX 510, are now shipping. Along with technical, performance and feature enhancements, these next-generation models feature a clean, minimalist front panel and well-organized back panel. With IP and RS-232 control, the new lineup now includes drivers for popular control systems and will soon include remote control apps for Android and iOS (Apple) devices.
OVERVIEW OF MRX GENERATION 2:
ARC 1M, an Enhanced Version of Anthem Room Correction (ARC): The software and microphone kit are included with the new A/V receivers.  Though Ethernet connection, it provides a higher level of digital signal processing and offers users the option to print 'before and after' room-measurement graphs. For more information on the benefits of ARC 1M, please visit anthemAV.com.
Power and Advanced Load Monitoring: MRX 710 and 510 each feature 7 channels of power. Advanced Load Monitoring monitors output (voltage and current) to keep output transistors within their safe operating area.  A unique heat sink tunnel is monitored for temperature and only when a certain threshold is passed does an internal fan come on.  The low-noise fan has two speeds and will adjust as needed.   Only in extreme situations, where speaker impedance is very low and the music level excessive, will the amplifier shut down to protect itself.
IMPROVEMENTS AND ADDITIONS IN MRX GENERATION 2:
• 7 HDMI inputs plus a front-panel input on MRX 710 and MRX 510
• Dual HDMI outputs
• 4K upscaling and pass-through
• HDMI Audio Return channel
• Faster HDMI switching
• Up to 20 input configurations
• Software updates via the USB port
• IP control: Command set is comprehensive, yet easy to work with. Drivers for popular control systems and remote control apps for iOS (Apple) and Android are coming. Similar commands and feedback can also be used through serial control.
• Larger, easier-to-read on-screen menus and improved status displays
• Dual speaker configuration
• Speaker crossover now adjustable in 10-Hz increments
• Optical, coaxial and analog inputs send 2-channel music to Zone 2
• Bi-amping of front Left/Right channels on MRX 710 and MRX 510
• Power consumption in standby mode: <0.3 W
Prcing is as follows:  MRX 710: $1,999 U.S.; MRX 510: $1,599 U.S.  For more information, including full specifications and features, visit: www.anthemAV.com.