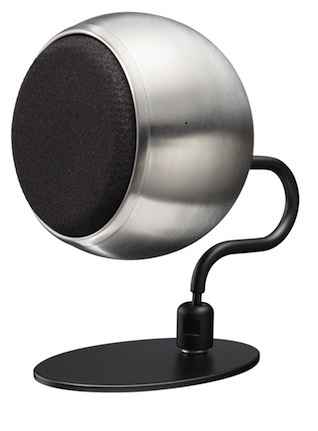 Anthony Gallo Acoustics has just begun shipping their new Micro SE and A'Diva SE satellite speakers.  The form factor for these audiophile-grade speakers is what makes them most interesting – spherical metal balls, with the Micro SE being 4-inches in diameter and the A'Diva SE being 5-inches.  These two new SE editions are said to substantially raise the perfomance bar over their predecessors, putting them into competition with considerably larger conventional speakers.
The Micro SE and A'Diva SE have been designed with technologies that allow vivid 3-D soundstaging irrespective of listening position.  Both speakers use a single ultra-wide dispersion, flat-diaphragm transducer with no crossover.  The SE's also incorporate Anthony Gallo Acoustics' OPT (Optimized Pulse Technology) and patented S2 damping-control pods, reducing distortion.  For a full-range experience in two channel or home theatre, the company recommends pairing the Micro SE or a'Diva Se with their new TR-1D or TR-3D subwoofer.
Specifications / Features:
A'Diva SE:
– MSRP: $329  U.S. / each;
– Dimensions: 5? Sphere; 
– Frequency Response 80Hz to 22Khz (on wall) / 100Hz to 22kHz (on stand)
Micro SE:
– MSRP: $239 U.S. / each
– Dimensions 4? Sphere
– 100Hz to 22Khz (on wall) / 120Hz to 22kHz (on stand)
Both A'Diva SE and Micro SE:
– Impedance 4 ohms (nominal)
– Sensitivity 85 dB @2.83v / 1 Meter
– Power Handling 60 watts (full range) / 125 watts (X-over at 80-120Hz)
– Driver 3? wide-dispersion flat diaphragm
– Cone Material Aluminum laminated proprietary honeycomb sandwich
– Enclosure Material Steel/Stainless steel
– Warranty 1 year parts and labor (5 years if product is registered within 60 days of purchase)
– Finish: Black, White, Stainless (silver) with black cloth
– Cloth Grill
Look for more details at: www.roundsound.com.