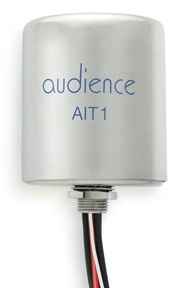 With both the OEM and DIY market in-mind, Audience has announced their new AIT1 Ultra-Balanced Line Transformer.  The AIT1 is a 1:1 ratio, line-level transformer that is said to provide superior isolation, extra-wide bandwidth and high resolution with very low distortion.
Balanced line transformers can block noise while preserving the orignial signal.  The Audience AIT1 is built using the finest materials and most advanced construction techniques. It incorporates 100% Ohno monocrystal copper windings and monocrystal external leads with an 80% nickel-alloy core. With precision winding balance and input and output coils are matching, the AIT1 is optimized for CMRR (common-mode rejection ratio), providing greater than 125dB from 20Hz – 1kHz and 94dB at 20kHz.
For use in single-ended or balanced input/output aplication as well as conversion either way, the AIT1 is designed to dramatically reduce 60Hz outside noise.  Its Mu-metal enclosure provides an additional 30dB of electromagnetic noise suppression. The AIT1 also protects amplifiers from potentially harmful DC and sonically degrading RF (radio frequency).  All wires to the internal shield foils are spot-welded for long-term reliability and retention of ideal balance between windings.  
The Audience AIT1 Ultra-Balanced Line Transformer is currently shipping.  For more information visit www.audience-av.com.