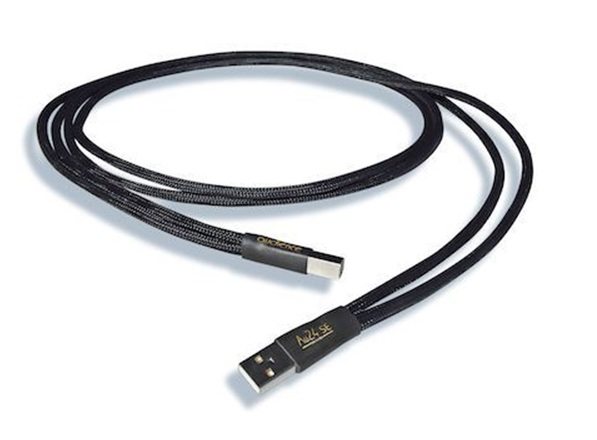 Audience has just announced the release of their new Au24 SE USB cable. The Au24 SE USB is a premium-quality USB interconnect designed for superior performance with digital music files and USB components.
The new Audience Au24 SE USB is engineered incorporates highly effective shielding against EMI and RFI and reduces timing issues in data transfer. Using a "dual-cable" construction, with separated conductors for the data (signal) path and for the power path – this serves to provide the highest level of signal integrity and isolation.
The data side of the Au24 SE USB features shielded silver over OCC copper conductors with Teflon insulation. The power side is also shielded and made from OCC copper wire with polypropylene insulation. The USB connector contacts are gold-plated copper.
There are two versions of the new Au24 SE USB cable: 1) with single USB-A male connector at the source end and; 2) with two USB-A male connectors at the source end for use with computers and components where the data and power can be sent from two different USB busses (providing the best signal / power isolation).
Audience holds that the USB cables, where engineered and manufactured correctly, can make a significant different in sonic performance – which can be easliy heard. The timely and coherent transfer of data is absolutely essential for sonic purity. USB cable materials an construction, which includes dielectric absorption and conductor metallurgical characteristics affect data timing and flow. Given the millions of bits per second, every little factor can make a difference.
Audience purports that a high-quality USB cable can provide more purity to the music, a more expansive and realistic soundstage and a more natural quality for vocals and instruments.
The Audience Au24 SE USB cable is currently available at a MSRP of: $945 U.S. for 1-metre dual-end (two USB connectors) and $895 U.S. for a single-end (one USB connector) cable. Look for more information at: http://www.audience-av.com/cables/.