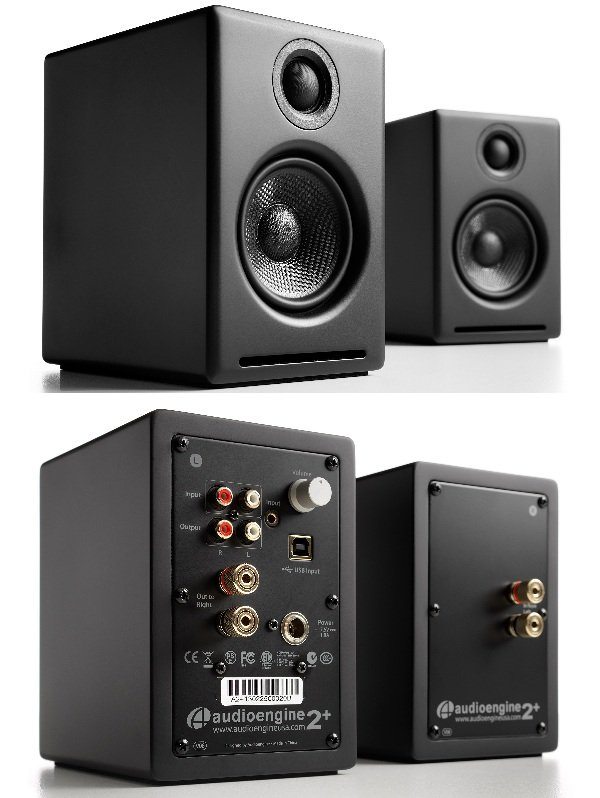 Audioengine has just released an new improved version of their Audioengine 2 active desktop speakers.  Their new Audioengine 2+ active desktop speakers now include a built-in DAC and other improvements, which make this a plus model.  With the integrated DAC, the new Audioengine 2+ allows connection via its rear USB port to a computer to send high-quality digital audio directly to the speakers and get improved sound.  The USB port allows wireless streaming via an optional Audioengine W3 wireless adapter. The new A2+ vs the A2, has upgraded speaker connectors, an added USB DAC, improved the bass response, variable audio output for subwoofer connection or wireless transmission via Audioengine's optional W3 wireless adapter, standard 0.25″ threaded inserts for wall mounts, an upgraded power supply and upgraded accessory cables.
Specifications:
• Power Output:15W RMS / 30W peak per channel
• Inputs: Mini-jack, RCA, and USB
• Output: RCA variable line-out
• Main Voltages: 110-240V 50/60Hz auto-switching
• Weight: 4 lbs (left) and 3 lbs (right)
• Amplifier Type: Dual Class AB monolithic
• SNR: >95dB (typical A-weighted)
• THD: <0.05% at all power settings
• Crosstalk: <50dB
• Frequency Response: 65 Hz to 22 kHz (±2.0dB)
• Input Impedance: 10 kOhms unbalanced RCA
• Internal DAC: TI/Burr Brown PCM2704C
• Color Choices: Satin Black and Hi-Gloss White.
Included: 
• A2+ powered (left) speaker
• A2+ passive (right) speaker
• Speaker wire, 2 meters (~6.5 feet)
• Power supply
• AC power cord
• Mini-jack audio cable, 1.5 meters (~5 feet)
• USB cable, 1.5 meters (~5 feet)
• Microfiber speaker bags
• Microfiber power supply bag
• Microfiber cable bag
• Setup guide
• Product line brochure
The new Audioengine A2+ premium powered speakers are currently available at a MSRP of $249/pair.  Look for more details at: www.audioengineusa.com.