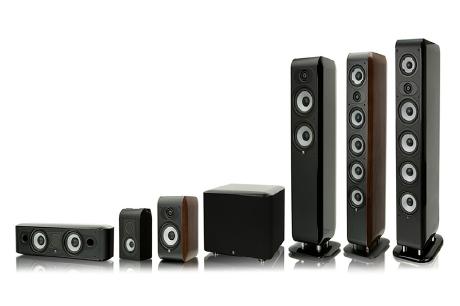 Boston Acoustics, a D+M Group company, has just launched their new M Series loudspeaker line. The M Series is comprised of seven models that accommodate home theatre, surround and stereo applications.
The M Series lineup includes the following models:
M350: 3-way floorstander with four 5 ¼" woofers and a 4" midrange;
M340: 3-way floorstander with four 4 ½" woofers
M250: 2.5 way floorstander with one 5 ¼" midrange/woofer combination and dedicated 5 ¼" woofer.
M25: 2-way bookshelf with one 5 ¼" woofer
MCenter: with dual 4 ½ woofers
MSurround
MSubwoofer 
Boston Acoustics M Series loudspeakers are distinguished visually by their elegant rounded cabinet designs, high-gloss finish and premium quality, leatherette covered baffles. All speakers are available in gloss black with black faux leather trim. The look of the M series brings together classic and modern design cues to allow them to blend into home décor. 
The M Series was created to deliver exceptionally accurate and natural sound reproduction from an aesthetically pleasing design, with each speaker specifically engineered to provide superior acoustic results for the intended application. There are several key innovations that provide the framework for their astoundingly accurate, powerful and immersive sound. The bookshelf and floorstanding models utilize Boston's innovative Extended Wide Bandwidth (EWB) tweeter in its second generation. Engineered after an extensive research and development effort, the EWB design combines a lightweight high tensile strength fabric diaphragm with a Coupled Dual Concentric Diaphragm (CDCD) design, and an aerodynamically tuned central vent. Notably, the EWB tweeter is different than most tweeters, with a large radiating surface that extends from the center through the crease out to outside perimeter of the diaphragm (which doubles as the surround). This unique design significantly lowers the moving mass of the tweeter diaphragm which makes it better able to track subtle treble details. The result is more stable linear motion, extended high-frequency response, lower distortion and improved clarity in the high registers.
One of the keys to the enhanced performance and wide sonic dispersion of the M Series MCenter and MSurround is the innovative Balanced Mode Radiator (BMR). The BMR is a piston radiator and a bending mode radiator, covering the range normally handled by both tweeter AND a midrange, without a crossover.
Additionally, the polypropylene midrange drivers with mass loading (in Models M350 and M340) provide smooth overall response with minimal coloration in the critical midrange frequencies, which must reproduce the most important part of vocals or the fundamental frequencies and first harmonics of acoustic instruments. For even improved accuracy, the midrange drivers live in their own separate chamber. The polypropylene woofers in M Series speakers are lightweight and rigid with large motor structures for maximum low frequency output and heat dissipation. Notably, a specially engineered "Quad-Woofer Array" in the M350 and M340 loudspeakers further enhances performance by creating multiple floor reflection points, which helps to smooth out the bass response at the listening position, and allows the speakers to generate their powerful soundfield with a significantly slimmer form factor.
M Series speakers also feature Boston Acoustics' breakthrough Lo-Q™ cabinet construction for pure sound reproduction and the absolute minimal interference from the cabinet. This specially designed speaker enclosure (included in all models except the MSub and MSurround (where it is not necessary) ensures the absolute minimum of potentially sound-degrading cabinet vibration.
Key to the effectiveness of the Lo-Q cabinet is a double layer of Medium Density Fiberboard (MDF), joined with a layer of acoustic damping adhesive in the middle. This new construction significantly outperforms conventional cabinet designs, with exceptionally low resonance and ideal acoustic response.
The M Series MSub is a consummate expression of Boston Acoustics' expertise in loudspeaker design. It features an internal power amplifier rated at 500 watts (1,000 watts of peak output). The amplifier is mated to a specially designed 10" woofer capable of handling this much power. The woofer features high excursion capabilities, a heavy duty surround and a large voice coil. There are also two 8" passive radiators – one on each side of the cabinet – that allow the subwoofer to play the lowest notes and to reproduce the loudest peaks with low distortion in a relatively small enclosure. Finally, the internal power supply includes a large toroidal transformer to keep plenty of power on reserve so the subwoofer can handle even the most demanding music or film soundtrack with absolute ease and authority.
Pricing in U.S. dollars is as follows:
M350: $2,499/pr; M340 $1,999/pr; M250:$1,499/pr; M25: $799/pr; MCenter: $599; MSurround: $748/pr; MSubwoofer: $1,199. 
For more details, please visit: www.BostonAcoustics.com.