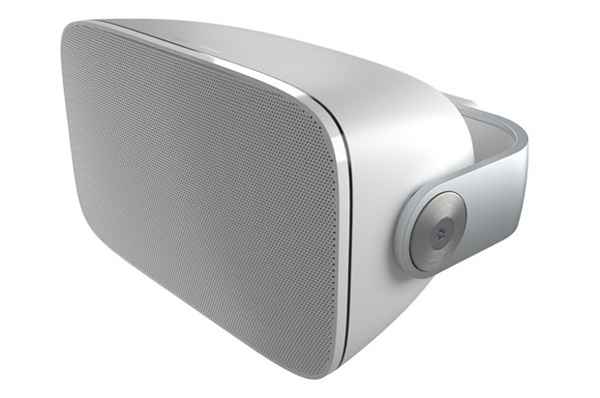 The new Bowers & Wilkins AM-1 Architectural Monitor is a weatherproof loudspeaker that promises a perfect combination of quality sound, durability and supreme flexibility. AM-1 is suitable for installation in a wide range of outdoor and indoor applications.  The AM-1 avoids the compromises commonly associated with all-weather monitors, and delivers all the performance expected of a Bowers & Wilkins loudspeaker. A two-way design, it features an inverted drive unit configuration, with the AM-1's 1inch (25mm) aluminum-dome tweeter mounted below rather than above a 5inch (130mm) glass-fiber bass/midrange driver. This ensures optimal dispersion of sound when the speaker is mounted high on the wall.
The AM-1's low-frequency output is bolstered by the use of a rear-mounted auxiliary bass radiator (ABR). Used instead of a conventional bass reflex port, the ABR endows the AM-1 with exceptional bass response for a cabinet of its size. Unlike a port, it also provides the AM-1's cabinet with a continual seal against the elements. This combination of advanced drive units, unique configuration and classically simple crossover components combines to create a loudspeaker as musical as it is flexible.
The AM-1 has been carefully designed to be easy to install. Its elegant cast aluminum wall bracket incorporates an ingenious one-plug mounting system. Designed to be positioned in either landscape or portrait mode when mounting, extra flexibility is offered by the AM-1's ability to be rotated through 110 degrees from center in both directions.
Its minimal projection out from a wall also adds to its appeal. So, while AM-1 has obvious applications such as providing high-quality audio around gardens, patios and around swimming pools, its sleek design will also find favor indoors. Venues such as bars, restaurants and other communal areas will benefit from AM-1's winning combination of premium sound quality, discreet styling, flexibility and durable construction.
AM-1 combines a rustproof aluminum grille with a rigid cabinet composed of glass-filled plastics, ensuring class-leading resistance to extremes of dust, moisture and UV exposure. It has also undergone rigorous, continuous testing in an accelerated salt-spray chamber, plus outdoor UV accelerated life tests to ensure its parts don't fade or discolor.
Available this March for $325.00 each CDN.  For more info, please visit www.bowers-wilkins.com