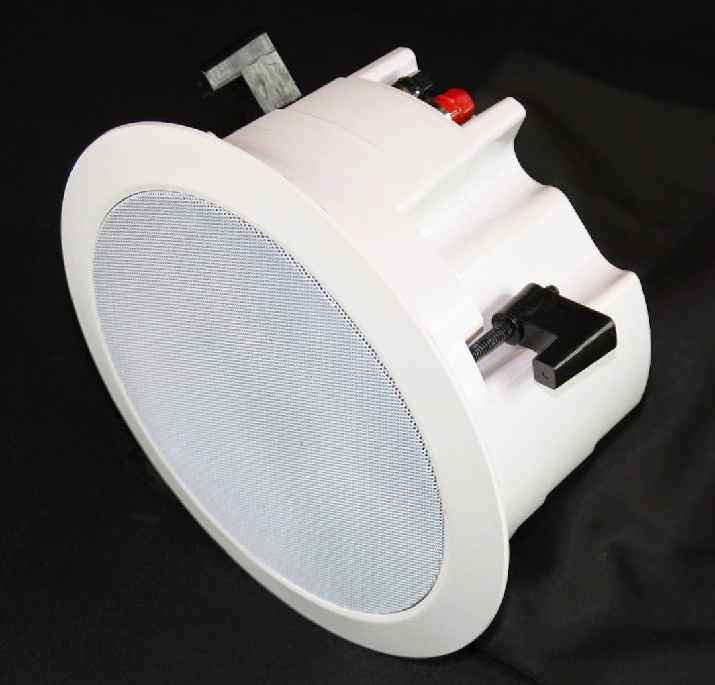 At CEDIA 2014, Bryston officially launched their new CIW architectural loudspeaker model.  CIW has been designed to accommodate various needs, including those of the recently introduced Dolby Atmos format.
The Bryston CIW is a coaxial design with 6.5-inch aluminum woofer and a 1-inch titanium tweeter. Utilizing a similar tweeter design as other Bryston loudspeakers the CIW departs slightly by employing a neodymium magnet for the tweeter that is both compact and powerful element. The CIW tweeter also pivots, allowing tailoring of dispersion characteristics to match applicationneeds.  The CIW's woofer is also derived from Bryston's A-Series loudspeakers.
The CIW is a fully enclosed acoustic suspension design with anti-standing wave rear chamber.  This design produces a controlled and balanced output difficult to achieve from an architectural loudspeaker platform. A fange-less and a flush-mount version of the CIW is currently being developed.
Bryston CIW Specifications:
Enclosure: Acoustic Suspension
Max Amp Power: 175 Watts, Min Amp Power: 10 Watts
Frequency Response +/-3dB: 70 – 22 kHz, +3dB- 9dB: 50 – 22 kHz
Impedance 8 Ohms
SPL in Room1w/1m: 92 dB, Anechoic 1w/1m: 88 dB
Crossover 2.2 kHz
Tweeter: Single 1″ titanium
Woofer: Single 6.5″ aluminum
On-ceiling Dimensions (inches) – 9 5⁄8″ diameter x 3⁄8″
In-ceiling (Cut out) Dimensions (inches) – 8 1⁄4″ diameter x 4 9⁄16″
On-ceiling Dimensions (mm) – 244 diameter x 9
In-ceiling (Cut out) Dimensions (mm) – 210 diameter x 116
Weight (lbs) each 12.7 lbs – Weight (kg) each 5.761 kg
The Bryston CIW has an MSRP of $290 U.S./speaker and is expected to ship in Q4, 2014.  Look for more details at: www.bryston.com.
Comments are closed.