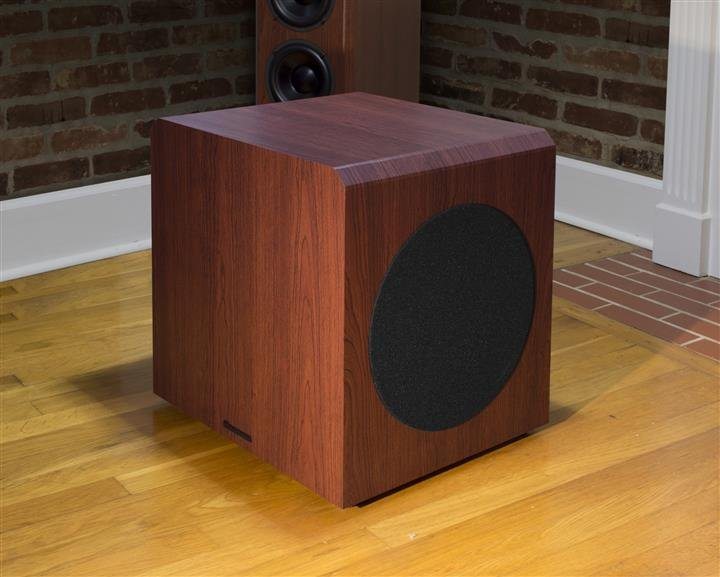 Bryston has just expanded its line of award-winning loudspeakers with the addition of the Model A subwoofer, the first compact subwoofer in the company's line-up. The Model A subwoofer utilizes two opposing long-throw 10-inch woofers, housed in a compact, décor-friendly enclosure, making it easy to position out of sight.
The Model A subwoofer delivers Bryston's renowned performance and reliability, featuring a robust 400-Watt internal amplifier cleverly isolated within its own chamber and mated to a pair of 10-inch drivers in an opposing configuration. This driver array helps cancel cabinet resonance energy while delivering strong, balanced and detailed bass response. The Model A subwoofer is equally suited to the reproduction of movie soundtracks as well as recorded music of all formats and genres.
The Model A subwoofer's control panel offers access to crossover, phase, and level adjustments. This enables users to optimize the burly 400-Watts of output power, creating a perfect blend with the audio system as a whole and with room acoustics. A sturdy ¾ inch MDF cabinet with ample internal bracing features dual rear-facing ports that deliver extended low frequencies without unwanted chuff even under high-output conditions. The Model A subwoofer is available in Boston Cherry, Natural Cherry and Black Ash. Special order finishes are available as well for an additional charge. Rubberized aluminum leveling feet and a heavy gauge AC line cord are included.
The Bryston Model A Subwoofer has an MSRP of $2000 each and is available now.