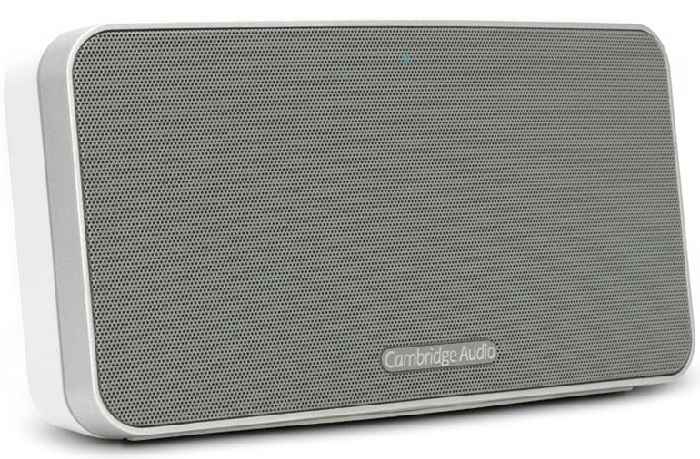 Cambridge Audio has just released a new range of Bluetooth speakers based on Cambridge Audio's original Minx Go.  The refreshed, compact Go instantly streams music from your phone, tablet, or computer.  It provides sufficient power to a large space with deep, crisp, and immersive sound and can provide an amazing 18 hours of playback from a single charge.  Using Cambridge Audio's Digital Signal Processing (DSP) technology, the Go sounds much larger than its meager size.  
The new Go portable speaker outperforms its predecessor by adding NFC technology for even simpler, one-touch Bluetooth pairing and support for aptX Bluetooth to guarantee the highest quality playback.  With its convenient USB port – you can even charge your other portable devices (phones, tablets, etc.) with the Go. 
With the Go and new Go Radio, wireless high quality streaming is easy.  The Go Radio adds integrated FM Radio with 3 pre-sets to the Go's feature set.  A LED digital display shines bright behind the grill.   Both the Go and Go Radio can deliver deep bass and clear vocals at low distortion, even at high volume levels.  
Along with the Go and Go Radio, Cambridge Audio has also announced thier new Bluetone 100, which sports powerful 100 Watt Class-D amplication and connect to virtually all Bluetooth devices at a range up to 32 metres.
The Bluetone 100 produces bold sound with two 4 wide-dispersion Balance Mode Radiator (BMR) drivers.  Treble, mid-range and bass is produced from one speaker with near 180 degree, wide sound dispersion, making it easier to fill a room with good sound regardless of the listening position.  The Bluetone 100 has been designed to provide fantastically clear, natural and coherent, high-quality audio thoughout the listening space.
The Go, Go Radio and Bluetone 100 are all available at the following MSRPs/months: $179.00 (September), $199.99 (Novemeber), $299.99 (Septemeber) (U.S.) respectively.  For more information, please visit: www.cambridgeaudio.com.
Comments are closed.