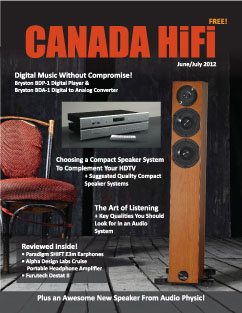 The digital edition of the June/July 2012 issue is now available in the Digital Editions section!
Features inside this issue include:
Choosing a Compact Speaker System to Complement your HDTV + Suggested Quality Compact Speakers
The Art of Listening: How Do You Connect With Music? + Key Qualities You Should Look for in an Audio System
Reviewed inside:
Audio Physic Sitara 25 Loudspeakers
Paradigm SHIFT E3m Earphones
Bryston BDP-1 Digital Player and BDA-1 DAC
Alpha Design Labs Cruise Portable Headphone Amplifier
Furutech Destat II
Click HERE to jump to the Digital Editions page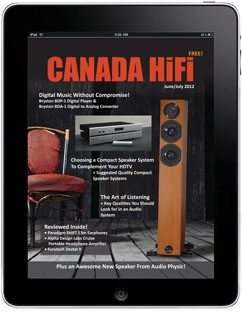 iPad/iPhone/iPod touch users – please open the CANADA HiFi App on your Apple device and you will now see this new issue on the home page of the App (pull the home page down with your finger to update if the latest issue doesn't appear automatically). If you haven't downloaded the free CANADA HiFi App just yet, please do so from the App Store on your device.