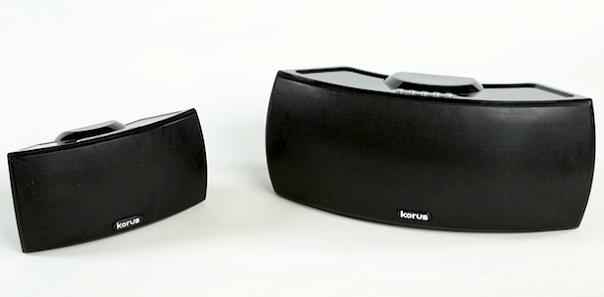 Core Brands has just launched Korus, their new wireless speaker system alternative to both Bluetooth-enabled audio solutions and other wireless technologies.  Korus is powered by SKAA, a wireless audio protocol that is claimed to provide superior signal connections with near zero latency.  The SKAA-based portable Korus is plug-and-play with zero-lag or delay for high fidelity premium audio results.  The new Korus is designed with a unique acoustic signature, LiveStage that projects a multi-dimensional sound platform. With the USB, 30-pin or Lightning compatible Korus Baton wireless audio transmitters the Korus can be instantly connected to mobile devices or computers.
Korus will be offering two initial models: the V600 at a MSRP of $399 U.S. for a wider soundstage and large spaces, as well as the V400, at a MSRP of $299 U.S. for smaller rooms.
Korus requires no wireless network, and is compatible with Netflix, Pandora, YouTube, Hulu, and games like Gameloft's Iron Man 3 – The Official Game or Battery Acid Games' Highway Rider, plus music using iTunes, Pandora, or any other music player or service.  The Korus will be compatible with iOS devices, Macintosh, and Windows 8 laptops, PCs, and tablets.  Korus speakers are controlled with mobile friendly baton wireless audio transmitters that plug into a mobile device or computer. An Android-compatible Baton audio transmitter is expected to be released in 2014.
Look for more information on the Korus sytem at: www.KorusSound.com.