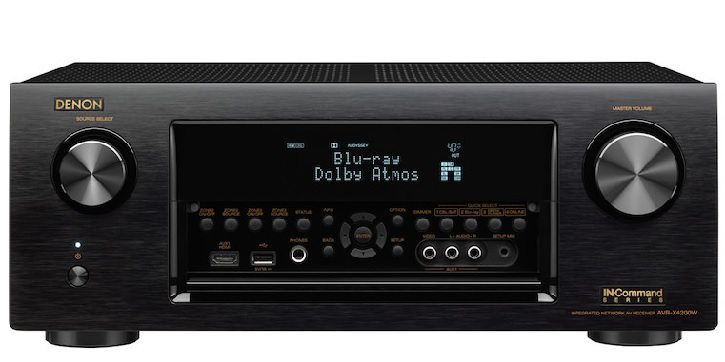 Denon has just introduced a couple new network A/V receivers within their recently introduced mid-class X-series family: the new top-of-the-line AVR-X4200W and also the AVR-X3200W. Both new A/V Receivers provide a plethora of features, including Dolby Atmos and DTS:X via soon to be provided firmware upgrade. The AVR-X4200W and AVR-X3200W also sport 4K Ultra HD support, HDR and HDCP 2.2 capability.
AVR-X3200W:
The new AVR-X3200W delivers 105 watts on all seven channels and is equipped with a Dolby Atmos decoder and Dolby Surround upmixer to deliver captivating multi-dimensional sound through height speakers or Dolby Atmos elevation speakers. The AVR-X3200W is also ready for DTS:X and DTS Neural:X upmixer that have been developed to provide an immersive sound field, regardless of the number of speakers. The seven amplifier channels can be used to deliver new 3D sound formats, or alterantively to power a second zone. And, with a 7.2ch pre-out section, an RS-232 port and flexible amp assignment options, the AVR-X3200W is ideal for custom installers in regards to multi-zone listening and home automation. Audyssey MultEQ XT room equalization including Audyssey Dynamic Volume and Dynamic EQ are included to perfectly match sound to a listening space.
The video section includes HDMI 2.0a and HDCP 2.2 specification inputs that are required for 4K Ultra HD copy-protected content. Eight HDMI inputs, of which one is conveniently located at the front panel ensure easy connection of source components. 4K Ultra HD video and 4:4:4 Pure Color sub-sampling, HDR and BT.2020 pass-through are all supported. The AVR-X3200W also features a powerful video processor to upconvert standard-definition and high-definition video sources to full-rate 4k Ultra HD resolution. With two HDMI outputs, the AVR-X3200W allows playback of a surround movie in the main room and a separate stereo program with video from a different source in the second room. The AVR-X3200W is also certified by the Imaging Science Foundation for video quality, and is equipped with the full suite of ISFccc advanced video calibration controls.
The AVR-X3200W also comes with built-in Bluetooth and Wi-Fi and playback options, include Apple AirPlay, network attached storage devices (NAS), Internet Radio, Pandora, SiriusXM and Spotify Connect. High-resolution audio files like FLAC, AIFF, or DSD are also supported and played back in impeccable sonic quality.
AVR-X4200W:
The AVR-X4200W resembles the Denon reference-class A/V Receivers visually with a larger form and hidden controls. Power on hand with the AVR-X4200W is up to 125 watts on all seven channels. All audio signals are delicately handled by famous Denon D.D.S.C-HD (Dynamic Discrete Surround Circuit High Definition) and unique AL24 Processing Plus, for the ultimate in sound refinement supported by the use of high-quality 192-kHz/32-bit D/A Converters. Denon Link HD Connection is provided for jitter-free transmission from a supporting Denon Blu-ray Player. A third HDMI output gives even more convenience in connecting multiple displays. Thanks to its nine-channel processing capability, eleven speaker terminals and 13.2ch pre-out connections, the AVR-X4200W offers huge flexibility in multi-room and amp assignment options. By adding an additional two-channel power amplifier, for example, it can run a big Dolby Atmos experience up to 5.1.4 or 7.1.2 configurations. And through a paid upgrade offer, the highly acclaimed Auro-3D sound processing engine can be added for another 3D sound experience. Professional installers will very much appreciate the fact that the AVR-X4200W comes with Audyssey MultEQ XT32, including Pro-calibration option, Sub EQ HT and LFC (Low Frequency Containment).
The new X-series models come with a unique Denon ECO mode. It provides the ability to reduce overall power consumption and features an onscreen ECO Meter that lets you see the power consumption reduction effect if desired. The Auto ECO mode automatically switches between normal and ECO modes, depending on the volume level chosen.
With the exclusive Denon Setup Assistant along with the Quick Start Guide, setting up a Denon A/V Receiver is quick and easy. To conveniently keep control of all features, the Denon remote app is available for iOS and Android devices.
KEY FEATURES – SUMMARY:
Denon AVR-X3200W
• 105W x 7ch (8ohm, 20-20kHz, THD:0.08%) high-quality discrete power amplifier for powerful and detailed sound
• Built-in Dolby Atmos (up to 5.1.2); DTS:X ready (via firmware update later in 2015)
• Advanced quad-core 32-bit DSP processor
• Latest HDMI 2.0a standard with 4K/60Hz full-rate pass-through on
4:4:4 resolution, HDR, BT.2020 on all inputs
• 8 HDMI inputs (1x front) and 2 HDMI outputs with full HDCP 2.2 support
• Advanced Video Processing with scaling of lower resolution signals up to 1080p and 4k Ultra HD
• ISF Certification
• Built-in Wi-Fi with dual diversity antenna, built-in Bluetooth
• Front-panel USB input
• Wide support for streaming formats including high resolution DSD, FLAC and AIFF
• AirPlay and DLNA music streaming
• Spotify Connect (where available); Internet Radio, Pandora and SiriusXM
• Advanced ECO mode with off/on/auto setting
• Audyssey MultEQ XT with Audyssey Dynamic Volume and Dynamic EQ
• Denon AVR Remote App (available for Android and iOS)
• Setup Assistant in 3 languages; Color-coded speaker terminals
• 7.2ch pre-out: 2 multi-room zones; RS-232 Control
Denon AVR-X4200W
• 125W x 7ch (8ohm, 20-20KHz, THD:0.05%) high-quality discrete power amplifier for powerful and detailed sound
• 9.2ch processing
• Dolby Atmos up to 5.1.4 or 7.1.2 (with additional 2ch amplifier) DTS:X ready (via firmware update later in 2015)
• Auro-3D, Auromatic (up to 9.1ch; paid Upgrade) Release timing: to be announced
• D.D.S.C.-HD Digital and AL24 Processing Plus; Denon Link HD
• High-quality 192-kHz/32-bit D/A Converter
• Audyssey MultEQ XT32 (Pro ready), Sub EQ HT and LFC
• 8 HDMI inputs (1x front) and 3 HDMI outputs with full HDCP 2.2 support
• Phono (MM) input
• 13.2ch pre-out; 3 multi-room zones
• Clock Jitter Reducer
Both the new AVR-X4200W ($1,499 U.S.)and AVR-X3200W($999 U.S.) will be offered only in black dress and are expected to be available this August. Look for more details at: http://www.denon.com