Marantz, has announced three new Network A/V Receivers – the NR1506 and NR1606 Slim Design Network A/V Receivers and the SR5010 full-size receiver. All three incorporate the latest in audio and video technology, wireless connectivity and are energy-conscious as well as easy to use.
The new Slim Design NR1506 Network A/V Receiver is a 5-channel / 50W per channel receiver. It has both Wi-Fi and Bluetooth capabilities as well as Internet Radio, Pandora, Sirius, Spotify Connect and AirPlay. The NR1506 is also capable of playing music files from a PC or NAS drive via DLNA and is compatitible with almost any music file type including: FLAC HD, ALAC, WAV192/24 and even DSD. The iPod digital-compatible USB input on the front panel provides extra connectivity convenience.
On the video side of things, the NR1506 supports next generation 4K Ultra HD high resolution video with the latest HDMI 2.0a specification including 4K 60Hz pass-through and HDCP 2.2 compatibility. HDR (High Dynamic Range) and Wide Color Gamut compatibility that are key components of the BT.2020 4K Ultra HD video specification are also incorporated. Six HDMI inputs, including one on the front panel make connections easy.
An on-screen Setup Assistant makes navigation through setup menus easy, including Audyssey MultEQ room calibration. A Marantz Remote App available for Android and iOS for system control and an ECO mode automatically conserves on power without influencing performance.
The NR1506 has a MSRP of: $499.00 U.S.


The new NR1606 Slim Design A/V receiver is a step-up in performance and features over the NR1506, adding in Dolby Atmos decoding and Dolby Surround upmixing for multi-dimensional sound via height speakers, while prepped to support the new DTS:X via firmware update later in 2015.
The NR1606 has an advanced video section to upscale analog and digital source material up to Full HD 1080p or even 4K Ultra HD, with 8 HDMI 2.0a inputs and full support for second zone audio.
The new NR1606 has a MSRP of: $699.00 U.S.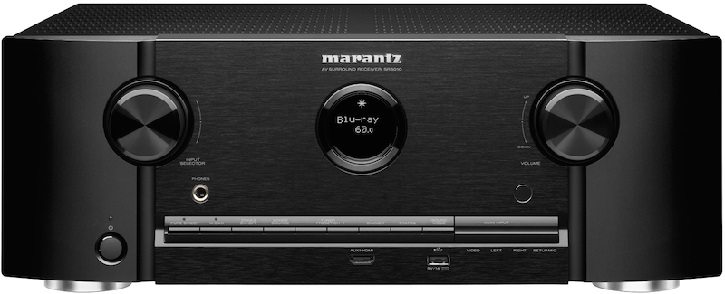 The SR5010 full-size A/V receiver is the first model in the standard 2015 Marantz full-size line-up. It is a 7.2ch Network A/V Receiver with 100 Watts-per-channel. Not only does it have significantly more power than the Slim Design models but it also has significantly high-quality audio performance through the use of carefully selected and employed very-high-grade audio components. The whole internal circuit further enhances audio quality by delicately handling all signals via the Marantz-own HDAMs in Current Feedback topology before they reach the speakers. Marantz HDAM (Hyper Dynamic Amplifier Module) technology found on the company's Reference Series components provides superior low noise wideband performance in an all-discrete configuration, compared to conventional op amp ICs. HDAM technology provides an ultra-fast slew rate for true wideband response and maximum dynamic range to deliver optimum sound quality with today's high-resolution audio formats.
Another step-up in flexibility becomes obvious by a second HDMI output to connect a projector and a TV at the same time. A 7.2 channel pre-out section and the RS232 connection makes the SR5010 very attractive for custom installation purposes.
The new SR5010 has a MSRP of: $899.00 U.S.
All three new Marantz A/V Receivers will be available in July/August. Look for more information on these and other Marantz products at: http://ca.marantz.com