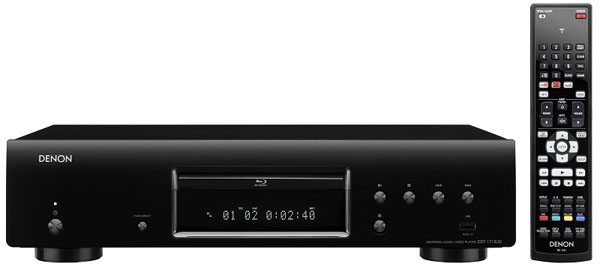 Denon's new DBT-1713UD Universal Blu-Ray Disc Player offers a ton of features at a reasonable price point of $499 US. Among these are a newly designed, silent loading BD transport, plus access to Netflix, YouTube, Vudu and Hulu. The DBT-1713UD plays disc formats including CD, DVD, SACD, DVD-Audio in addition to Blu-ray.
The remote control is designed to perfectly match Denon's new AV Receivers, enabling users to control their receiver and Blu-ray player with the same remote. Users also enjoy access to the new Denon Remote App for iPhone and iPod touch; allowing control of the DBT-1713UD when connected to a new 13 series Denon network AV receivers.
Adding to its ease of use, the DBT-1713UD features a new front-panel design and Denon's newly developed simplified remote control. Thanks to Denon's unique design, the DBT-1713UD has a startup time of 2.5 seconds and offers a quick response time that is twenty percent faster than previous models.
The DBT-1713UD's rock-solid build features a new shielded mechanism for total reliability, and the fan-less construction ensures a totally quiet and smooth operation. Left- and Right-Analog Audio outputs add to the unit's flexibility, and the supplied HDMI cable helps ensure complete out-of-the-box set-up simplicity.
Features
• Universal Blu-ray Disc Transport that also plays DVD, CD, Super Audio CD and DVD-Audio
• Fully shielded mechanism
• Quick response at loading and playback
• 4 independent block construction, for faithful playback of audio and video signals
• Fanless construction for silent operation
• Denon's high picture quality circuitry, to visually enhance your sources
• High-precision video encoder, and I/P Scalar for a cleaner picture and richer colors
• DLNA support for Network streaming (audio/video/photo)
• YouTube Leanback streaming and Netflix video on demand support
• Support for DivX Plus HD
• 1080p/24 video output, to bring out the full quality of film
• 3-D digital noise reduction
• HDMI source direct mode to output native resolution
• Dolby TrueHD and DTS-HD Master Audio HDMI output
• Supports HDMI 1.4 with 3D ready, Deep Color, "x.v.Color", High-Bit-Rate Audio output and HDMI control function
• HDMI cable included
For more info, please visit www.denon.com