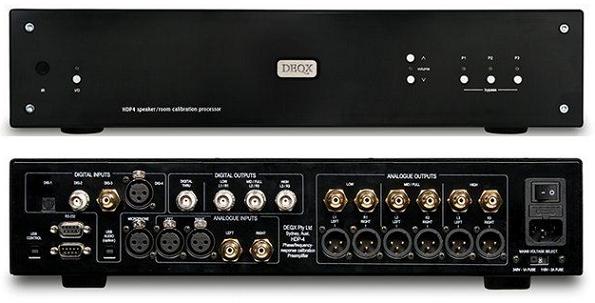 DEQX (pronounced as DEX), has just introduced the HDP-Express II stereo two-channel processor. DEQX processors are designed to correct the distortion that all speakers make and provide room compensation. DEQX processors are unique in that they are designed to correct frequency-response errors as well as timing errors by adjusting thousands of frequency groups to arrive on time, with the result being improved dynamics, timing and realism.
The new HDP-Express II incorporates technology form DEQX's flagship HDP-4 Preamp Processor in a cost-effective design. Like its predecessor the HDP-Express II provides DEQX Inline correction for your existing speakers, room and media. Plus it facilitates precise integration of one or a pair of subwoofers. The Express II also supports 2- or 3-way active speakers for those opting for DEQX XO Active configurations now or in the future.
The Express II uses professional-grade components and power supplies while the HDP-4 is outfitted with audiophile-grade parts throughout adding a linear mains power supply. DEQX also kept the price of the Express II down by moving all front-panel controls to the Remote and deleting the HDP-4's balanced analog and digital outputs for a simpler chassis.
Measuring the speakers first, DEQX-Cal software generates correction filters for proper phase, group-delay and frequency-response all of which varies with frequency. The HDP-4 and HDP-Express II works to correct timing errors that speakers always produce and returns frequency-response accuracy to that of the original recording. Only then does DEQX-Cal measure from the listening area for room correction.
DEQX XO Active speaker architecture features linear-phase crossovers driving separate amplifiers that drive individual speaker drivers. The steep and truly linear-phase crossovers improve resolution at normal and higher volume by limiting crossover and compression distortion without the usual phase errors introduced by traditional crossover filters.
The DEQX Remote features Standby, Profile Select, Volume, Mute and Input Select, and what must be the world's most powerful tone controls. Its three bands include Lo, Mid and Hi with up/down buttons for +/- 1dB adjustments (-9dB to +9dB).
The MSRP for the new Express II is $2,950 USD while the HDP-4 remains $4,950 USD, both available now. Look for more details at: www.deqx.com.