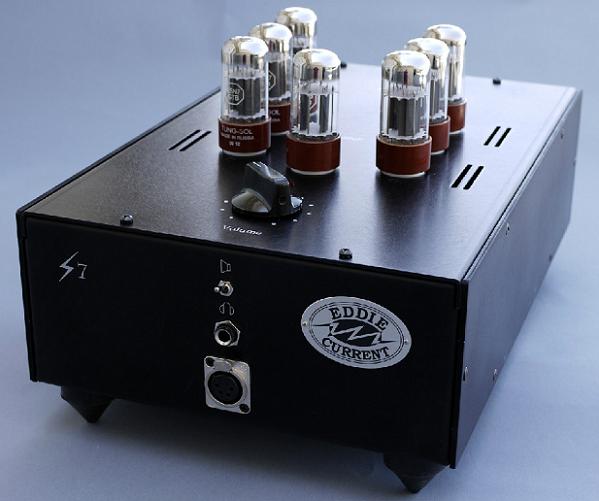 Eddie Current, LLC, a high-end audio company specializing in hand-crafted vacuum tube headphone amps and related gear, has just announced that they will be debuting two new products at the upcoming T.H.E. Show Newport Beach in June 1-3 2012.
Eddie Current Electra: is an all-tube electrostatic headphone amplifier that has been designed electrostatic headphones. The new amp was designed with the objective of producing a lively and dynamic sound-stage. It has balanced inputs/outputs, accepts single ended inputs, and offers adjustable bias. The Electra comes with 4-6SN7s and 4-6L6GC's tubes.
Eddie Current Super 7: is a new entry level headphone amplifier that is just going into production. The Super 7 drives both balanced headphones and speakers with a smaller footprint (15.5" x 9.5" x 5.5") than most amps with comparable power. Utilizing 6SN7 tubes, the Super 7 has been designed to provide a superb soundstage. The Super 7 can currently be ordered at a base MSRP of: $1650.00 U.S. plus shipping , with a tube package costing an additional $175.00 U.S. and a 120V AC line cord for and additional $5.00 U.S.
Product and ordering details on Eddie Current's audio products are made available online at: www.eddiecurrent.com.