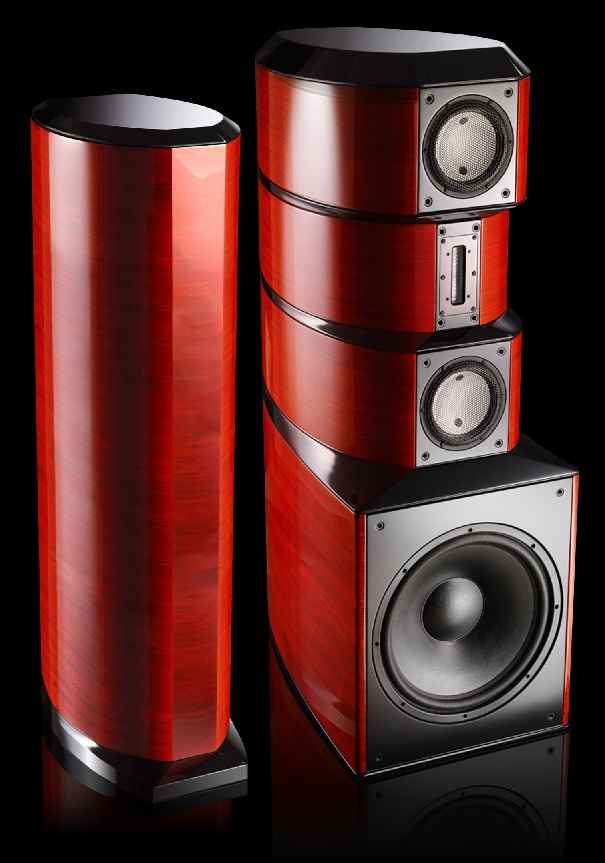 Evolution Acoustics has just launched two new loudspeaker models – their new MMTwo and MMThree loudspeakers. The MMExact line is aimed at providing a higher level of musicality and emotional content – without adding unwanted tonal warmth or artifacts, but rather, through unadulterated signal purity and sound reproduction.
The Evolution Acoustics MM series loudspeakers ensure upgradability by using a philosophy of Maximum Modularity. The MMExact (External X-over Acoustic Compensation Technology) incorporates the identical circuit topology that is used in the Evolution Acoustics flagship MMSeven loudspeaker. The MMExact module system transforms the MMTwo or MMThree loudspeaker systems up to the performance standards of the MMSeven flagship loudspeaker. The MMTwo Exact and MMThree Exact midrange and tweeter achieve the same output characteristics as the MMSeven. As well, the woofers performance are significant improved. The dramatic improvement is achieved through the isolation and suppression of mechanical distortion in the drivers to achieve flat frequency response, with extremely low distortion. In addition, electrical performance is smoothed, which provides tighter impedance deviations and smaller phase shifts. The result is a loudspeaker that is more accurate, both sonically and electricall – which provides much greater realism in both tonal reproduction and sound stage presentation.
Pricing on the new Evolution Acoustics MMTwo and MMThree models has not been announced; however, more details on these products are available at: http://www.evolutionacoustics.com/.
Comments are closed.