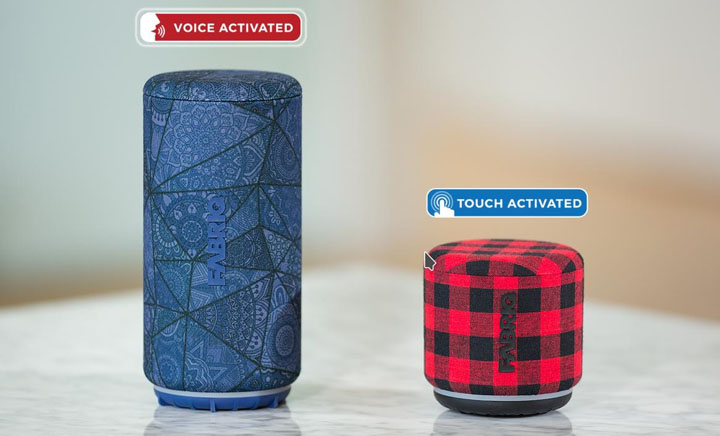 Canadian company Fabriq has just revealed two covetable new speakers that are Alexa-equipped, and promise to outshine Amazon's own Echo and Dot capabilities in a number of ways.
With all of Alexa's smarts and core capabilities – including the ability to do everything from play music and read news out loud to third-party skills, smart home control, and yes, those terrible jokes – Fabriq's two portable speakers are now available and offer plenty of tech appeal in a stylish package.
The key features of the Fabriq speakers, called Chorus & Riff include:
• Premium Sound Quality: Enhanced audio quality and deeper bass than other portable Alexa speakers, plus ability to sync multiple speakers (up to 10!) together over Wi-Fi for simultaneous playback.
• Sleek Design: Unlike other speakers they come in a stylish, fabric packaging that suits every style, including a Canadiana lumberjack plaid pattern and a subtle grey for better lifestyle integration.
• Enhanced Connectivity: Connect to the speakers via Bluetooth and Wi-Fi (plus the Fabriq app). Bluetooth range maintains a strong connection from more than 50 feet away indoors.
• Added Portability: Easy to carry in one hand, and thanks to a built-in, rechargeable battery which lasts up to 5 hrs, you're not tethered to an outlet.
• A Cool & Functional Light Show: An LED light ring at the base of the speakers pulses a rainbow of colours and also its current function: blue for Bluetooth, or white for Alexa. It also glows red when the battery is low.
Fabriq Chorus (larger speaker pictured) retails for $129 CAD and Fabriq Riff (pocket-sized speaker) retails for $69 CAD.
More information over at www.thefabriq.com