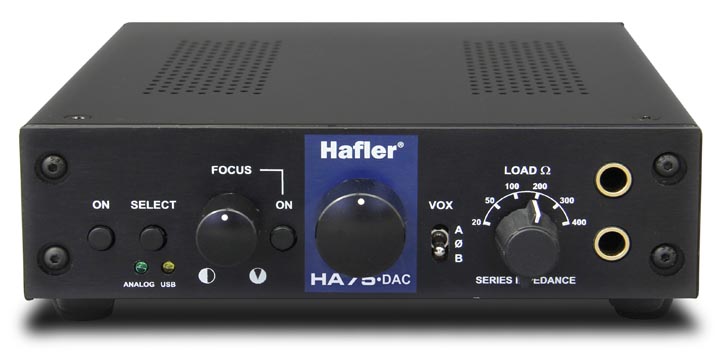 Hafler (a division of Radial Engineering Ltd.) has just revealed the HA75-DAC, an audiophile-quality tube headphone amplifier and USB digital to analog converter.
The Hafler HA75 Tube Head headphone amp has already received critical acclaim from many of the 'golden ears' of the recording industry, including Alan Parsons, Chuck Ainlay, and Frank Filipetti. According to 22-time Grammy winner Chick Corea, "The Hafler HA75 Tube Head produces a richer, warmer, analog quality that makes listening to music with headphones more pleasing." The new HA75-DAC builds on this legacy by adding a USB DAC for digital audio playback at up to 192 kHz resolution. This allows for connection to a laptop with high resolution audio files along with separate analog audio sources; a front panel selector switch chooses between the analog and digital inputs.
The heart of the HA75-DAC is still the on-board 12AX7 tube, which provides subtle but pleasing tube character, while also introducing natural compression when pushed hard. A non-radiating charge pump is utilized to apply 140 volts to the tube for optimal headroom and vintage inspired warmth. Also included is the innovative Focus control, which can be dialed in to simulate the effect of listening to live speakers in a room.
Another new feature on the HA75-DAC is the headphone load impedance selector. This can be set from 20 to 400 Ohms and allows users to set the optimal impedance to match all types of headphones. This is complemented with a three position voicing switch that can be used to boost low frequencies, increase overall loudness, or set to bypass for neutral voicing. The HA75-DAC features both XLR and RCA analog audio connections to allow the perfect blend of analog and digital in one outstanding headphone amplifier.
The HA75-DAC will ship this May for $1299 US.
For more info, please go to http://hafler.com/