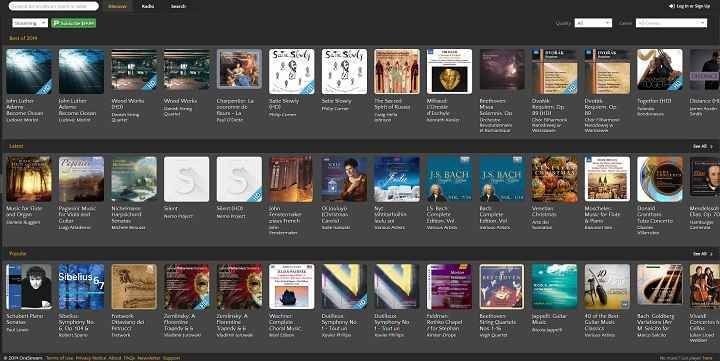 Naxos has welcomed in the New Year with the launch of the ClassicsOnline HD•LL classical music streaming and download site. The website launched worldwide today, offering high-resolution audio up to 24-bit/192kHz sampling rate—and full CD quality (lossless). The site also sells high-def, lossless, and MP3 downloads in FLAC, ALAC, WAV, AIFF, and 320kbps MP3 formats.
The service costs $14.99/month and is the first in the US to use adaptive bitrate streaming, a technology that promises the highest sound quality from a home or mobile network without buffering or loss of signal.
ClassicsOnlineHD•LL offers a search engine desiged specifically for classical music. It lets you search by title, performer, conductor, composer, period, country, instrument, year released, year composed, label, and genre. The website provides access to a wide range of classical record labels, easy playlist creation, genre and artist radio programming, and off-line listening via mobile devices. Liner notes for most recordings are also provided.
To learn more about this site / service, please check out this Stereophile article:
http://www.stereophile.com/content/hi-rez-and-lossless-classical-streaming-naxos
Comments are closed.