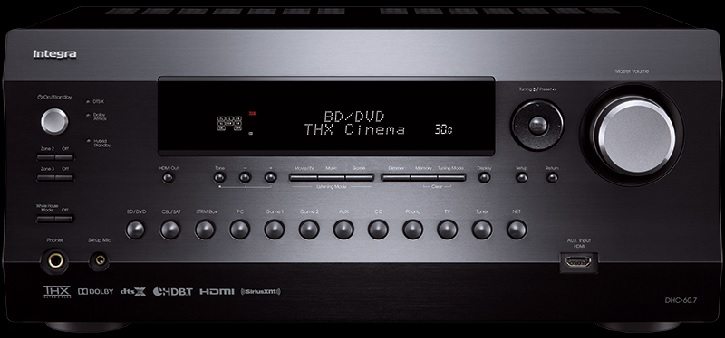 Integra is introducing two exciting additions to its 2015 lineup – the DTR-50.7 and the DHC-60.7 both of which are THX-certified and support HDMI 2.0a, 4:4:4 color space and High Dynamic Range (HDR) as well as next generation HDCP 2.2 for 4K Ultra HD video revolution. In addition, both the DTR-50.7 and DHC-60.7 are DTS:X-ready and Dolby Atmos capable.
DHC-60.7 Network A/V Controller
The new DHC-60.7 is a THX Ultra2 Plus certified 7.2 channel network A/V preamp processor. It features 8 HDMI 2.0 inputs for 4K/60Hz support as well as 2 HDMI outputs. Zone2 HDMI and HDBaseT are provisioned for together with 7.2 multichannel balanced XLR and unbalanced RCA preouts (with front bi-amp capability). Two-channel balanced XLR audio inputs are also provided. The DHC-60.7 has a MSRP of $2,600.
DTR-50.7 7.2 Channel Network A/V Receiver
The DTR-50.7 is a 7.2 channel, THX Select2 Plus network A/V receiver rated at 135 watts per channel. The unit supports an abundant package of connectivity options including 8-in/2-out HDMI; an HDBaseT port and Zone 2 HDMI, and 7.2 multichannel pre-outs.
Amplification for the DTR-50.7 comes courtesy of proprietary WRAT (Wide Range Amp Technology) and discrete Three-Stage Inverted Darlington Circuitry, a combination that delivers truly dynamic performance. The DTR-50.7 has a MSRP of $2,200 (CDN).
Detailed features lists, specifications, and owner's manuals can be found at: http://www.integrahometheater.com