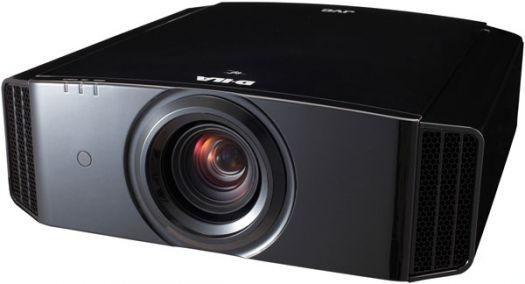 JVC has just begun shipping two new Procision series home theatre projectors that incorporate 3D, D-ILA and eShift 2D to 4K conversion technologies. A third 3D 1080p projector without 4K conversion is also just shipping.
The projectors were first shown at September's CEDIA Expo. The top two models in the consumer home-theater lineup feature the company's e-Shift up-conversion technology to display 2D HD content at four times the resolution of FullHD material.
All models include three 0.7-inch 1,920 by 1,080 native D-ILA imaging chips and include a new lens memory function with three settings for storing custom focus, zoom and lens shift position.
The Procision series models are both THX certified and include the DLA-X90R with a 120,000:1 native contrast ratio and the DLA-X70R offering an 80,000:1 native contrast.
Using the e-Shift technology, 2D HD content is up-converted and scaled to a 4K signal (3,840 by 2,160), and the e-Shift technology displays it at full 4K precision, JVC said.
In these two top models a combined 16-step lens and lamp aperture adjustment allow the user to optimize the f-number (relative aperture) of the optics system in all steps.
JVC is including two pairs of active-shutter 3D glasses and three-year warranties with the top-of-the-line 4K projectors.
The third projector being shipped is the DLA-X30, which also delivers 3D images and 1080p resolution but omits the e-Shift 4K conversion.  It offers a 50,000:1 native contrast ratio and comes with a two-year warranty.
Pricing (MSRP) on the projectors is as follows:
DLA-X90R – $11,999 U.S.
DLA-X70R – $7,995 U.S.
DLA-X30 – $3,499 U.S.
Look for more details at: www.jvc.com.